Chick-Fil-A Employees Can't Believe This Massive Last-Minute Nugget Order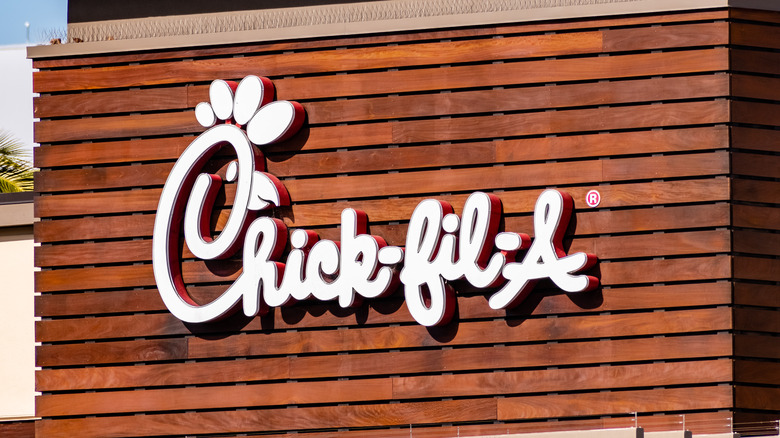 Shutterstock
Sometimes when you need nuggets, you really need all the nuggets you can find. In 2015, a McDonald's in Japan started offering 48-piece nugget buckets to diners, making history as the largest standardized nugget order in the restaurant's history (via All About Japan). Chick-fil-A stepped up their game when they started offering 30-piece nugget meals that you could easily split between two people (via Taste of Home). This 30-count nugget meal has kept going strong to this day, and has even caused a massive headache for Chick-fil-A employees.
Restaurant workers over at Reddit couldn't believe their eyes when they checked out a recent post of a photo of a last minute order of three 30-count chicken nugget buckets, one minute before the restaurant closed for the evening. Chick-fil-A workers couldn't believe the audacity of the order, with replies flooding in ranging from, "The people who come in right before close are on another level. Like how are you gonna go somewhere right before close, order a sizable amount of food, and get mad when it's going to be a few minutes," all the way to "My store might've honestly just said 'no' and refunded them, the BOH would've rioted if something like this came through."
A mobile order made to annoy
Commenters on the post recognized that the customer placed the massive order on a mobile device, leading one Reddit member wondering, "Considering it was a mobile order were they there in time to pick it up?" According to the original poster, the guests made it on time to grab the order, and even made it through the mall's doors before the whole complex closed for the evening. Other responders reminisced about times when customers ordered four and six orders of the massive nugget buckets, while others were left utterly shocked by the entire situation. 
Next time, you have to grab multiple orders of 30-count chicken nugget buckets from Chick-fil-A moments before the store closes, always remember the shock of local employees when they have minutes to fill massive orders like these. When we have to put our nuggets into the hands of fate, we should remember to order much sooner in the day and keep employees from scrambling at the last minute to fill our order.