This Is Where Ina Garten Sources The Leaves For Her Cheese Boards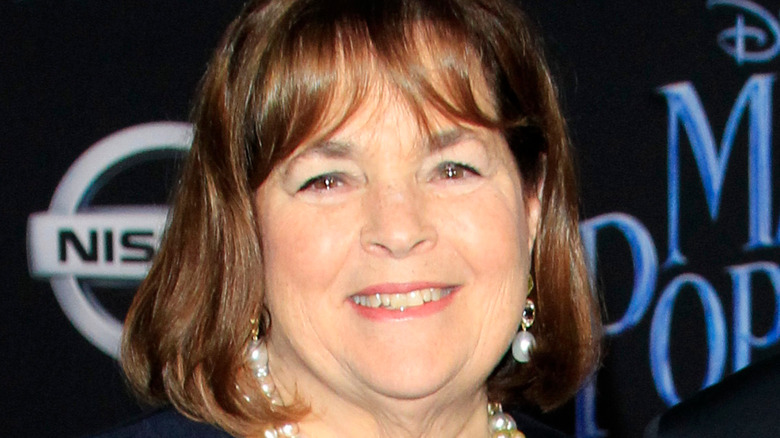 Shutterstock
As the weather starts to warm up and you begin spending more time outside, chances are you'll be pulling out your charcuterie board again soon. Few things are better than spending time outside with an al fresco happy hour complete with a cheese spread and a great bottle of wine. But if you are hoping to take some inspiration from the Barefoot Contessa, you'll likely notice one signature item that tends to appear on her boards — fig leaves. 
According to the Food Network, Ina Garten's cheese boards start by laying "down four fig leaves on the board." From there she goes on to add the other components like fruit, cheeses, compote and crackers. She pays attention to the taste and textures she layers together when building her cheese board, as well as the height of the elements on the board itself. While you might have the general presentation perfected, you might still be wondering where you can get fig leaves to replicate that component of Garten's signature presentation.
This is where Ina Garten finds her fig leaves
One fan actually reached out to Garten on her website, Barefoot Contessa, and asked just how she does it. The fan asked, "You often use fig leafs on your cheeseboards. I've checked with local shops, but I'm not able to find any type of leave that hasn't been treated. Is there a place to order the leafs online? Thanks Ina!" While it isn't how Garten does it, ordering fig leaves online is likely a good way to find them. Just be sure they are safe for food use.
The celebrity chef shared that she gets her fig leaves locally. "Fig leaves can be hard to find, but I sometimes find them at my local florist," she replied. "Florists also tend to carry Lemon or Galax leaves which are good substitutes!" So, if you can't find fig leaves that are safe to use, you could always substitute other large leaves on your cheese board.