The Real Reason Duff Goldman Wanted To Write A Cookbook For Kids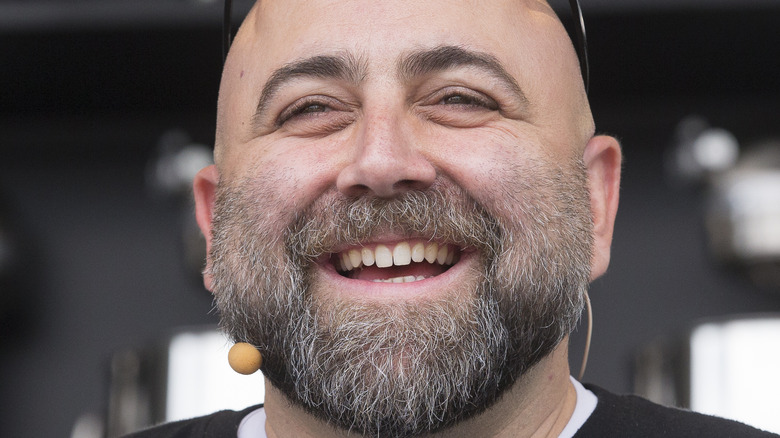 Shutterstock
As host of The Food Network's popular show "Kids Baking Championship," Duff Goldman is certainly no stranger to working with children. In the nine seasons of the program, Goldman has come across more than his fair share of exceptionally talented young people, who are more than capable of preparing complicated baked goods even some adults can't master, like puff pastries, macarons, monkey bread, tarts, and more (via The Food Network).
From this experience, Goldman came to the realization that children are far more adept at cooking than many traditional cookbooks give them credit for — and that inspired the New York Times bestselling author to write his own cookbook in late 2020 for those sharp young minds, called "Super Good Baking For Kids," via Harper Collins. As he explained on "Dennis Miller Plus 1" ... "I read a lot of kid's cookbooks and, a lot of times, it's like 'here's how to make a sugar cookie, here's how to make a buckeye.' ... The kids I work with, they're making puff pastry ... they're doing advanced stuff, stuff that I didn't learn until I was like 30. And so I [thought] maybe kids just need a book that's a little bit more challenging."
Duff Goldman wants his cookbook to inspire kids to bake
Goldman has also been inspired by kids' incredibly creative minds. As he told Melissa Arnold of TBR News Media, some of the young bakers he has worked with have taught even him a thing or two. Like one that gave him the idea to use graham cracker crusts for the bottom of cupcakes or a young relative that gave him a suggestion for rainbow brownies (the recipe for which made it into the book).
"Super Good Baking for Kids" has been delighting fans ever since it was released last September. It features more than 200 pages of recipes that are perfect for children to master, although the novice adult baker is almost certain to find something of interest for themselves in the book as well. In addition to accessible, fun recipes — dessert pizza and confetti snickerdoodles among them, according to Harper Collins — the book also has sidebars with info on the history of baking and the science behind yeast as well as kitchen-safe tips.