The Reason Madelaine Petsch Once Wore An Outfit Made Out Of Bok Choy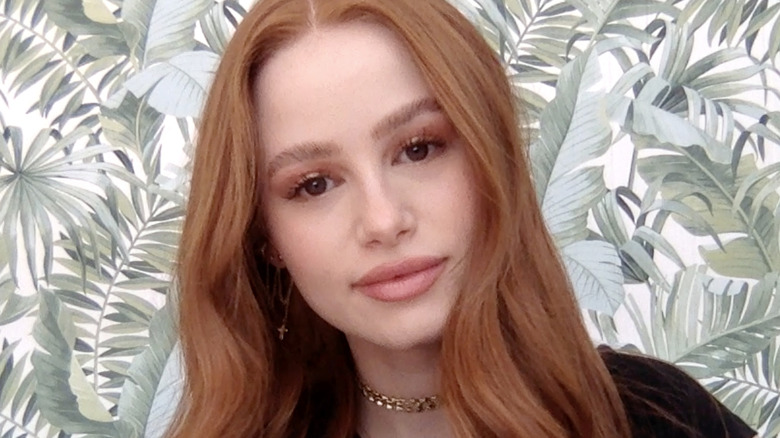 Getty Images/Getty Images
"Riverdale" fans know Madelaine Petsch as the CW show's fierce Cheryl Blossom, a character who embodies a fatal combination of looks, wit, and privilege. It turns out in real life, Petsch is a pretty good cook. The successful starlet competed on Fox's "MasterChef" first vegan cook-off and beat the mighty Gordon Ramsay. According to The Beet, Petsch has been a vegan since age 14, so she knows her way around making a vegan meal or two.
She's also helped raise awareness about veganism by participating in a PETA campaign. For the campaign, she rocked a dress that was made entirely out of bok choy. The dress was a cute play on the ad's theme to "turn over a new leaf" and "go vegan." Petsch told PETA that after going vegan, she felt a lot healthier and not as lethargic. She also said it was her first time wearing a dress made out of vegetables, but as steamy as she looked in those bok choy leaves, you'd never have known it.
Spinning food waste into fashion
Shutterstock
While Madelaine Petsch's bok choy ensemble probably wasn't designed to be worn again, there is a whole industry that's looking into making food waste into clothing. One company, Circular Systems, has created a product, called AgraLoop BioFibre, made from food leftovers and medicine crops. According to their website, the leftovers — including crops like oilseed hemp/flax, bananas, and pineapples — are used to create natural fibers that can be used in clothing.
Fashion retailer H&M has already incorporated AgraLoop BioFibre into their main collection. Pieces like a sleeveless hoodie and trench coat contain the fiber as part of H&M's aim "only to use 100% recycled or other sustainably sourced materials by 2030" (via H&M). There is a lot of innovation in the from-food-waste-to-fashion arena, and other manufacturers are exploring reusing other kinds of waste. QMilk, for example, is making fibers out of sour milk and S. Cafe is using old coffee grounds to make yarn (via buro247). It seems we've come a long way since Lady Gaga wore her more-than-memorable meat dress.