Costco Shoppers Are So Excited For This Stone Mortar And Pestle
Costco is perhaps best known for their reasonable prices on food and household items, but their great deals do not stop with just the basics like paper towels. They sell everything from appliances and dishware, to cutlery and kitchen gadgets, and their newest culinary tool has caught the attention of Costco shoppers everywhere. The wholesale store is now selling the Casa Maria stone mortar and pestle, and not only is it a great product, but it's also selling for a great price.
The tool is 8.5 inches and made from natural stone, so it has a good deal of heft and is not likely to shift around on the counter while you are using it. It is also double-sided, which means you can flip it to use the smaller side bowl for cooking projects that require finer ingredients, like grinding herbs or making a spice blend. It can be used to help make everything from dips and guacamole to pesto, dressings, and hummus — all for less than $20.
Costco shoppers raved about this great product online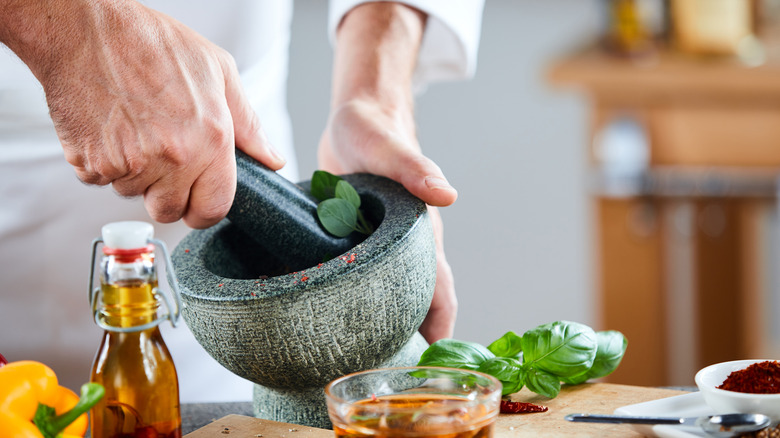 Shutterstock
Instagram user @costcobuys made a post highlighting the great deal, writing: "I spotted this mortar & pestle for $16.99! It's made from natural stone and is just perfect for making pesto, guac, dry rubs, and spice mixes!" Their followers were quick to respond expressing their interest in the new mortar and pestle, and many couldn't wait to get their hands on one of their own.
Follower @sourflourgirl wrote: "Oh I hope mine has that I've been wanting one," and @traderjoesobsessed agreed, "I'm getting this this weekend thank you!" Another follower posted: "I have one of these. I love it. It's heavy so have a place to store it. Great buy!"
If the responses on social media are to be believed, Costco's new stone mortar and pestle will be flying off the shelves. So if you are looking to upgrade an old mortar and pestle, or are thinking about trying your hand at making homemade guacamole for the first time, don't wait to head to your local Costco and grab yours before they are gone.