Aldi Shoppers Have Mixed Feelings About This Southern Style Crispy Fried Chicken
When a serious fried chicken craving strikes, we understand the need to act quickly. And while you could of course choose to go to a fast food chain like Popeyes or KFC, you might really just want a shortcut to help you make your meal at home. Thanks to Aldi, you can now easily do just that — but unfortunately not everyone is a fan.
An Instagram post from Aldi fan account @theamazingaldi showcased boxes of Aldi's Kirkwood Southern Style Crispy Fried Chicken, alongside the caption "Sundays call for crispy fried chicken. I'm always curious how this is, let me know if you've tried it!" Many fans chimed in to show their love for the product, jumping in with replies like "It's delicious!" and "My husband is always happy when I snag this. It's very close to the red box Banquet fried chicken. (I think [it's] better.)" But while some of the account's followers clearly can't get enough of this frozen fried chicken, others didn't review it as highly.
Aldi's divisive Southern-style fried chicken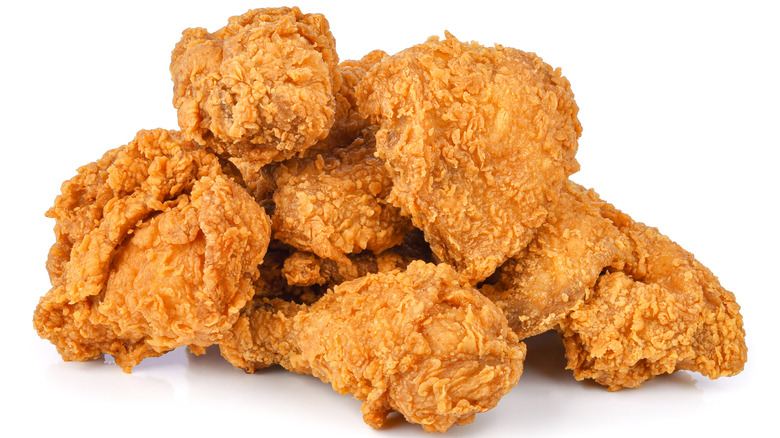 Shutterstock
Not all Aldi shoppers have warmed up to the Kirkwood fried chicken. Some people replied to @theamazingaldi's post about the product, pointing out how they felt the chicken seriously fell short. One user replied, "Wasn't a fan. The chicken had big gobs of fat under the breading and I found the seasoning to be salty in the not good way. Honestly, I think you'd be better off getting a big grocery chain's fried chicken from the deli when it's on sale." Other followers had a hard time cooking the chicken just right, with one Instagram user commenting "The flavor was ok ... [but] fatty, lots of breading and just a no for me. You also HAVE to air fry or bake it before eating it. You can microwave it some, but it will be soggy! I won't purchase again."
Only time will tell what happens with this divisive fried chicken, but with any luck, the product will either improve or grow on Aldi fans. After all, the last time the chain offered up a Southern-style fried chicken it kept selling out (via New Idea Food). Hopefully for shoppers, the Kirkwood fried chicken can live up to the old fan favorite and gain some more positive reviews. Next time you have a hankering for some fried chicken, drop by your local Aldi and pick up a package of the dish to see where you fall on the debate.