What Is Infused Olive Oil And How Do You Use It?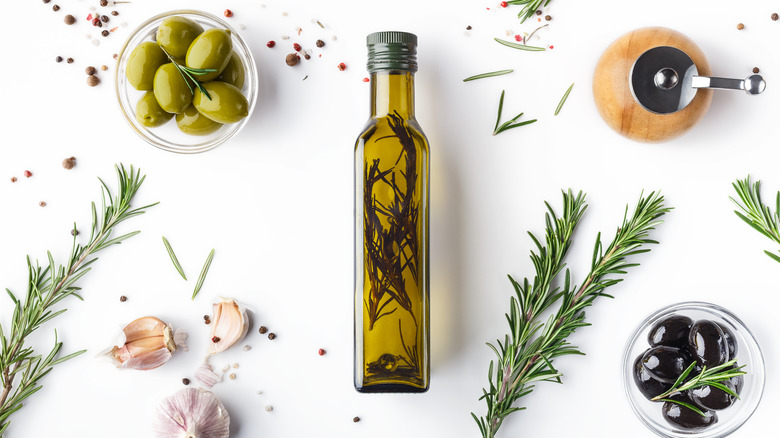 Shutterstock
Olive oil is a household staple. One of the most versatile items in a well-stocked pantry, olive oil is useful for cooking in low-heat recipes and is a great base for marinades and dressings. Olive oil is also the finishing touch for many meals: A drizzle of it elevates almost any dish.
Olive oil is also good for you. Healthline reports that olive oil contains vitamins E and K, along with antioxidants that can fight inflammation that may lower your risk of heart disease. 
The Mayo Clinic agrees. It states that olive oil contains monounsaturated fatty acids (MUFAs). These are "healthy" dietary fats as opposed to saturated and trans fats. MUFAs may help to lower total cholesterol in your body, contributing to better overall health, though the Mayo Clinic warns that olive oils are high in calories, so moderation is key. 
Olive oils come in many different types and price ranges and can be found anywhere from your local grocery store to fancy shops dedicated to selling just that one product. Some establishments even offer olive oils infused with lemon, rosemary, peppers, and more. If this sounds right up your culinary alley, here's what you should know about these delicious infused olive oils.
What to know about infused olive oil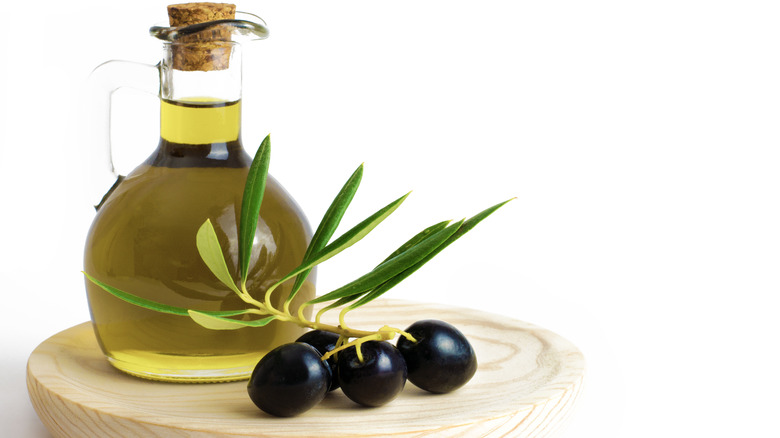 Shutterstock
Infused olive oils can be expensive, but you can actually make your own at home. According to Salon, the easiest way is to mince ingredients, like fresh herbs, chili peppers, garlic cloves, or citrus peels, and combine with a good quality olive oil for several hours to marry the flavors. Then, strain the oil, which can last in your refrigerator for about a week. A good ratio is a half cup of herbs or spices to one quart of oil. 
Aimee Mars Living suggests simmering your olive oil and herbs in a small saucepan over low heat for about 20 minutes to infuse the oil with flavor. Be sure not to allow the oil to boil or spatter. Then, strain the oil and pour it into a jar or container.
Your infused olive oil can be used in a variety of ways. Salon recommends using your infused oil as a bread dip or the starter for a fragrant vinaigrette.  Mix up your pasta recipes by tossing pasta in garlic or rosemary-infused olive oil or sauté fresh mushrooms in infused oil and add to your lasagna recipe. 
Salon also notes that citrus-infused oil can be used when baking a sweet olive oil cake or a savory olive oil can be used when making focaccia.