Why Subway Probably Isn't As Fresh As You Think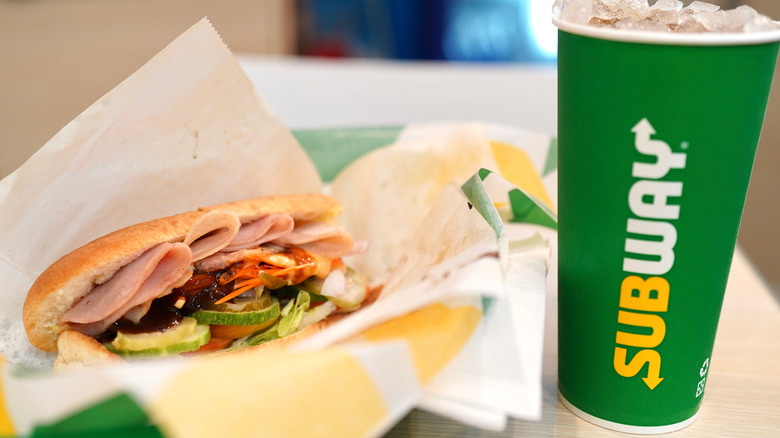 Shutterstock
Sandwich chain Subway opened about 50 years ago, as their website tells it, with a simple mission: to open a "submarine sandwich shop." Dr. Peter Buck, a nuclear physicist, came up with the idea, giving college freshman Fred DeLuca an initial investment of $1,000 to open the first Subway location in Bridgeport, Connecticut. The original store was dubbed "Pete's Super Submarines," according to Britannica. Many, many franchises later, Subway's website notes the chain has over "40,000 locations around the world" and has "become the leading choice for people seeking quick, nutritious meal options that the whole family can enjoy."
But what if Subway, with its "Eat Fresh" motto, doesn't serve sandwiches that are actually that fresh? Under the guise of crisp veggie toppings and "homemade" bread, have we been duped into believing in the sub shop synonymous with nutritious eats and weight loss, when it may actually be just as bad as other fast food establishments?
There's no "Sub" for fresh ingredients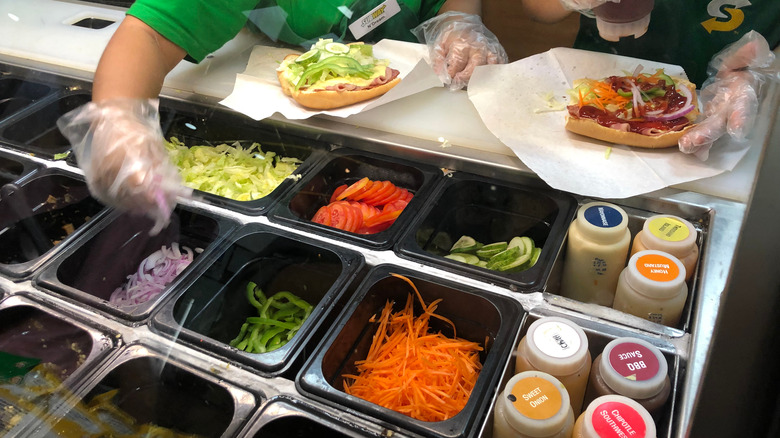 Shutterstock
In 2017, Subway seemed to take a nosedive, contradicting their own slogan and even finding themselves deemed "mushy and rotten", a far cry from fresh. A Business Insider article catalogued the iconic brand's fall from grace, noting that their produce can only be received once or twice a week. Some managers tried to switch to local delivery purveyors to ensure more frequency and fresher veggies, but were told that wasn't an option, so naturally Subway's vegetables aren't always in prime condition. These quality issues seem to have impacted Subway's success, with Business Insider reporting that "one-third of locations Subway locations in the US" weren't profitable in 2017. 
And if you think these issues are limited to America, you're sorely mistaken. The Guardian, among other news sources, covered an instance in which Irish food regulators found that the bread at Subway isn't actually bread due to its "high sugar content," which doesn't sound healthy or fresh. Is anything sacred? 
So while Subway may have been one of your favorite spots growing up, it's certainly not the most nutritious place to grab lunch. If you're looking to truly eat fresh, you may be better off with a salad shop or local sub place instead.