What's Burgoo And What Does It Taste Like?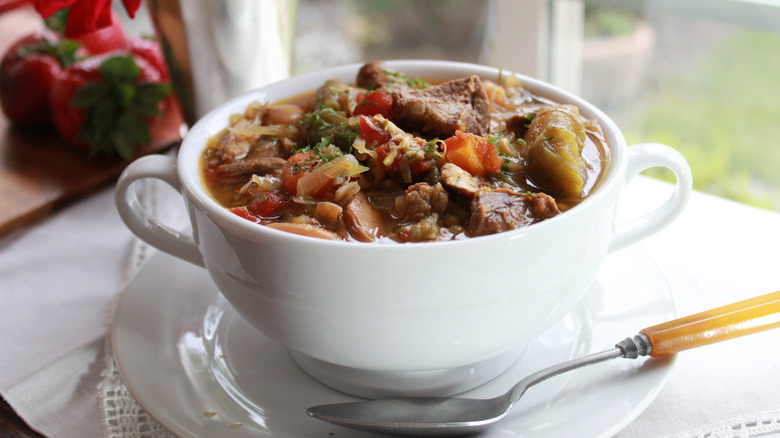 Shutterstock
If you like slurping up stews, this one is for you. The burgoo — or, more specifically, the Kentucky burgoo — is a special kind of stew with ties to the Bluegrass State. In fact, the dish is so popular that each September there is a Burgoo Festival in Anderson County — considered to be the burgoo capital of the world (via Epicurious.) Though the meal is now associated with Kentucky, most believe that it was first created in France (via Atlas Obscura).
While there are many variations on a burgoo, in its essential form, it's a rich stew made with fresh vegetables, lima beans, tabasco sauce, salt, pepper, steak sauce, Worcestershire sauce, and multiple kinds of meat, from pork to chicken. As Epicurious points out, while a burgoo recipe is flexible, most cooks would suggest utilizing different meats and, if possible, preparing the dish over an outdoor fire. That way, the smokiness becomes a part of the dish.
It's hard work making this meal, and you need a minimum of four hours at your disposal for a burgoo. Though, some recipes call for a whole 24 hours. The easiest way to conquer this challenge is to tackle the meat for the stew first and then work with the veggies. One user on Reddit had the best explanation. They wrote, "The nice thing about burgoo is that there are as many recipes as there are cooks making it, so whichever one strikes your fancy — go for it."
Burgoo is a great way to kick off Derby Day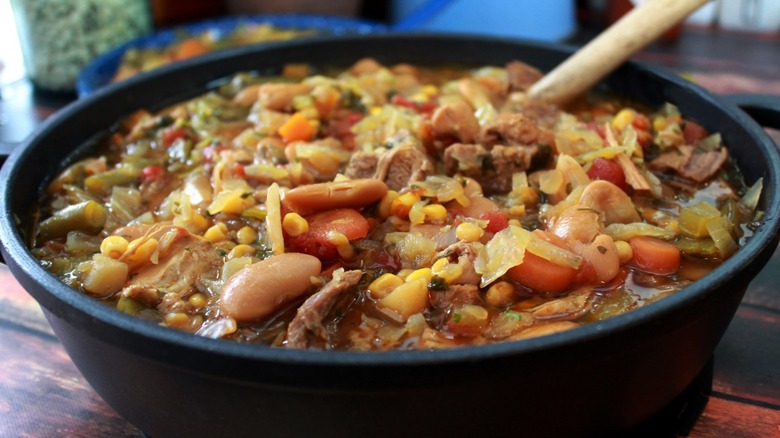 Shutterstock
As illustrated by USA Today, when you get yourself a bowl of burgoo, you should typically expect to be treated to several savory, protein-rich flavors and textures. Because the burgoo was once a community-based meal that everybody would contribute to, some variations include "the catch of the day": mutton, chicken, squirrel, pigeon, and vegetables like okra and cabbage. The official Kentucky Derby website calls for several meat options such as sirloin steak, pork, turkey breast, and chicken stock.  
According to a blog, The Wine Buzz, burgoo has both sweet and sour notes. The blog also adds that the best burgoo for travelers can be found in Owensboro, Kentucky. You can also try making the meal at home and reduce the prep time by using tender meat cuts.
Travelers usually get acquainted with burgoo through the Kentucky Derby, where it's a "crowd favorite," according to USA Today. In fact, it's tradition to ring in the races with a hot bowl of burgoo and a Kentucky bourbon.