Aldi Shoppers Can't Get Enough Of These Mini Vanilla Ice Cream Sandwiches
With an irresistible creamy center and double chocolate cookie ends, few desserts are more delicious than an ice cream sandwich. Ever since a New York City pushcart vendor invented the treat in 1899, ice cream fans can't get enough of these frosty novelties — and thanks to their one-of-a-kind taste, these desserts have stuck around for more than century, says Forbes. The article also notes that July is the month when most are consumed, though any time is a good time for ice cream sandwiches in our opinion! 
The latest brand to indulge in the treat is Aldi. Instagrammer @theamazingaldi discovered that the grocery chain now sells Sundae Shoppe Vanilla Ice Cream Cookie Sandwiches in mini form, posting a picture of the goods alongside a caption declaring, "Yummmmm." The account's followers agree, giving the post 900-plus likes and flooding the comments section with glowing reviews like, "Love them!! Just enough for a little sweet treat!" Another said, "I have a box in the freezer now along with the mini cones." And yet another divulged how addictive the mini format can be, stating, "Omg I can't buy these, my bf and I ate the whole pack in 1 night."
What's not to love about ice cream sandwiches?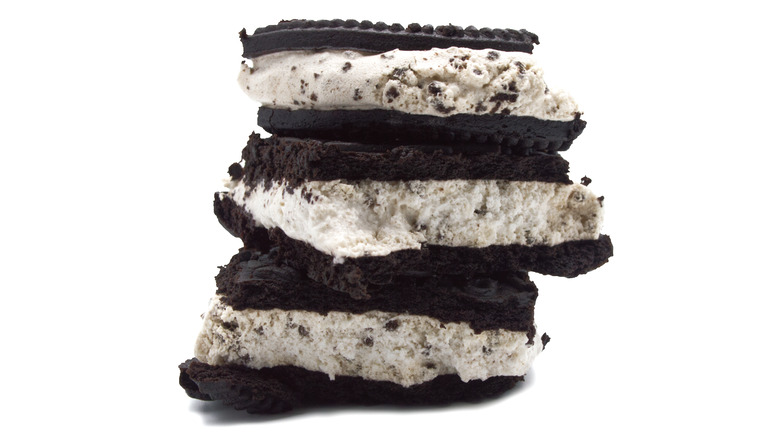 Shutterstock
If you can't wait to get your hands on this new ice cream treat, there's no time like the present to snag a box — or two. According to Aldi's website, they're only available "while quantities last." Each box has 12 individually wrapped treats and each ice cream cookie sandwich (made with creamy whole milk) contains just 60 calories, offering the perfect portion size to satisfy cravings and appeal to anyone looking to find an indulgent dessert that won't overdo it. 
According to Little Things, ice cream can actually have its upsides when it comes to health, too. Not only does it help mend broken hearts but it has calcium that may help fortify bones, and the sugar can help provide a dopamine boost to keep us feeling happy. And they're pretty easy to make at home too if you're feeling creative.