Texas Toast Recipe That Brings New Meaning To Comfort Food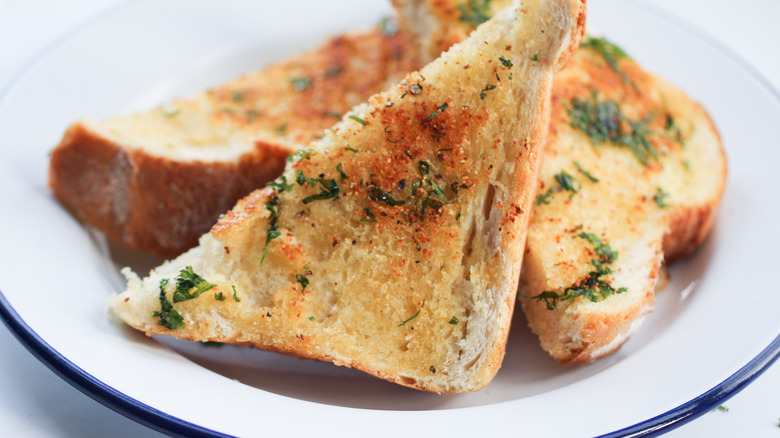 Susan Olayinka/Mashed
They say everything is bigger in Texas, and as it turns out, that even applies to the toast. Because why settle for a bit of butter or jam when you can go big on flavor by adding herbs and spices to your extra-thick, pan-cooked slices of bread? That way, you'll be cooking up what chef and recipe developer Susan Olayinka of The Flexible Fridge calls: "Very much the ultimate comfort food."
You'll also take comfort in the fact that this delectable take on toast is what Olayinka calls "so easy," adding that really the only mistake you can make is overcooking the bread. "Be sure to not let it burn — cooking it on the stove is much different from a toaster, as a toaster is self-timed." As for how best to enjoy Texas toast? Sure, it's great with eggs and sausages at breakfast, but it can be an anytime side. "One pairing idea is with BBQ items," Olayinka says, "like BBQ chicken and ribs."
Or you can go Texas big here and use Texas Toast to make a sandwich — ideally a BBQ sandwich at that. However you enjoy the stuff, plan to eat (or share, if you can bear to) all of it. "This is best eaten ASAP," says Olayinka, as "it doesn't keep."
Why is it called Texas toast, anyway?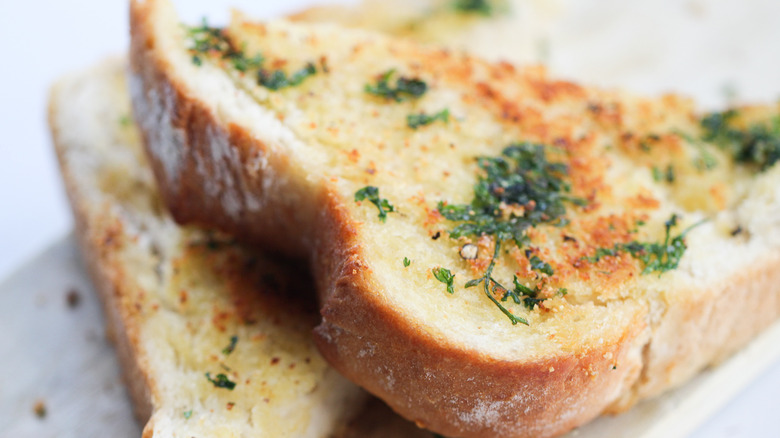 Susan Olayinka/Mashed
Sometimes, the story behind a food's origin is murky, and often it's contentious. When it comes to Texas Toast, the story is refreshingly cut and dried, according to Taste Atlas. The tasty Texas treat can be traced to a Beaumont, Texas, restaurant called the Pig Stand in the year 1941. Restaurant owner Royce Hailey apparently ordered some extra thick-cut bread, intending to offer it as standard toast.
When the slices proved too thick to fit into the kitchen's toaster slots, instead the cooks buttered and pan-fried the thick toast, and in so doing created a true Texas original that is now enjoyed far and wide.
Gather your ingredients for this Texas toast recipe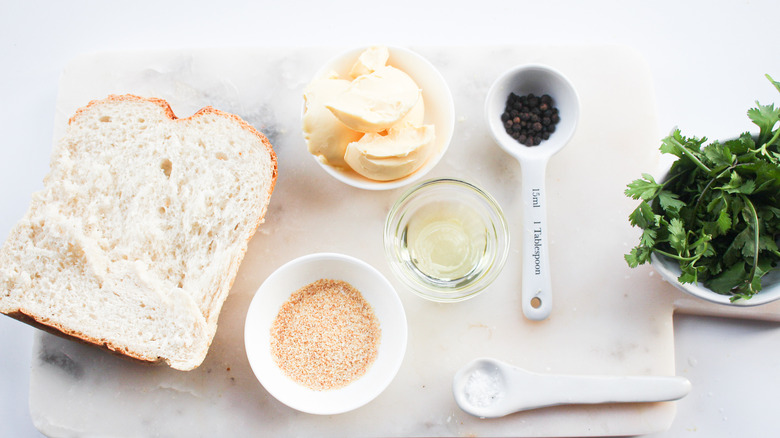 Susan Olayinka/Mashed
For proper Texas toast, you'll need a loaf of bread with extra-thick slices. Can't find one? Then in true Texas spirit, get an uncut loaf and slice the bread yourself, making each piece nearly double the width of standard sliced sandwich bread.
Beyond those hearty slices of toast, you'll need plenty of butter, some vegetable oil, some garlic powder, fresh chopped parsley, and some salt. And a good dose of "Yeehaw!" attitude never hurt either, but that part is optional. For the cooking hardware, you'll need a pan, a cast iron skillet, or a griddle.
Prepare your herb and oil butter mixture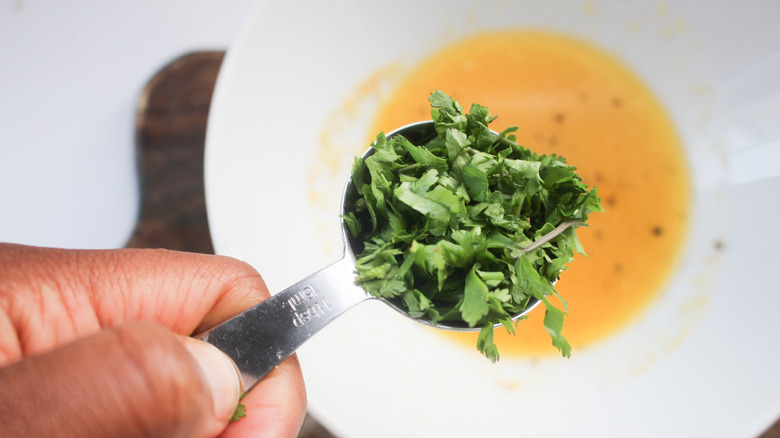 Susan Olayinka/Mashed
Start by preparing your butter mixture. Doing so calls for a microwaveable bowl, into which you'll spoon in the three tablespoons of butter. Put the bowl in the microwave for around 15 seconds (or more as needed), ensuring the butter has fully melted.
Now remove the bowl from the microwave and add the oil to the melted butter, followed by the chopped parsley, and finally the garlic powder and salt. Stir to combine everything well. Next, begin heating a large pan or a griddle to medium-high heat so it's ready as soon as you get the bread prepped.
Brush on the butter blend and sear the bread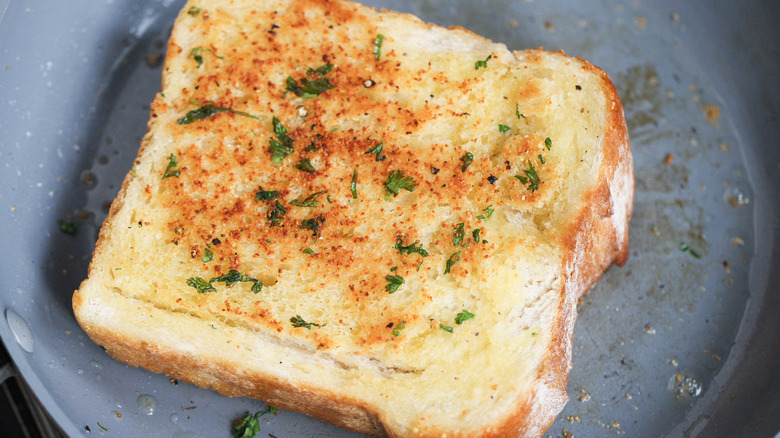 Susan Olayinka/Mashed
Use a kitchen brush (silicone bristles work well) and brush the butter mixture onto both sides of the slices of bread. Now place the prepared bread in the pan (or down on the griddle) and cook the slices for around two to three minutes on each side, or until each side is golden brown.
Once all of the bread is toasted on both sides, transfer the Texas toast to a chopping board and cut the pieces diagonally into triangles. Now serve this classic side alongside your favorite breakfast or BBQ foods, or enjoy it on its own as a unique snack.
Texas Toast Recipe That Brings New Meaning To Comfort Food
They say everything is bigger in Texas, and as it turns out, that even applies to the toast. Why settle when you can go big on flavor?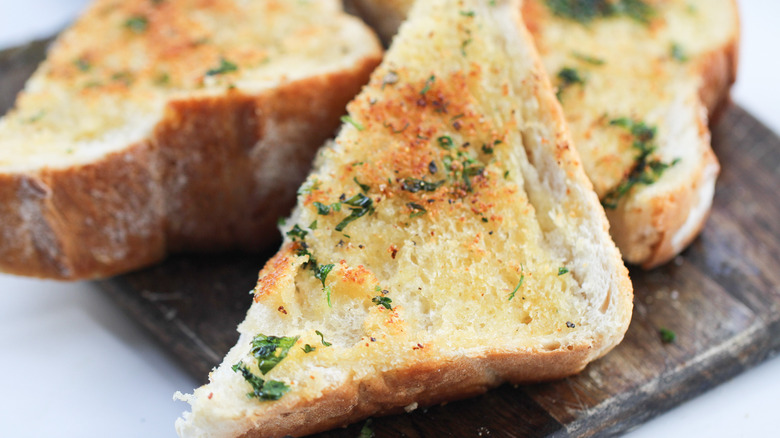 Ingredients
3 tablespoons butter
2 tablespoons vegetable oil
2 tablespoons parsley, chopped
1 teaspoon garlic powder
¼ teaspoon salt
2 thick slices of bread
Directions
Melt butter in microwave (15 to 25 seconds).
Add oil to the melted butter, followed by chopped parsley, garlic powder, and salt. Stir.
Use a brush to spread herb butter mixture on both sides of the slices of bread.
Meanwhile, heat the pan on the stove at medium-high heat.
Place prepped bread in the pan and cook for around 2 to 3 minutes on each side until golden brown.
Once all the bread is toasted, transfer to a chopping board and cut diagonally into triangles, then serve and enjoy.
Nutrition
| | |
| --- | --- |
| Calories per Serving | 180 |
| Total Fat | 16.1 g |
| Saturated Fat | 6.0 g |
| Trans Fat | 0.4 g |
| Cholesterol | 22.9 mg |
| | |
| --- | --- |
| Total Carbohydrates | 7.7 g |
| Dietary Fiber | 0.7 g |
| Total Sugars | 0.9 g |
| Sodium | 81.0 mg |
| Protein | 1.8 g |