Sauerkraut Salad Recipe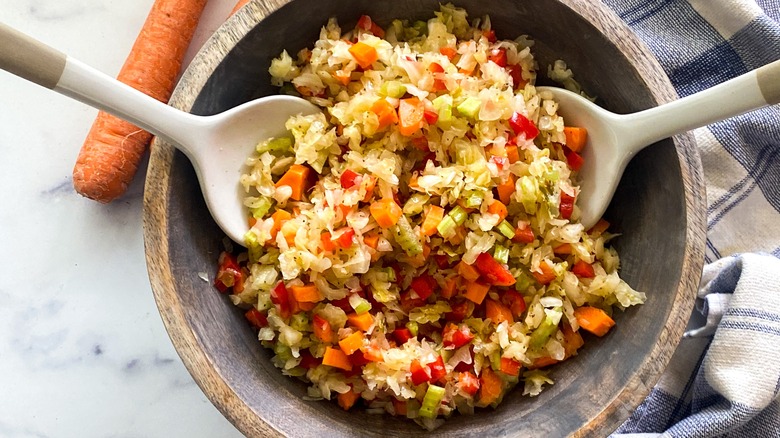 Miriam Hahn/Mashed
When you're looking for a new side dish idea and you're coming up short (let's be honest, as good as a basic side salad or potato salad are, every now and then it's good to try something new), look no further than this cold sauerkraut salad recipe developed by Miriam Hahn. This simple, veggie-packed dish provides a nice, cold side on a hot summer day, and according to Hahn, it pairs well with sandwiches, grilled meats, eggs, or even as an addition to a buddha bowl. Plus, it takes just 10 minutes to prep (even less if you buy pre-diced and shredded veggies from your grocery store deli) and serves up to 10 people, which makes it the perfect dish to serve at a barbecue or to take to a potluck.
Really, when you think about the types of meats sauerkraut is often served with — pastrami, sausage, or even hot dogs — you could always use this salad as a topping to a sandwich or a filling in a wrap. It might be just the thing to take your hamburger to the next level. 
Gather your ingredients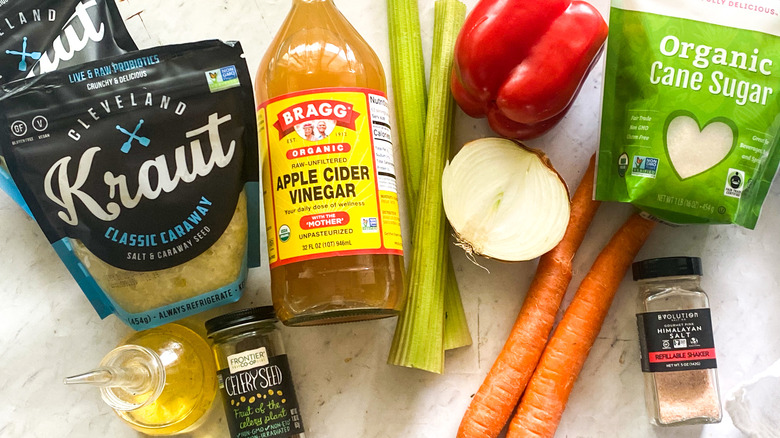 Miriam Hahn/Mashed
This recipe is really very simple to construct, and it consists almost completely of vegetables. First, you'll need sauerkraut. Hahn suggests using raw sauerkraut due to the probiotic benefit (and the fresher taste), but if raw sauerkraut is hard to come by, there's no reason you can't use the cooked variety.
Then, all you need is an onion, carrots, celery, and a red pepper for the salad itself. Finally, gather the ingredients for the dressing — it's very simple, requiring nothing more than olive oil, apple cider vinegar, salt, and celery seed. In a pinch, Hahn says you can sub in red wine vinegar in place of the apple cider vinegar, but for flavor reasons, it's important to stick to olive oil instead of using other varieties. 
Dice your veggies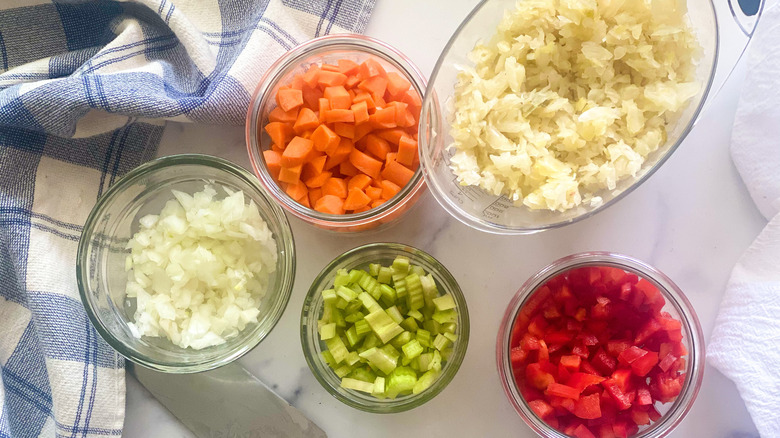 Miriam Hahn/Mashed
Now, get ready to slice and dice. Really, this is where you're spending almost all of your prep time. Those veggies need to be diced or shredded in order to mix them well with the sauerkraut. But if you're short on time, you can try chopping them in a food processor (although you have to be careful not to overdo the chopping).
Most grocery stores also carry pre-diced onions and peppers, and you may be able to find diced celery and carrots too. They'll cost more than uncut veggies, and in some cases, may not taste quite as fresh, but this approach will save you at least a few minutes of prep time. 
Mix veggies, sauerkraut, and dressing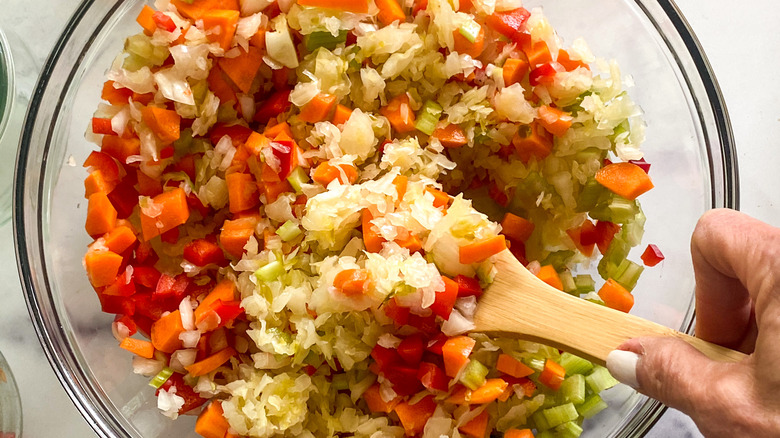 Miriam Hahn/Mashed
Once your veggies are ready to go, simply put them in a large bowl with your four cups of raw sauerkraut. Stir the entire salad, aiming for a well-distributed mix of veggies and sauerkraut. Once the veggies are mixed, add in your dressing. You don't even have to pre-whisk the ingredients together. Simply add the olive oil, vinegar, salt, and celery seed, and continue to stir. Taste the salad and make any small adjustments you want to the level of vinegar or spice.
When you're happy with the flavor, serve immediately or chill until you're ready to enjoy.
Sauerkraut Salad Recipe
When you're looking for a new side dish idea and you're coming up short, look no further than this cold sauerkraut salad recipe developed by Miriam Hahn.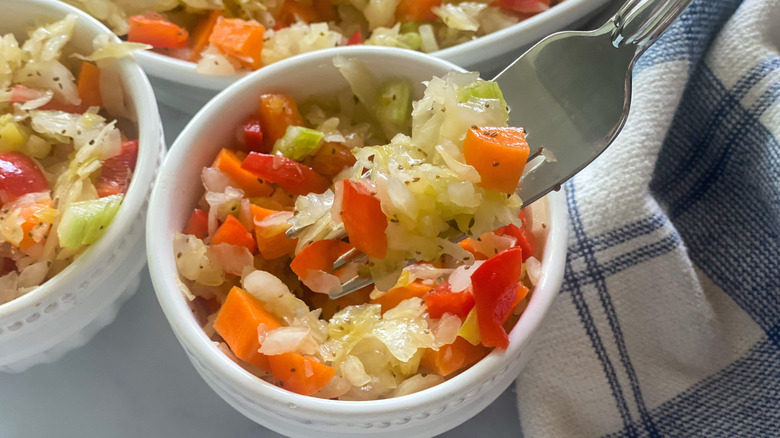 Ingredients
½ onion, diced
2 carrots, diced
2 celery stalks, diced
1 red pepper, diced
4 cups raw sauerkraut
2 tablespoons olive oil
⅛ cup apple cider vinegar
1 teaspoon salt
1 teaspoon celery seed
Directions
Dice the onion, carrots, celery, and red pepper.
Put the sauerkraut in a bowl, and add in the chopped vegetables.
Now add in the oil, vinegar, and spices. Mix well.
Eat right away or chill.
Nutrition
| | |
| --- | --- |
| Calories per Serving | 61 |
| Total Fat | 3.6 g |
| Saturated Fat | 0.5 g |
| Trans Fat | 0.0 g |
| Cholesterol | 0.0 mg |
| | |
| --- | --- |
| Total Carbohydrates | 6.6 g |
| Dietary Fiber | 3.1 g |
| Total Sugars | 3.1 g |
| Sodium | 489.4 mg |
| Protein | 1.1 g |