Cantonese-Style Shrimp Dumplings (Har Gow) Recipe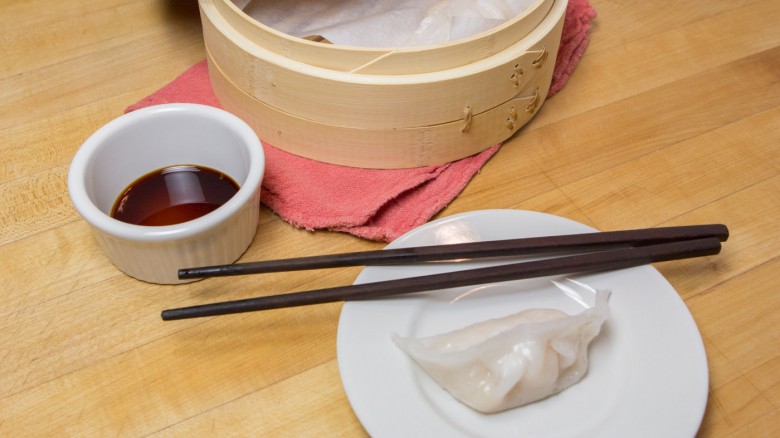 Prep time: 15 minutes. Cook time: 25 minutes. Servings: Makes 16 to 18 dumplings.
Dumplings are a staple of Chinese cuisine and for good reason. Whether they are filled with pork, cabbage, beef, or shrimp — boiled, pan-fried, steamed, or simmered in broth — there's no denying the sheer comfort of biting into these savory delicacies. A staple of dim sum, a tradition of Chinese brunch often enjoyed by gaily choosing small dishes from carts to share with family and friends, dumplings are my childhood food of choice.
I spent my youth developing my long-lasting affinity for har gow in particular. Made with a filling of shrimp and bamboo shoots wrapped up inside thin, translucent dough wrappers, these delicate Cantonese dumplings are soft, pillowy, and perfect with sips of tea in between bites. While eating shrimp dumplings for dim sum is an a.m. event that I recommend anytime you're near a good Chinese restaurant, the practice is especially popular during the Lunar New Year. I can't think of a better way to ring in the Year of the Rooster than by making har gow from scratch and sharing these dumplings with your favorite people.
Note that the dough ingredients are listed by weight for accuracy since it's a finicky mixture! Pull out your kitchen scale.
Ingredients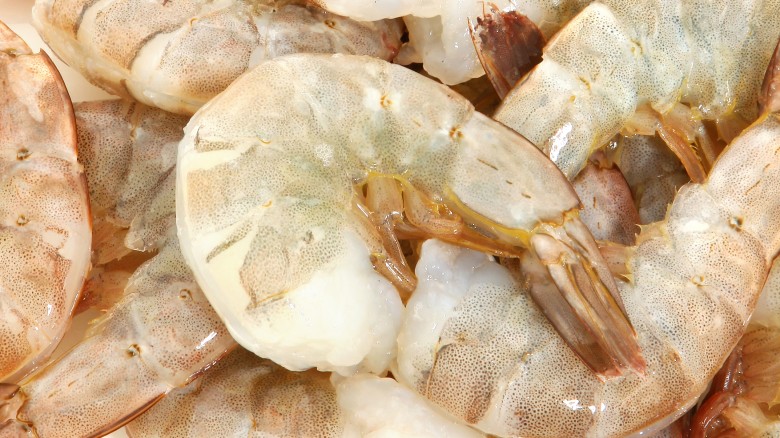 Shutterstock
Shopping list
For filling:


½ pound raw shrimp, peeled, de-veined, patted dry, and roughly chopped


1 teaspoon oyster sauce


1 tablespoon canola oil


¼ teaspoon white pepper


1 teaspoon sesame oil


¼ teaspoon kosher salt


1 teaspoon granulated sugar


1 teaspoon ginger, minced


¼ cup bamboo shoots, minced


For wrappers:


160 grams potato starch


20 grams tapioca starch


100 grams boiling water


1 tablespoon canola oil


soy sauce and chili sauce for serving if desired


Equipment


plastic wrap


rolling pin


parchment paper


medium pot (big enough for the steamer basket to sit inside and not touch the bottom)


bamboo steamer basket with lid


Make filling and dough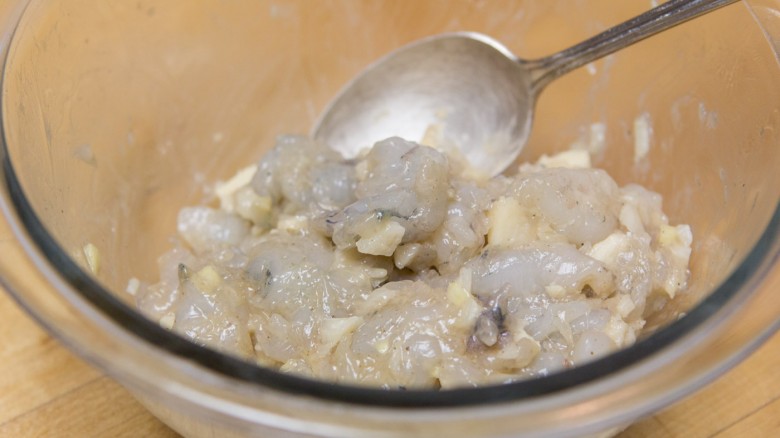 Place the shrimp, oyster sauce, canola oil, white pepper, sesame oil, kosher salt, sugar, and ginger in a large bowl. Using a wooden spoon, stir until the mixture begins to look sticky, 1-2 minutes. Add the bamboo shoots and stir to combine. Cover with plastic and place the filling in the refrigerator to chill for about 10 minutes. Meanwhile, in a large bowl, whisk together the potato starch and tapioca starch until fully combined. Stirring continuously, slowly add the boiling water until the dough comes together. Add the canola oil and stir to combine. Using the heels of your hands, knead the dough until a smooth ball forms. Lightly dust a clean, dry surface with some potato starch. Roll the dough into a cylinder, about 1 ½ inches thick. Cut crosswise into about 16 to 18 equal pieces. Cover the dough with a damp paper towel to keep it moist and allow it to rest for about 5 minutes, then roll each cut piece into a smooth round ball.
Assemble and steam har gow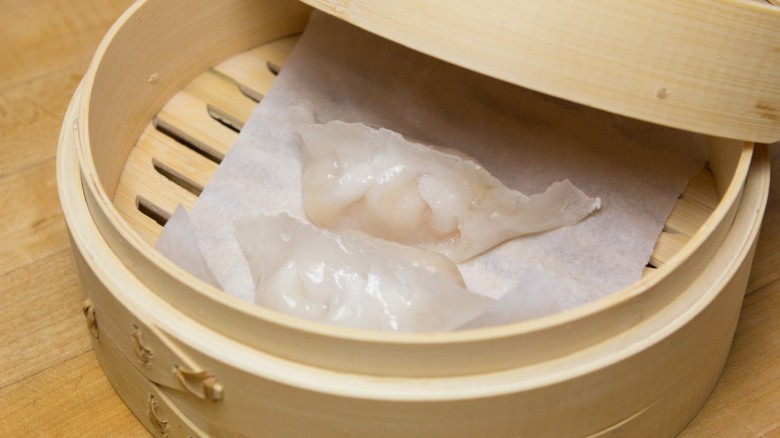 Using a rolling pin, roll the ball into a thin round, about 3 inches in diameter. Place about 1 tablespoon of the chilled filling in the center. Make small pleats on one side of the wrapper, then press against the edge of the other side to seal tightly. Repeat with the remaining dough and filling. Bring 1 to 2 inches of water to a boil in a medium pot over high heat. Working in batches, place a few dumplings inside a parchment-lined bamboo steamer basket and cover with the lid. Place the steamer basket snugly in the pot of boiling water without allowing the water touch the bottom of the basket. Steam until the shrimp is cooked through, 5-7 minutes. Serve har gow with soy sauce and chili sauce alongside for dipping if desired.