David Chang's Massive Joke Sandwich Is Now One Of His Favorites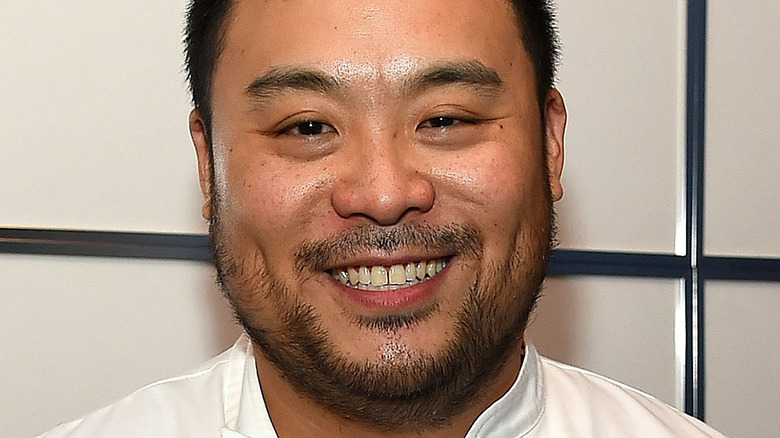 Ben Gabbe/Getty Images
Anyone who takes pizza seriously knows that Boboli is the last thing you'd want to use for the dough, unless you were really in a pinch. At least that's what chef and podcast host David Chang thought before the Boboli episode of Recipe Club (via The Ringer). Now he's convinced that the ready-made supermarket pizza crust is the perfect sandwich bread. Originally created as a joke of a recipe, Chang's massive $50 sandwich turned into what he confidently declared as "one of the best things you will ever make" (via Instagram).
Instead of the Boboli functioning simply as a flatbread, Chang's sandwich maintains some of the integrity of an actual pizza through the incorporation of mozzarella, tomato, oregano, olive oil, and pepperoncini. Adding "a dome" of other ingredients, the result is what the chef described as a deli sandwich hybrid of a New Orleans muffuletta, a Pittsburgh wedgie, and an Italian sub. "The kind of sandwich I want to eat is the kind where you're full after half a sandwich," Chang shared in the podcast episode as he explained the inspiration behind his culinary creation. Considering his new favorite sandwich can be divided into seven whole wedgies, it's safe to say he accomplished exactly what he was going for.
Chang's sandwich requires two Boboli pizza crusts
To construct the sandwich, David Chang first piles on turkey, ham, mozzarella, then adds Kewpie mayo, salt, pepper, and dried oregano, before letting it sit in the oven for 15 minutes. After the mozzarella is melted and the Boboli is crispy, he removes it from the oven and lifts the top crust to add fresh tomatoes, onions, pepperoncini, and iceberg lettuce dressed with rice wine vinegar and olive oil. This gives the sandwich the ultimate balance of "hot and cool," Chang said on the Recipe Club podcast.
Since Boboli is a family-sized pizza crust, it's significantly larger than sandwich bread, so the result will be a significantly larger sandwich. If you're trying to scale down the size of the sandwich, however, Chang recommends doing so in the same way you would with any other sandwich — cut the bread after, not before, or the ingredients may come loose. In any case, Chang is sure you'll end up eating the whole thing after one bite because the sandwich is just that good. Though Chang initially snubbed the use of Boboli, he admits the joke was on him since his Boboli sandwich is now one of his favorites. "It exceeded all my expectations," he concluded in the episode. "Not all recipes have to be à la menu or from scratch, all that matters is — to take the snootiness and all the foodie BS out — does it make you happy?"