How To Make Grilled Food Even Healthier, According To Robert Irvine
Shutterstock
When the weather is warm and the sun is shining, there is nothing more satisfying than some beers and BBQ with friends. Grilling steaks and burgers — and eating them outside in nice weather — is an eternal American summer tradition. But grilling is actually a skill and form of preparation that can be utilized year-round as well. Bon Appétit's 2013 piece gives excellent pro tips on how to do so 365 days a year — adapting for seasons with measures such as grilling squash in the fall and using a shovel to carve a pathway to your machinery in the winter. And, with the rise of electricity-powered indoor grills (like those listed on Delish), there's really no excuse not to try it more often.
In fact, grilling instead of frying or even sauteéing may actually have its health benefits too. According to Fit Day, foods that are grilled have been linked to reduced fat content and lower calories, and with that, they may reduce the risk of a variety of diseases. Here's another secret: There's a way to make your grilled food even healthier with this tip from Robert Irvine, known for his addictive show, "Restaurant: Impossible."
What's Robert Irvine's grilling secret?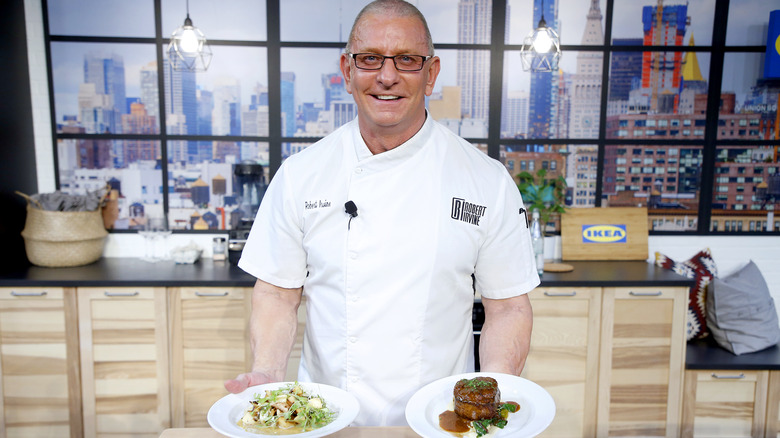 John Lamparski/Getty Images
According to Food Network, the perfect grilled foods come courtesy of a great marinade. But if you ask chef Robert Irvine (per Insider), there's another, better way to do it. Instead of a heavy marinade, Irvine suggests supplementing the flavor in the dish with fresh herbs, and swapping bottled sauces (that are often high in sugar and salt) with something like squeezed citrus to pack in the flavor but not the empty calories. 
According to the LA Times, marinades are also a big waste of time and effort. The article says that marinades (which take up so much unnecessary prep time) really only serve the purpose to coat the meat's surface, and don't penetrate within to infuse the flavor or juices. The writer even goes as far as to say that marinades can damage meat. That is, those with a surplus of acidity, like lemon juice or vinegar can turn the meat "mealy." Instead, the paper recommends to simply use some salt and pepper along with garlic, onions, and other spices to do the trick.