Costco Fans Are Loving These Tapatío-Seasoned Nuts
As a retailer, Costco has found ways to impress shoppers across the U.S. who often head to their nearest outlet to stock on up on home essentials, pantry staples, and (our favorite) snacks. What works particularly well is that, as a warehouse club, Costco is able to offer a lot of items in bulk or at extra affordable prices. If you simply can't get enough of Costco's amazing snack selection, we have good news for you: Costco fans have spotted an oversize package of spicy Tapatío-seasoned nuts that they simply can't stop talking about.
Costco sleuth and Instagram fan account @Costco_doesitagain spotted the packages of Tapatío-seasoned nuts at the warehouse store and put up an exciting post that read, "COMING IN HOTTTT! Peanuts, Cashews, and Almonds with @tapatiohotsauce seasoning!" After just a few short days, the reviews are already fairly positive, with a comment section full of heart and fire emojis.
Not everyone is as impressed as Instagram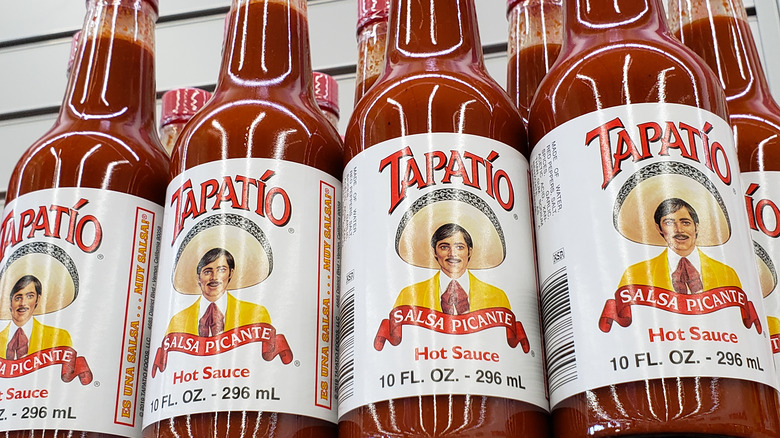 Shutterstock
On @Costco_doesitagain's post sharing the good news about the new Tapatío nuts, one Costco shopper praised the snack, saying: "We have these. Super good, but not super hot." Sounds like the ideal mix to keep everyone happy. Another of the account's followers mentioned that their husband loves the snack, while someone else wrote, "It's so good. Definitely recommend."
Still unsure? Well, you might be right to ask for a second opinion. According to Buzzfeed, this snack may be a bit more controversial than the Instagram comments would have you believe. Some buyers seem to fall for its charms immediately, while others think it could taste better. For one Reddit user, this packet of nuts was absolutely delicious. (After all, they made a special post about it.) Unfortunately, another Redditor commented on their post, "I find these disappointing, not spicy at all and felt the [Tapatío] flavor was completely missing." A few users agreed, calling the nuts surprisingly bland. Other Redditors came to the product (and OPs) defense, with one writing, "I like that there's no added sugar. Very mild heat with a slight tomato/jalapeño/paprika flavor. A nice change of pace from regular and wasabi nuts in my current rotation." Looks like you might just have to pick up this snack on your next Costco trip and decide for yourself.