Costco Fans Are Freaking Out Over Its New Garlic Pepper Drumsticks
Between their groceries, baked goods department, and selection of ready-to-eat meals, Costco has you covered with just about every kind of food item you might possibly want to buy. While their great deals on grocery items are one of the main reasons fans keep coming back, there are some days when you just don't feel like cooking, and that's when their prepared, hot meals come in handy. Many of their prepared dishes are very popular with Costco shoppers, and it seems like the warehouse chain has another winning recipe with their new garlic pepper drumsticks. The chicken is selling for just $2.99 per pound, according to Costco Instagram fan account @costcodeals, meaning you can get a fairly filling portion without having to spend a lot of money.
The savory, well-seasoned meat has been earning positive reviews from Costco shoppers online. On the @costcodeals post, which alerted followers to the new release in the Aloha, Oregon Costco location, many commented that they couldn't wait to see if the new ready-made meal had reached their local store as well.
Costco shoppers are raving about the new chicken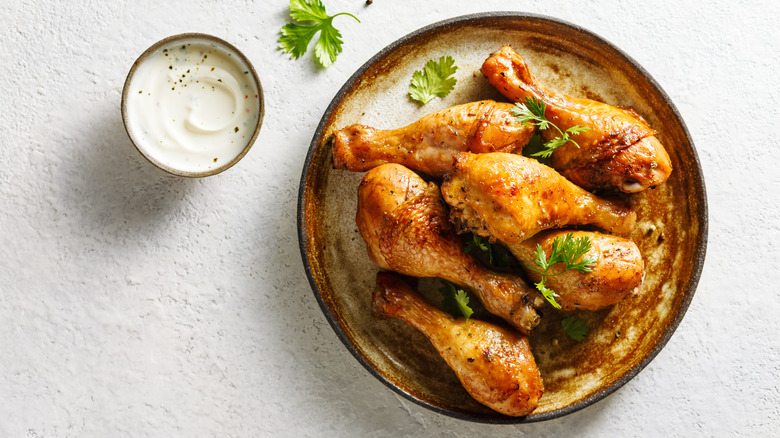 Shutterstock
On the @costcodeals post, one follower raved: "Picked some up last week! So good!!!!" complete with fire and heart emojis. Another Instagram user pointed out that, although this is a dish that may feel like an indulgence, these drumsticks fit right in to the Keto diet. Other shoppers were quick to contribute their recommendations for how best to reheat the chicken for an optimal dinner experience. "Throw them in the air fryer for a few for the extra crunch," one person suggested.
It seems like, no matter how you prepare it, this ready-made chicken from Costco is sure to steal the show. Whether you are serving them individually as an appetizer or making them the main course, these drumsticks are a surefire crowd-pleaser. Whatever the occasion, if you are looking for a delicious and satisfying dish to grab on the go this week, don't forget to check out your local Costco. These garlic pepper drumsticks should be a hit with the whole family, and they won't break the bank either.