Why You Should Be Adding Chili Powder To Your Candy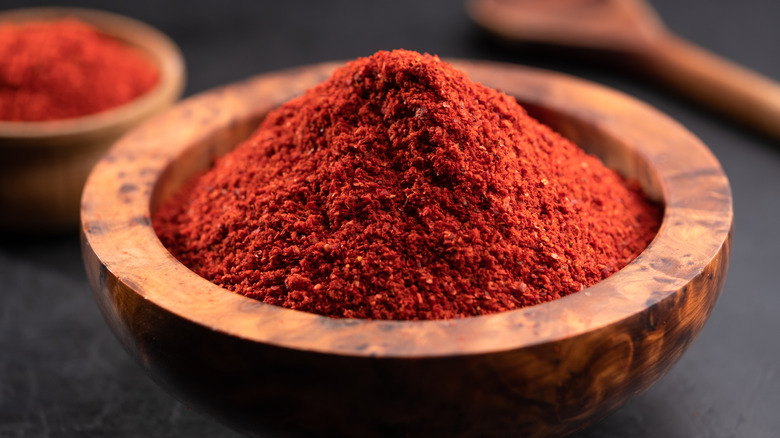 Shutterstock
When you want to supercharge candy, you can find a few ways to hack whatever sweet treat you have in front of you. According to Fine Cooking, sprinkling salt on your dessert or candy not only enhances the sweetness of the product, salt blocks bitter flavors, taking your delectable to the next level. If you want to bring out another flavor level to your candy, you can take some inspiration from Mexico and start adding chili powder to your favorite dessert items.
You may have seen gourmet chocolatiers pair chili peppers with chocolate. Lindt exquisitely marries the flavor of the two ingredients to serve up a chocolate bar with a spicy twist. Mexican hot chocolate uses ancho chilis to deepen the flavor of the beverage, while adding some extra warmth to the mix (via Chili Pepper Madness). Mexican candies often rely on this signature ingredient as a coating that not only compliments fruit flavors and goes particularly well with mango, strawberries, and citrus notes (via Mexican Candy). The combo makes absolute sense, since pairing the pepper with fruit brings out tropical flavors (via One Green Planet). For this reason, chili peppers not only complement traditional recipes that use lime, mango, and other tropical fruit, but also candies that rely on a similar flavor combo.
The ultimate hack to take your candy to new heights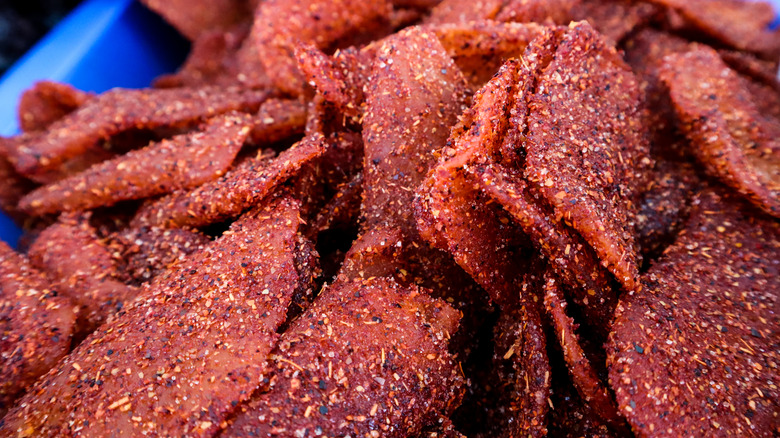 Shutterstock
Chili powder paired with candy has taken on a new life as of late. According to Eater, this spicy powder has appeared on dulces enchilados ("spicy sweets") on TikTok. Gummy bears, skittles, and even Gushers have gotten tossed in a chamoy syrup (a Mexican condiment that's "equal parts hot sauce and candy," says The Frayed Apron) then coated with spicy chile powder to bring out a flavor potential unlike any other. These fruity candies sometimes also get an extra dose of powdered sugar, lime juice, or other product to heighten the taste sensation. When TikTokkers hack their candy using these ingredients, they end up creating a product with a flavor that closely mirrors some classic Mexican candy making for a social media hit and a mouth-watering final product.
Next time you want to experiment with your candy, take a nod from Mexican candy culture and introduce a bit of chili powder into the mix. By adding in this secret ingredient, you can take your candy to a whole new flavor dimension and end up with something worth sharing.