Costco Shoppers Are Loving These Whole-Leaf Tea Packs
If you love a good cup of tea, you can't go wrong with the whole-leaf variety. According to The Spruce Eats, the typical tea bag features a mix of smaller bits of tea dust and fannings wrapped into a submersible sack. Due to the greater amount of surface area in this typical variety of tea, essential oils dissipate much faster, leading to a duller cup of tea compared to a mug made with whole-leaf tea. If you can get your hands on a set of tea bags featuring whole-leaf tea, you can expect a fresher cup with much more flavor packed into every sip. 
Tea fans took note of this key difference when @costcobuys posted a picture of Costco's new whole-leaf teas on their Instagram account, alongside the caption, "Amazing @myteadrop Unsweeted Tea Drops are available NOW in select Los Angeles and Orange County area @Costco warehouses! Tea Drops are made with organic tea leaves that are ground and pressed together without additives...no teabags needed! These have such a bold, full flavor that I can't get enough of!" According to the post, the teas have only made appearances at California Costco locations, but that geological limitation hasn't put a damper on tea lovers' excitement.
The perfect cup of tea in every mug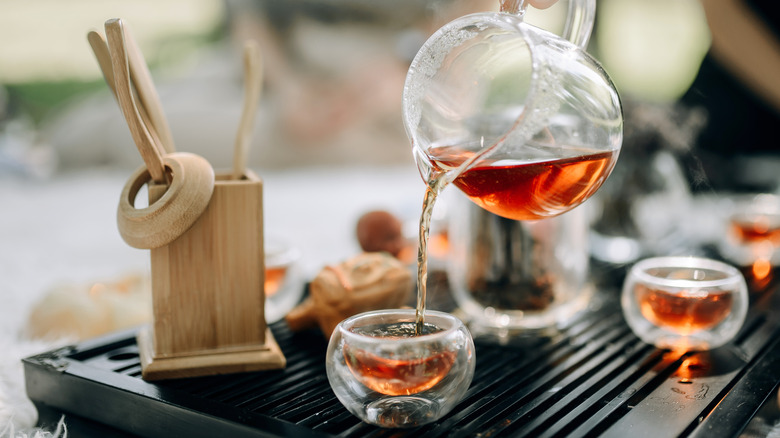 Shutterstock
Shoppers love the new teas, and haven't held back from showing the love. The post has so far collected over 1,000 likes, and a variety of glowing replies, like "Oh these look great," and "We want these in the Ohio area!" The tea's packaging proudly advertises how the product qualifies as a USDA certified organic product and comes from a woman-owned business.
If you have searched high and low for a quality tea, look no further than this latest Costco offering. After one sip, you can taste the difference between the traditional tea bag that features bits and pieces of tea, and the complex flavors locked up in whole-leaf teas. With any luck, this new offering can expand beyond California and give tea enthusiasts nationwide something to serve up next time they need a new blend. Keep an eye out for this product in your area and make sure to snatch it up when you can.