Aldi's Peach-Flavored Hard Seltzer Is Turning Heads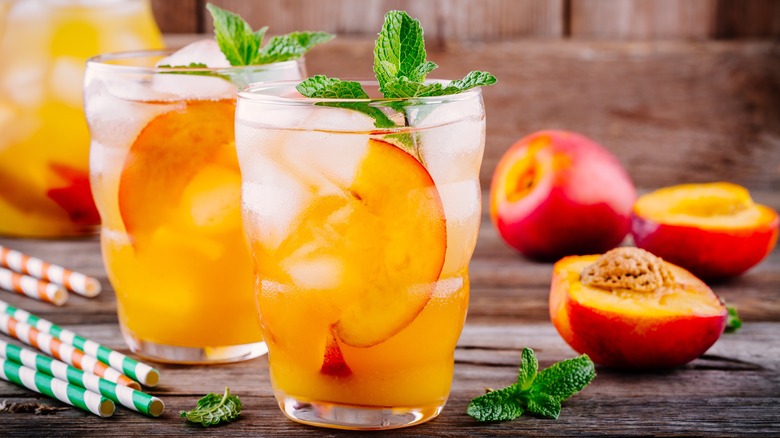 Shutterstock
The weather is finally starting to warm up, and it is almost that time of year when picnics, barbecues, and summer celebrations are about to get under way. Many people like to beat the heat by enjoying a refreshing, cold libation, but not everyone loves the loads of calories and sugar that often come with a traditional summer cocktail. Luckily, that is where Aldi comes in. 
The grocery store has just released a sweet and refreshing new hard seltzer that is made with real white wine and infused with the flavor of ripe, juicy peaches. Each wine-based seltzer contains just 80 calories per 8.4 ounce can, according to Aisle of Shame. But not only is it low in calories, it also contains just two grams of sugar, is completely gluten free, and contains an alcohol by volume content of only 5 percent. A box of four cans is now available at participating Aldi locations for just $6.49, while individual cans can also be purchased for under four dollars if you don't want to commit to a whole box just yet.
Aldi shoppers can't get enough of this hard peach seltzer
Aldi shoppers were excited to see this refreshing seasonal release. The popular Aldi-themed Instagram account @aldiusa made a post alerting their followers to the summery new find, writing: "Feeling peachy? Pick up a pack of this refreshing hard seltzer all spring and summer long! Only $6.49." Their followers were excited to add this light and sweet new drink to their summer selections. "Looks refreshing...can't wait for summer days and have a can by a pool and chill," user @kitchenonoverhill posted. "These should be perfect for the pool this summer," @hanelizabethn agreed. Many other Aldi fans chimed in, calling the hard seltzer "delicious" and "so good!"
This peach wine seltzer will only be available at Aldi during the warm weather months, so don't wait to head to your local store and give this head-turning beverage a try for yourself. However, shoppers should note that not all Aldi locations sell alcohol, so be sure to check that your local store does serve beer and wine before making the trip.