Burger King Is The First Fast Food Restaurant In Canada To Put This On The Menu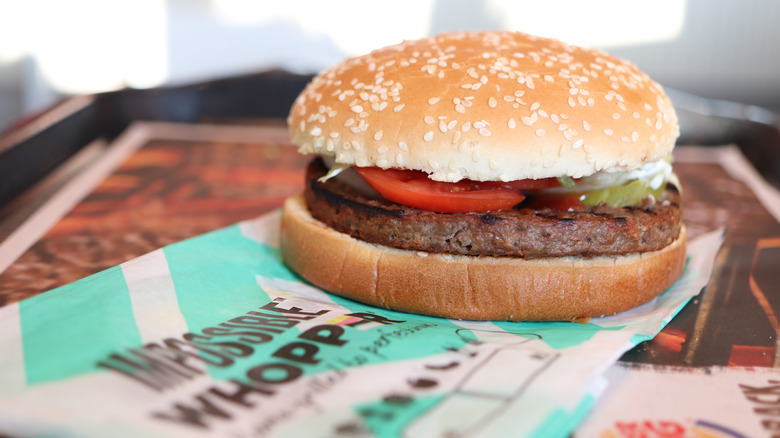 Shutterstock
On March 22, 2021, Burger King announced that it launched its Impossible Whopper in Canada beginning in Toronto on that date and rolling out the new menu offering across the full country as of April 12. In so doing, BK is the first quick-service food destination in Canada to put an Impossible Foods patty on its menu in nationwide markets. "Our mission is to sell Impossible products everywhere conventional animal meat is sold today," Dennis Woodside, President of Impossible Foods, said in a press release shared by Perishablenews.com. He added, "That includes Burger King, whose huge footprint and affordable prices can make delicious plant-based burgers accessible to more Canadians than ever before."
The move follows Burger King's worldwide campaign to introduce more plant-based foods to their menu. In March of this year, Alasdair Murdoch, CEO of Burger King UK, also told iNews that introducing a plant-based Whopper was part of the plan to make the British menu 50% plant-based within the current decade. 
Much like the regular Whopper, the Impossible burger version is flame-grilled and features sliced tomatoes and onions, lettuce, mayonnaise, ketchup, and pickles, all topped high on a toasted sesame seed bun.
The Impossible expansion in Canada may lower prices for all consumers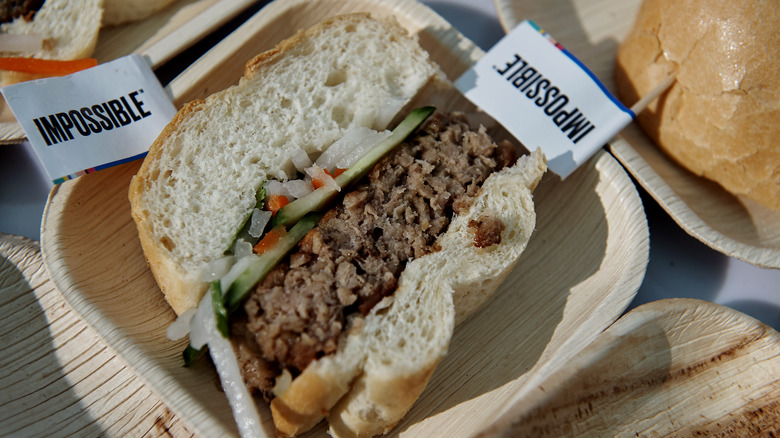 Bloomberg/Getty Images
In other good news, the price of Impossible Foods has become even more affordable, making offerings like the Impossible Whopper even more accessible. According to President Dennis Woodside, as noted on the company's website, as the market share for Impossible Foods grows, the price paid for the food decreases. As such, the plant-based manufacturer reduced grocery store prices of their goods by 20% in February. 
At the time of that announcement, Food Dive gave the context that Impossible Foods' general mission is to convert the populace from meat to eating plant-based, and lowering prices as more buy into it is an effective strategy. Impossible Burger's partnership with Burger King should also help towards this long-term goal. Offering a protein alternative to meat in a burger restaurant serves as an excellent advertising avenue and, if successful, the money brought in by Burger King may help Impossible Foods lower prices even further to keep both the restaurant and the customers hooked. 
We'll just have to see if Canadian customers bite.