Chilled Sweet Corn Soup Recipe That's The Perfect Summer BBQ Side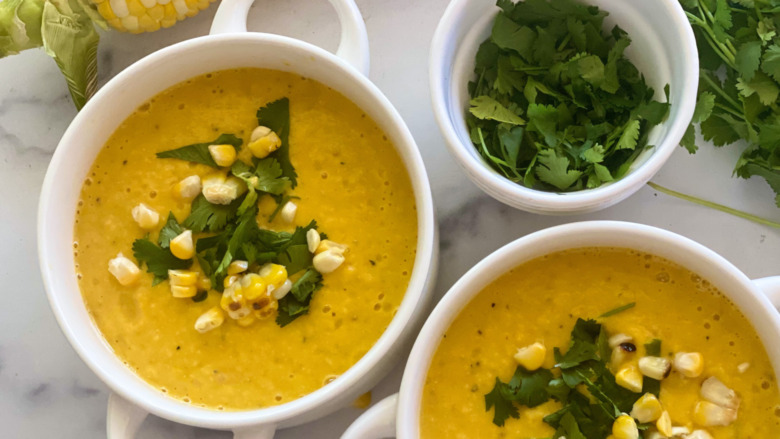 Miriam Hahn/Mashed
When you hear mention of a soup served chilled, you almost surely think of the Spanish classic, gazpacho, and then likely can't really think of any others. Some kind of cucumber soup, maybe? Or a watermelon soup something? The fact is that while there are indeed plenty of soups best served cold, not a lot of them are all that memorable. That is, until you try a bowl of this chilled sweet corn soup, a chilled dish so delicious it will become a go-to summer side in your home.
Recipe developer Miriam Hahn says: "I make this every year at the first sign of summer when the stores are brimming with fresh corn." But as you can also use frozen corn without a noticeable effect on the taste, so you can make this soup any time of year. And you can whip it up any time you have a mere 15 minutes, too. "It's super simple because there is no cooking involved," says Hahn, thus this chilled soup is "great for nights when you don't want to heat up the oven."
It is also a perfect addition to a summer daytime BBQ when a few cool bites of soup beautifully balance with all the smoking hot ribs and brisket.
Gather the ingredients for this chilled sweet corn soup recipe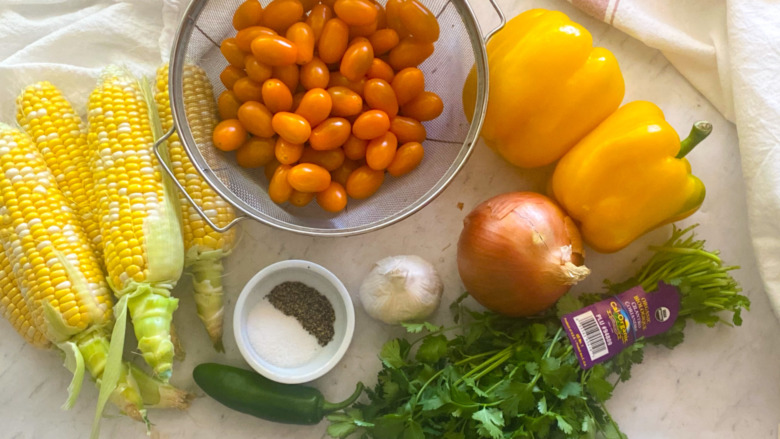 Miriam Hahn/Mashed
There's some flexibility with this soup, starting with whether or not you use fresh or frozen corn. As for the tomatoes, Hahn says: "You can use any heirloom tomatoes, but it comes out the prettiest with the golden varieties." 
If you want to follow Hahn's exact go-to recipe, you'll need six ears of corn, two yellow bell peppers, roughly chopped, two 10-ounce containers of golden grape or golden cherry tomatoes, three cloves of garlic, minced, a half cup of onion, diced, a jalapeño, chopped and with seeds removed, salt, pepper, and cilantro for topping.
One more tweak you can make: Use less of the jalapeño for less spice, or add more jalapeño to add some heat.
Prepare your veggies for blending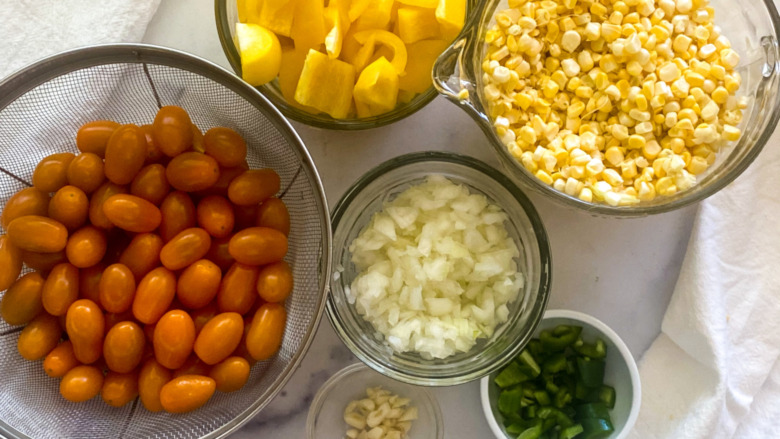 Miriam Hahn/Mashed
There are basically three steps to making this soup, and each of them is blissfully simple. In the simplest terms, you chop the veggies, then you blend all the veggies together, and then you garnish said blended veggies and serve it all in soup bowls.
Because you're blending everything (save a bit of corn and cilantro), in this step, you can chop the onion, peppers, garlic, and jalapeños rather roughly — no need for perfect mincing. When you cut the corn kernels off the cobs, make sure to separate one ear's worth for the garnish, or else to portion out about three-quarters of a cup of kernels if you are using frozen corn. 
Time to get blending
Miriam Hahn/Mashed
Put all of the tomatoes into the blender and blend them until they are essentially a liquid — you can't really overdo the blending here. Next, add in the other ingredients, literally everything save for that bit of separated corn and the cilantro, which you can go ahead and roughly chop at any point. 
Blend everything for several minutes until the soup is very smooth and creamy. In most cases, unless you have a very large blender (or are using an immersion blender in a large bowl), you will have to work in two batches to blend all of the ingredients. That's no problem: Just make sure to mix everything together well in a serving bowl before you ladle out the portions.
Garnish the soup, then serve and enjoy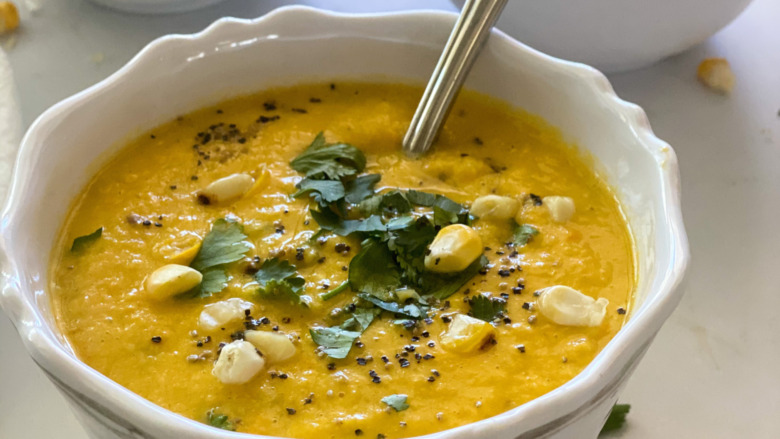 Miriam Hahn/Mashed
Heat a skillet over a burner at medium heat (no need to grease it). Once the pan is warm, toss in the reserved corn kernels and let them cook, stirring a few times, until many of the kernels take on a bit of brown sear.
Now serve out portions of the soup and top each bowl with seared corn kernels and chopped cilantro, as well as with a bit of black pepper if desired. If you end up with leftovers, Hahn says: "The soup will last three to five days stored in an air-tight container," and the best part? "There's no re-heating necessary since it is a cold soup!"
Chilled Sweet Corn Soup Recipe That's The Perfect Summer BBQ Side
Since you can use frozen corn without a noticeable effect on the taste of this dish, you can make this chilled sweet corn soup any time of year.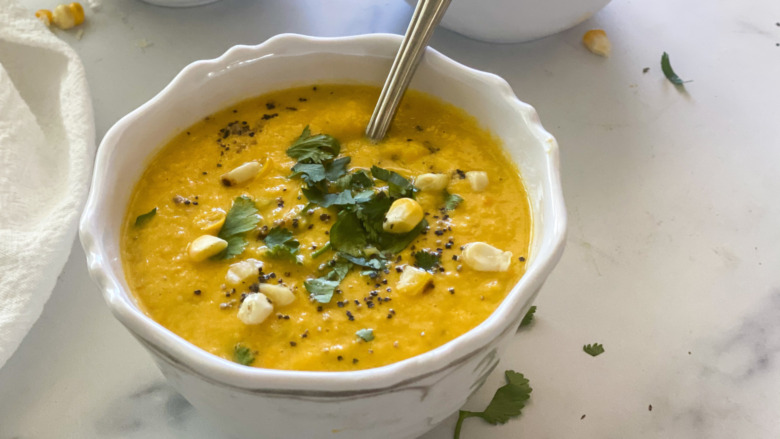 Ingredients
6 ears of corn (or 4-5 cups thawed frozen corn)
2 yellow peppers, chopped
3 cloves garlic, minced
½ cup onion, diced
2 (10-ounce) containers of golden grape or cherry tomatoes
1 jalapeño, seeds removed, diced (use half for less spice)
1 teaspoon salt
½ teaspoon pepper
Optional Ingredients
Directions
Cut the corn kernels off of 5 ears of corn and set aside. Reserve the sixth ear of corn for garnish.
Roughly chop the yellow pepper, garlic, and onion (as it is going in the blender, you don't need to be precise).
Add tomatoes to the blender and blend until they are liquid, then add in the other ingredients (you may have to work in two batches).
Blend for several minutes until the soup is smooth and creamy.
Sear the last ear of corn in a pan over medium heat until some of the kernels are charred.
Serve soup, topping with chopped cilantro and some charred corn kernels.