Wendy's Has A New Bourbon Bacon Cheeseburger. Here's What You Need To Know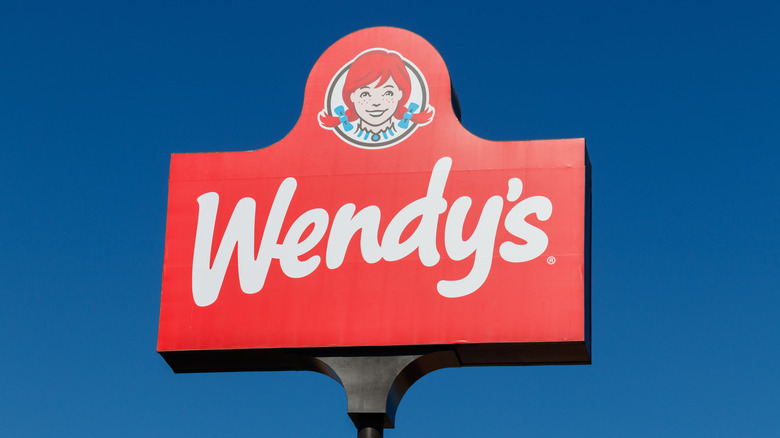 Shutterstock
Until May 9, you can get the new Wendy's Bourbon Bacon Cheeseburger for free by making an order of $15 or more from Wendy's via Postmates with the code BOURBON. That is, for as long as supplies last, according to a press release.
The new burger, as Chew Boom describes, consists of a quarter-pound patty contained in a toasted bun with applewood-smoked bacon, American cheese, fried onions, and a bourbon sauce. You can order the burger with a single, double, or triple patty. "Following the success of our Pretzel Bacon Pub Cheeseburger and Jalapeno Popper Chicken Sandwiches on the Made to Crave platform, we wanted to go back to our roots and give our fans more of what they're always craving: a quality, juicy bacon cheeseburger," Carl Loredo, Wendy's Chief Marketing Officer, explained in the annunciatory press release
The average price given for the single-patty Bourbon Bacon Cheeseburger is $5.39 while Chew Boom notes that a review by Peep This Out! bought a double patty burger in Southern California for $6.99. "It's pretty much a very awesome barbecue-themed double bacon cheeseburger essentially," he says in his broadly positive YouTube review. "But, guys, with that bourbon bacon sauce, it's really more of a heightened barbecue sauce. I'm not tasting any bacon in that." A Reddit user described the same sauce as "way too sweet and overpowering," but mentioned they just barely picked up on the bacon.
Wendy's is returning to stronger ground
Interestingly, Wendy's has gone out of its way to frame its new burger as a response to the now-quietened chicken sandwich wars. It opened its press release with a salvo against the chicken attention: "If you've been asking yourself 'Where's the Beef?' amid the chicken wars, Wendy's is here to answer."
It is worth noting that as Loredo mentioned, Wendy's did release its own chicken sandwich in February, as CNN reported at the time. This in turn occurred a few months after it released its classic chicken sandwich, as Brand Eating covered in October 2020. However, QSR found that the winners of the chicken sandwich boom were the winners all along: Chick-fil-A and Popeye's.
So while it is in Wendy's right to continue launching beef burgers, the explicit contrast to the various chicken sandwiches tacitly admits that Wendy's new tactic is to bring its main strength — never frozen beef — to the fore.