Aldi Shoppers Are Obsessed With These Churro-Inspired Sandwich Cookies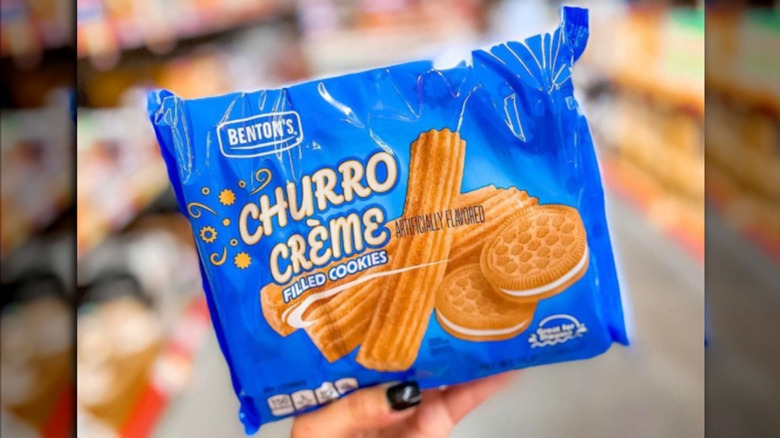 Shutterstock
Taking a walk down Aldi's snack aisle is almost always an enjoyable experience. With all their unique and affordable snack options, it's unlikely you won't find a tempting treat or two to add to your cart. Now, it seems Aldi has added another great snack to their offerings with the release of their decadent and delicious cream-filled, churro cookies. Similar to Oreos, the Benton's snack boasts a sweet cream filling that is sandwiched between crispy cookies that taste just like a cinnamon churro, per Aisle of Shame.
It's probably no surprise that these tasty desserts have been flying off the shelves at Aldi. Customers can't get enough of these cookies, and many have taken to social media to rave about their purchase. The popular Instagram account @aldi.mademedoit alerted their followers to the find, and they were quick to reply with their own positive reviews of the Benton's cookies. One satisfied follower replied: "We've almost eaten the whole package in two days. They are yummy," while another Instagram user raved: "These are PHENOMENAL!!!!"
All of the Benton's cookie flavors received rave reviews
One Reddit user joined the conversation on social media saying: "They taste JUST like iced animal crackers!" Another user joked "You guys are killing my diet," while another helpfully suggested portioning out the cookies into individual servings with Ziploc bags, to avoid accidentally eating the whole package in one sitting. This seems like a very real fear for many fans of the snack, who called the treats "incredible" and "amazing" on Reddit. Several other Reddit users also recommended trying all of the Benton's cookie offerings, not just the churro flavored ones. They come in even more tempting cookie flavors, like s'mores, mint, red velvet, and carrot cake, and if Reddit users are to be believed, you can't go wrong with any one of them.
So if you are a fan of churros, creme-filled treats, or just about any decadently flavored cookie, don't wait to head to your local Aldi and snag a bag or two of these delicious snacks. And if you happen to stumble across more of the tasty Benton's flavor varieties, you might want to grab a bag of those as well.