This Country Has Its Own Version Of The Big Mac Special Sauce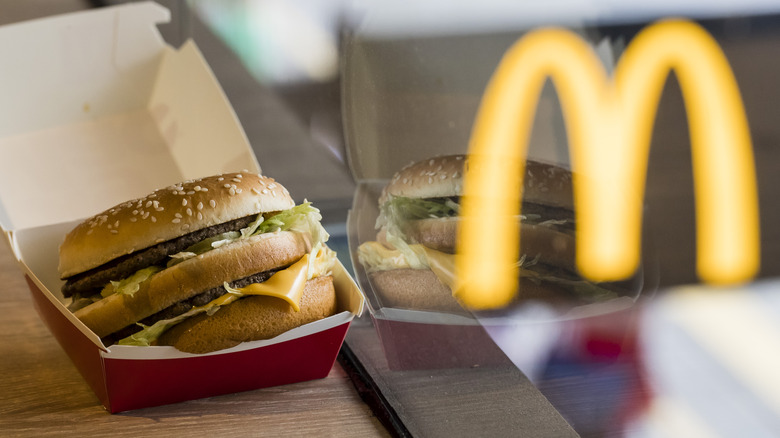 S3studio/Getty Images
McDonald's, home of the renowned Big Mac, has many nicknames all over the world. While the golden arches are universally recognized, Australians refer to the chain as "Macca's" whereas the French proclaim they're off to get some McDo, according to Business Insider. The nicknames are one thing, but the differences in food presentation and menu offerings is pretty unique around the world. While most countries carry the same standard Big Mac, locations in India do it a bit differently.
McDonald's restaurants in India generally steer clear of beef and pork, as most of the country's population is Hindu and culturally they don't consume cow products (via CBS News). But that doesn't mean they don't have mouthwatering options — rather, they just rely on veggies and chicken. India's take on the Big Mac is two sandwiches, the Veg Maharaja Mac as well as the Chicken Maharaja Mac, which Mcd India describes as "a royal treat." The veggie version features a corn and cheese patty while the chicken sandwich is a double-decker with two grilled chicken patties. Each features the traditional accompaniments of lettuce, shredded onion, jalapeños, cheese, tomato, and last but not least...the sauce. And this one is just as special.
India's Big Mac sauce has some kick to it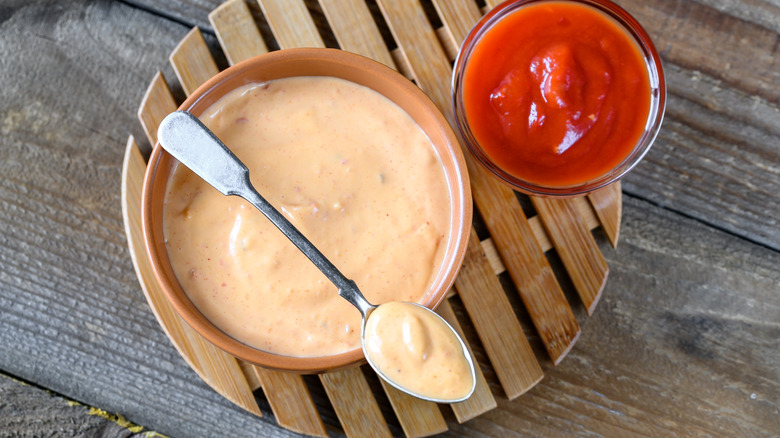 Shutterstock
In the US, the classic Big Mac sauce is a combination of mayo, mustard, ketchup, relish, vinegar, and various seasonings, according to Delish's copycat recipe. But India's take on the two-tier sandwich has a sauce that packs some serious heat. Their twist includes a delicious habanero flavor that really takes this meal up a notch, especially alongside the jalapeños.
In addition to fancy chicken sandwiches, McDonald's locations in India also have a slew of other veggie-friendly options as well. Mcd India lists some of the exclusive offerings, including a handful of items that would pair perfectly with that spicy habanero Big Mac sauce. Among them are the McAloo Tikki Burger, featuring a fried veggie patty made of peas, potato, and spices, with a zesty tomato mayo, as well as the McSpicy Paneer, a patty made from the traditional Indian cheese topped with rich tandoori sauce. Slathering that spicy sauce on just about any of those meals would bring it to the next level.