What You Need To Know About TikTok's Ranch Pickle Trend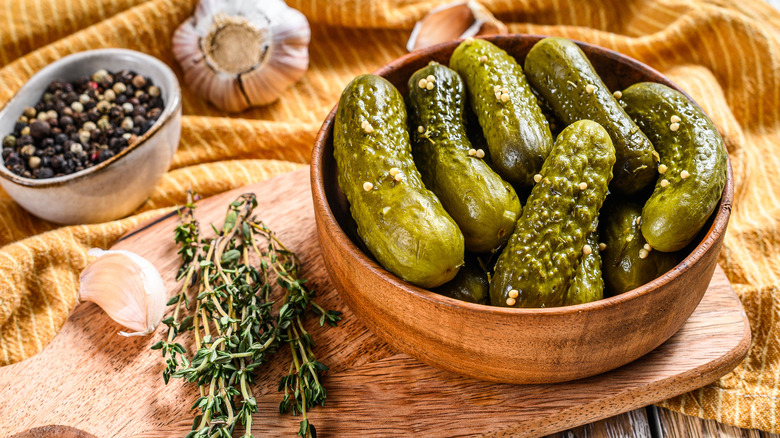 Shutterstock
Ranch dressing is amazing and incredibly versatile. Dill pickles are an absolute classic. Much like bacon, both foods are so iconic that they have made their way to other foods, and even have their own potato chip flavors — which, of course, is the food industry's way of telling a flavor that it really is a keeper. However, the mellow richness of ranch and briny crunch of pickle might struggle to combine well with each other. Sure, you can add bits of pickle to a mayo-based ranch for a makeshift tartar sauce. This is a physical possibility. Still, a significant part of the dill pickle experience is the brine, and combining pickle juice with buttermilk-based ranch seems like a curdling idea — possibly literally.   
Despite all this, we're here to inform you that the ever-inventive abyss of TikTok has turned its hungry gaze upon these two ingredients, and given us the curious combo dish of ranch dill pickles. Perhaps, this is one of those scenarios in which a seemingly strange food combination actually turns out to be super amazing. For those following TikTok's ranch pickle trend, the combo supposedly adds a "zing" (via Totally the Bomb). 
The TikTok ranch pickle trend combines ranch seasoning and dill spears
Don't worry, the TikTok ranch pickle trend doesn't involve dumping a bucket of ranch in a jar of pickles, or vice versa. In fact, for those who wish to try it, it's virtually effortless. The main originator of the trend seems to be TikTok creator Jen Curley, aka @Snackqween. According to them, the hack requires a jar of your favorite (or most expendable, depending on your faith in this trick) pickle spears, a packet of ranch seasoning, and the inevitable passage of time. First, you pour the ranch seasoning in the jar. Then, you close the lid and shake the jar like there's no tomorrow. After that, you put it in the fridge to marinate — and by the next day, the ranch has worked its magic with the brine — and turned into a murky green concoction that Curley delightedly consumes, calling the end result "magical."
After Curley's video was posted on April 22, the ranch pickle trend has picked up steam, and the #ranchpickles hashtag is currently fully viral on TikTok, with people offering their versions of the theme left and right (via TikTok). According to recipes for ranch seasoning, mixes typically contain buttermilk, powder, parsley, dill weed, chives, garlic powder, onion powder, salt, and pepper (via The Pioneer Woman), so it's fair to say these are just extra-seasoned pickles. Since many of the users have eaten it with every sign of enjoyment, and the snack is extremely easy to make, it may be worth a shot if you find the idea enticing.