Costco Shoppers Are Divided On Welch's Organic Fruit Ice Pops
Costco is beginning to prepare its store shelves for the warmer weather by releasing new, refreshing summer treats that are designed to help customers beat the heat. One of its newest summer additions is a bulk-sized bag of refreshing Welch's organic juice ice bars. They come in an assorted pack with 52 ice pops in three natural flavors: berry pineapple, concord grape, and passion fruit, all for just $10.99 (via Instagram).
While that's certainly a great deal price-wise, you'll want to be sure this is a snack you'll enjoy eating if you're going to have that many of these ice pops sitting in your freezer. And for some shoppers, these pops just didn't hit the mark. Several Costco shoppers took to social media to express their disappointment in these fruit pops, saying they just didn't live up to the hype. One Instagram user remarked, "My teens hated them. Said they were so disgusting. I returned them." Another unsatisfied shopper agreed writing, "Bought these and they taste off – like made with moldy juice. Awful!" 
Some Costco shoppers disliked the taste of these ice pops, while others found them refreshing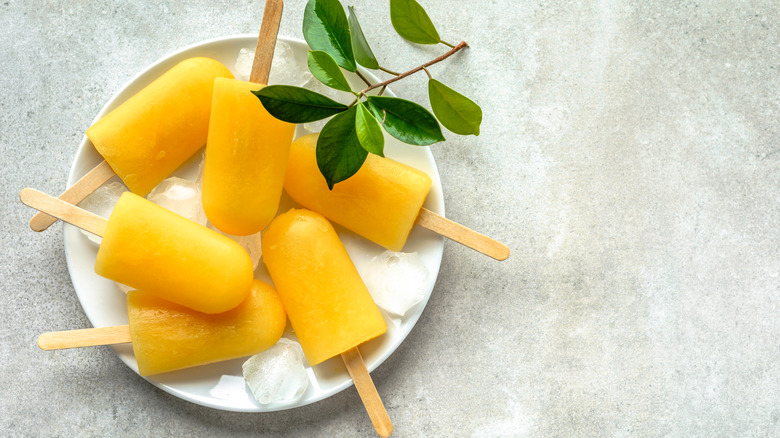 Shutterstock
However, other Costco fans were quick to come to the defense of these Welch's fruit ice pops on Instagram, calling them "refreshing" and "so tasty." Another user commented, "Totally worth it! All the flavors are yummy." However, one social media user disagreed writing, "Sorry but they tasted so nasty when I bought em. Well don't knock em out till you try them in my opinion. Maybe it was just me. Too bad because my wife and I were excited when we got em."
It certainly seems like when it comes to these ice pops, it all comes down to personal taste. So, if you already know you're a fan of Welch's, or are planning a big gathering and want something organic, cool, and refreshing to serve to guests, this Costco purchase is likely to be worth your while. However, if you're still on the fence about these products, you might want to hold off on this item or maybe purchase a smaller size bag first. That way you can make sure this treat is something you'll want to have around all summer long, before committing to the Costco-sized package.