Martha Stewart's Boozy Arnold Palmer Is Perfect For Brunch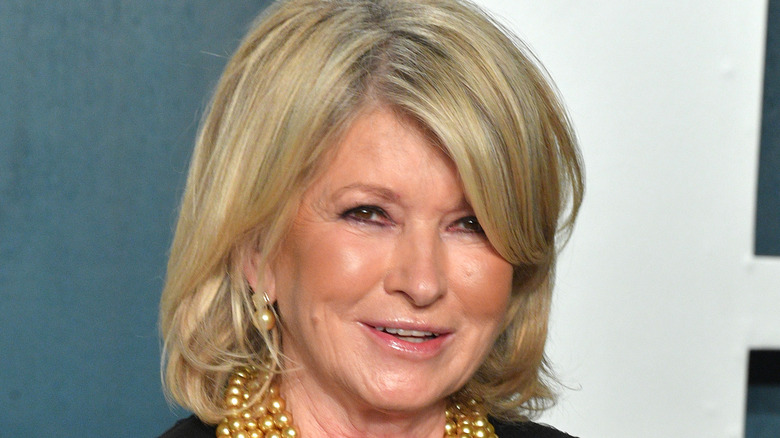 George Pimentel/Getty Images
Boozy or not, you might want to just sit and stare for a while at Martha Stewart's perfect-looking summer drink. Of course, since it's the fabulous Martha Stewart, we'd be doing a disservice if we didn't share more about the original. Describes the chef of style herself, "Inspired by the Arnold Palmer, this make-ahead cocktail combines a zesty lemon simple syrup (which can be made up to two weeks in advance) together with bourbon and freshly brewed black tea — perfect for Mother's Day brunch!" (via Instagram). The star of this show is called a Kentucky Half and Half (via Martha Stewart Living).
The original Arnold Palmer drink is a non-alcoholic refreshment, a mixture of lemonade and iced tea. Martha Stewart's creation is described as a cross between an Arnold Palmer and a mint julep. It's a make-at-home drink you can prepare in advance.
The ingredient list is simple. You'll need bourbon such as Maker's Mark, black tea, lemons, and sugar. The garnish is rather complex, and Stewart suggests, "Frozen lemon wedges or ice, mint sprigs, and maraschino cherries, such as Luxardo."
Prepare your drink components in advance
A key to this tasty drink is the bartender's trusty simple syrup. This version adds a lemon twist, quite literally. Try making this part up to three days in advance by heating the sugar, lemon zest, and one cup water, stirring until the sugar is dissolved. Remove from heat and remove lemon pieces, let cool and cover to refrigerate. Remember, you don't want warm syrup in your icy beverage. Now that you've got the lemon part of your Palmer-julep, it's time to add the hard stuff.
Mix up your bourbon and black tea. The recipe calls for 16 ounces of each, but a 1:1 ratio should work if you need to edit. This can also be stored in the fridge, but it will be best within a day. Upon the day of your event, assembly is fast and simple. Pour bourbon and tea mix to desired fullness, add simple syrup to taste, and garnish with frozen fruits and herbs.
Ta-da! You now have the perfect boozy punch for your brunch.