Everything You Need To Know About Nabisco's Team USA Olympic Sponsorship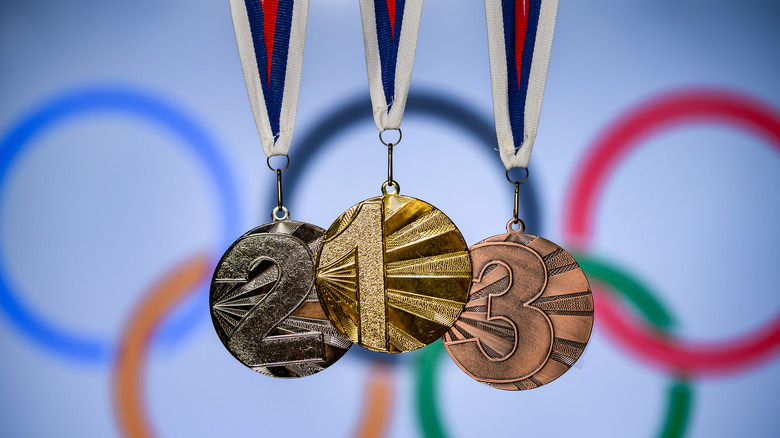 Shutterstock
Who doesn't love a good collaboration or partnership? The Olympics certainly does. For years, the organization has been partnering with some major brands to introduce iconic mashups between competitors and your favorite foods, drinks, clothes and more. According to Fox Business, the top 13 sponsors of the 2018 Olympics — the last event held — were "Coca-Cola, Alibaba Group, Atos, Bridgestone, Dow, General Electric, Intel, Omega, Panasonic, Procter & Gamble, Samsung, Toyota and Visa." And, with companies like "The North Face, Hyundai and LG" considered lower-tier sponsors, it's safe to say sponsorship is a big deal.
In the pre-pandemic buildup to the 2020 games, Reuters announced that domestic sponsorship revenues were up to $3 billion and counting, so it's a safe bet this year's numbers are going to blow those stats out of the water. And, according to The Drum, 90% of commercials had already been booked as of April. So it's no small feat to become a Team USA Olympic sponsor, especially when you're NABISCO, a snack food company that, on the surface, does not seemingly align with the "healthy eating for an Olympic competitor" category. But that won't stop this collab! Here's everything you need to know about NABISCO's partnership with Team USA!
All the delicious details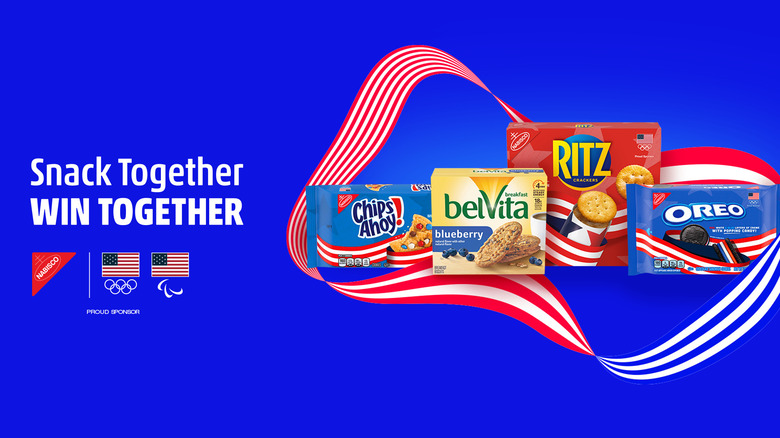 NABISCO
This year's delayed Olympics are getting a real treat with NABISCO, the maker of OREO, RITZ, belVita and Chips Ahoy!, as the sponsor of Team USA, serving — pun intended — as the "Official Cookie and Cracker sponsor." Per NABISCO's official press release, the brand will partner with Simone Biles, "the world's most decorated female gymnast in history," Tom Schaar, a national team member looking to strike gold this year, and Melissa Stockwell, "a two-time Paralympian, medalist, and former U.S. Army officer," as the snack dominator launches its "Snack Together. Win Together." campaign.
The campaign focuses on how both the Olympics and NABISCO's cookies and snacks can bring families, friends, and loved ones closer together, in person or virtually. And good news for fans! The "program will include limited-edition product offerings," too! The products include "Chips Ahoy! Cookies [that] are loaded with real chocolate chips and a patriotic addition of red, white and blue colored candy chips ... Team USA OREO Cookies [that] feature the signature OREO base cookies embossed with Team USA emblems and tri-color red, white and blue creme, with an extra spark of flavor thanks to popping candy layered within," and "Team USA RITZ Original Crackers [that] are packaged in limited edition patriotic sleeves." Consumers can expect to see these delicious products on shelves beginning June 14.
Here's hoping Team USA is winning as much as this NABISCO pairing is!