The Most Surprising Food Sold At Nathan's Famous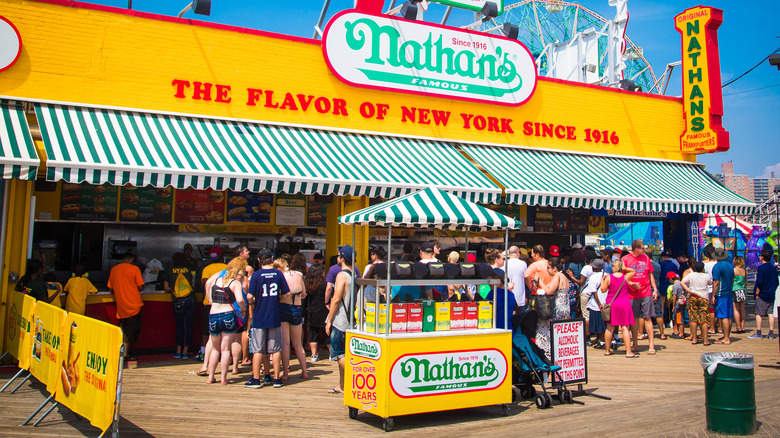 Shutterstock
Nathan's Famous has many hot ticket items on their menu. Their "World Famous" Hot Dogs inspire an eating contest every Fourth of July and their fries are just as legendary, even being named "Best Fast Food Fries" by the New York Daily News in 2014. Among their menu items, you can also find some pretty stacked burgers, chicken and chicken sandwiches, hero sandwiches, and creamy, dreamy shakes — your typical American fare.
If you think you know all there is to know about Nathan's menu now, you're sorely mistaken. They have a menu item not found on most American restaurant or fast food menus. In fact, this item isn't found on many menus, period. While it isn't listed on Nathan's online menu, this rare offering can be found at their Coney Island location, the original store venue. So what is Nathan's serving up that might shock and intrigue guests flocking to the Coney Island spot?
Giving a new meaning to sea legs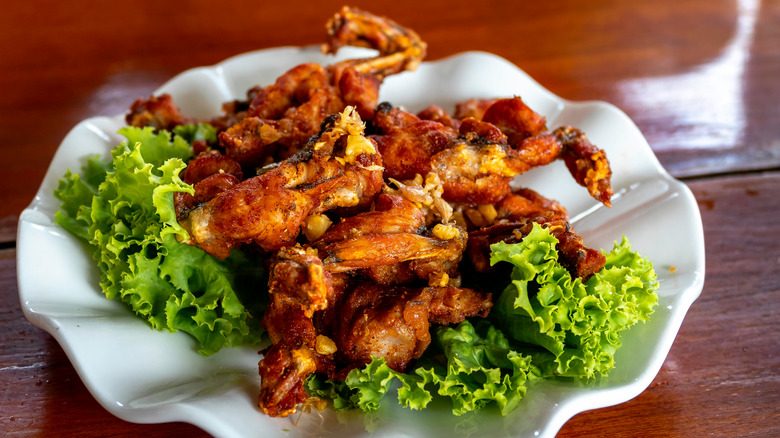 Shutterstock
Frog legs, anyone? No, you didn't read that wrong. Nathan's Famous in Coney Island offers guests the option to order four or six battered and deep-fried frog legs all for under $11. As one glance at the menu on their website will tell you, this isn't an offering found in most stores, but in 2015, Bklyner visited the original location and gave the fried frog legs a try and likened it to "fried rainbow trout." Others, like those on the Brooklynian forum, think it tastes more like chicken. Regardless, a shift manager at the time "estimated the business sells almost 1,000 of them every month," so they must have some appeal.
According to Grub Street, this isn't a new item, but actually came to the menu all the way back in 1958. So there you have it, an odd menu item that has passed many a person's attention in the past few decades, but nevertheless remains to this day. Would you try them?