The Bizarre Marketing Technique Nathan's Famous Once Used To Sell Hot Dogs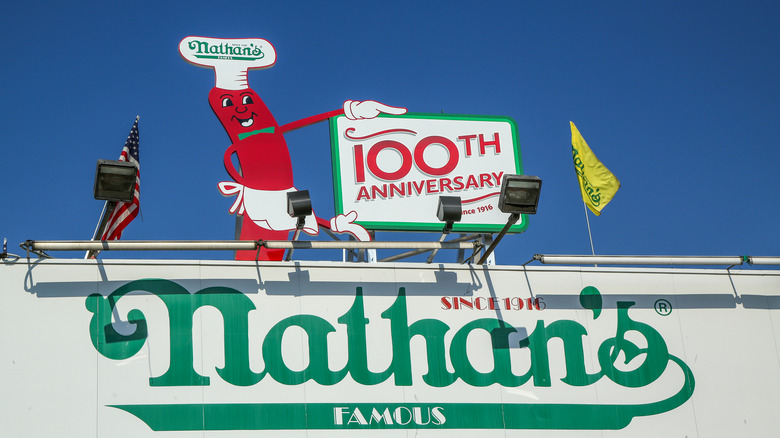 Shutterstock
We may receive a commission on purchases made from links.
After almost 40 years of peddling hot dogs on Coney Island, Nathan Handwerker, founder of Nathan's Famous Hot Dogs, took the summer off, assuming his son, Murray Handwerker, could look after things. However, as The New York Times reports from the book of anecdotes "Brooklyn: A State of Mind," the senior Handwerker had accounted neither for the existence of a man named Leif Saegaard nor the extent to which his son would go to draw a crowd. This Leif Saegaard had acquired and embalmed a 75 foot whale that weighed 70 tons. His idea was to set the carcass next to Nathan's so that a crowd would form to see the spectacle and while they were there, be tempted by the cheap hot dogs and soda. Murray Handwerker agreed. After all, it was 1954.
However, 1954 also saw a heat wave, causing the carcass (and surrounding area) to "smell very odd," as The New York Times put it. Now no one wanted a hot dog and the Health Department branded the 70 tons of actively rotting flesh as hazardous to public health. So, Nathan's shelled out for the whale's removal.
For Murray Handwerker, however, the worst came when his father returned from vacation. Untapped Cities quotes: "Pop let me know what he thought about this cockamamie promotion. And he was apoplectic when he found out how much it cost me to hire a man to cut up the whale and tow it out to sea. The business didn't recover for weeks." Still, they recovered and recouped a legend.
Nathan's other bizarre marketing technique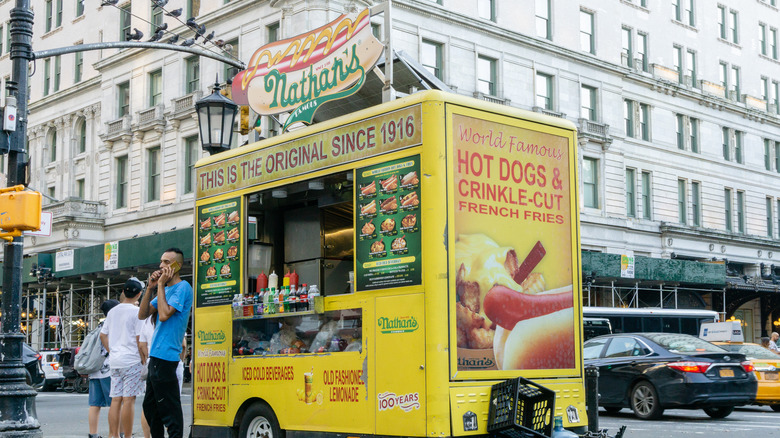 Shutterstock
While nothing can top presenting a whale carcass as a scheme to lure hungry customers, the marketing ploy that ensured the establishment's beginnings bears an honorable mention.
Smithsonian Magazine explains that when Nathan's first began, the hot dog still suffered from the fact that its name derived from slang for "dodgy." The hot dogs in Coney Island were especially notorious for the rumors circulating that they were made with whatever meaty remains floated their way. Combined with the fact that Nathan Handwerker sold his hot dogs at a lower price than the competition, and you have a crowd unwon and unwilling.
So, as Vintage News writes, Nathan Handwerker hired young men to dress smartly and hang around the store eating his hot dogs. The idea was that if people saw well-to-do gentlemen chowing down on his meat, then their hesitance towards the dogs would wane. Smithsonian Magazine has the same story, but insists that the men wore white jackets to appear like doctors, tacitly persuading the public that the hot dogs were healthy.  
Either way it worked, obviously. Nathan's proceeded to showcase a dead whale forty years later and become the hot dog institution it is today.