How Rich Is The White Castle CEO And What's The Average Pay Of Its Employees?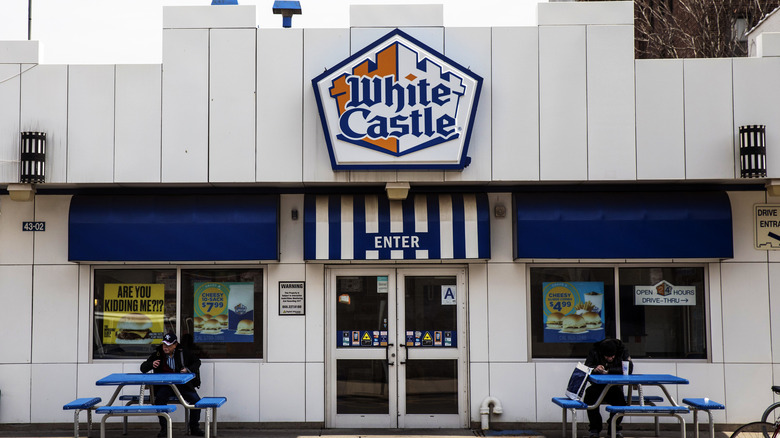 Drew Angerer/Getty Images
In January, Lisa Ingram, CEO of White Castle, took on a second title at the chain: head of the board of directors, following the retirement of her father (via Columbus Business First). Ingram had replaced her father as CEO at the end of 2015, according to The Columbus Dispatch.  
White Castle is private and family-owned, per Forbes, so it isn't selling shares of its business in a stock market. This means it isn't required to report information such as the CEO's salary. Ingram makes $188,280 a year in her second job as an independent director for M/I Homes, a public homebuilding company, according to Wallmine. 
As a member of the family that owns the multi-million-dollar White Castle chain, Ingram probably has a significant share of the company's net worth. (White Castle made $738.3 million in 2019, according to The Business Journals.) Ingram is the great-granddaughter of White Castle founder Billy Ingram, per Forbes, and Columbus Business First noted that she is one of 10 fourth-generation family members in leadership positions with the company. Another fourth-generation family member is Dave Rife, a White Castle assistant vice president who appeared on the show "Undercover Boss." Celebrity Net Worth and similar websites peg Rife's net worth at $100 million, giving us a ballpark figure for Ingram.
White Castle pays its workers more than some larger burger chains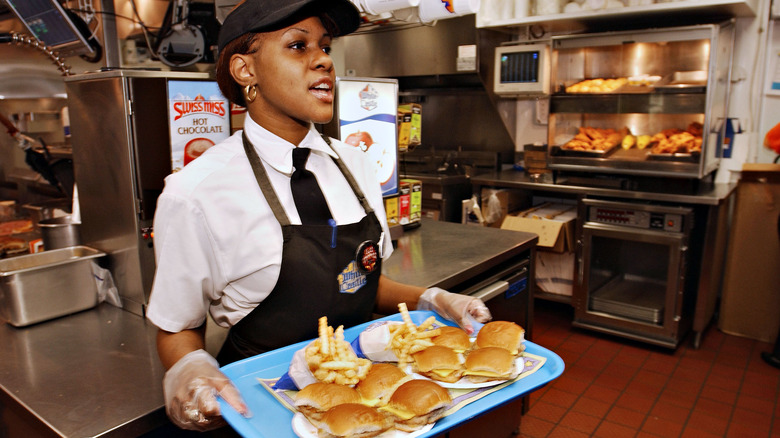 Bloomberg/Getty Images
White Castle places great stock in cultivating some of its workers. Columbus CEO reported that 98.6 percent of all of White Castle's 450 employees in general management or higher roles worked their way up from behind a White Castle restaurant counter. That said, the chain's total workforce is about 10,000, per Owler, so a small percentage of the entire workforce has experienced this level of upward mobility.
Looking at those who aren't general managers, Indeed indicated that White Castle's cashiers and team members make $10.52 to $11.42 an hour. The annual salaries of manager positions range from $22,909 to $60,122. The entry-level wages paid to White Castle employees compare favorably with those at other fast-food chains. Two much bigger burger rivals pay their crew members $9.11 to $9.83 an hour, according to Indeed's Wendy's webpage and Indeed's McDonald's figures.
White Castle offers benefits to go with those wages. The chain's website lists health, dental, vision, and life insurance for employees. White Castle also pays into employees' 401(k) retirement plans, offers tuition reimbursement to employees in school, and provides financial and other forms of support for workers who are facing difficulties. As White Castle explains on another part of its website, it also has a scholarship program for employees and their family members. All of these perks might give employees a reason to stick around for a chance to work up to general management.