Why You Shouldn't Bother With IHOP's Harvest Grain 'N Nut Pancakes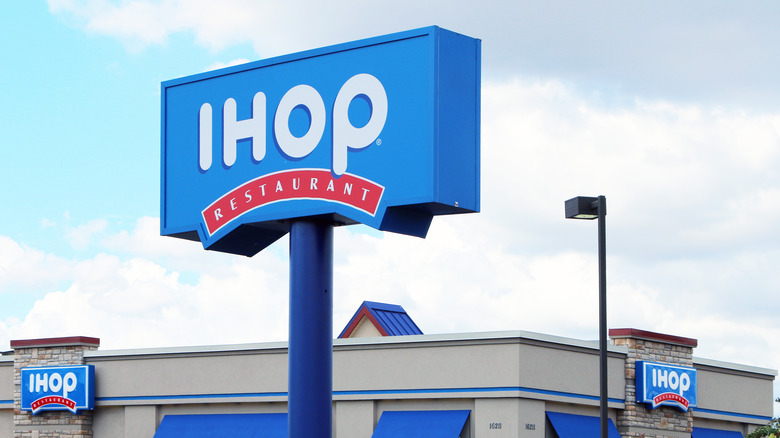 Shutterstock
IHOP (International House of Pancakes) is synonymous with classic, affordable American breakfast food. While they have other menu items, they're most well known for their pancakes — it is in the name, after all. And while there have been many debates over whether it is good or bad — a Reddit chain serves as an example — there's no denying it holds a special place in Americans' hearts. Business Insider even did a taste test of IHOP menu items compared to Denny's and said the pancake-forward chain "was better in every way."
IHOP's menu is made to cater to many tastes. They've got crepes, heart-attack-inducing pancakes like Mexican Tres Leches and New York Cheesecake, and more mild versions like Strawberry Banana or plain old buttermilk. And while the Harvest Grain 'N Nut pancakes may sound like the healthiest option, you may want to steer clear of ordering them. As Food Network's website advises, "pass on those." Here's why.
Oh, nuts
When you come to IHOP, you're looking for some bomb pancakes packed with flavor, and likely sugar. If that's the case, you may want to avoid the Harvest 'N Grain Pancakes. This menu item is among the chain's worst-reviewed, flavorwise — as in "never order." The Sweety High website ranked nine flavors against one another and this one was "dead last." Likewise, an Insider reviewer noted the texture was odd and off-putting and the pancakes were too dry.
And if you're ordering them so you can feel healthy, think again. According to IHOP's own website, one stack of four pancakes delivers a whopping 800 calories, along with 42g of fat, 1,730g of sodium, and 83g of carbs. According to the FDA, that's about 1/3 of your daily recommended calorie and carb intake, and more than half your daily recommended fat and sodium intake. So much for healthy. 
Let's face it: You're not really going to IHOP for a nutritious meal, are you? So skip the oddly textured "healthy" choice and get the Mexican Tres Leches. You know you want to, and you can always split it anyway, right?