The Real Reason It Took So Long For Dave & Buster's To Open In Arkansas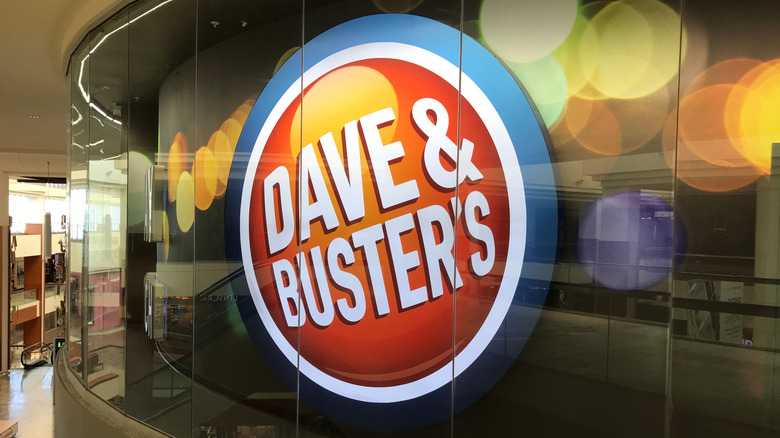 Shutterstock
If you've never been to a Dave & Buster's, you're really missing out. A cross between a Chuck E. Cheese and a casino, this restaurant chain features a mouthwatering menu of drinks and food like wings, burgers, and fan-favorite blackened chicken pasta. As you're chowing down on your food, in between rounds of playing some of your favorite arcade games, you can also get a glimpse of your favorite sports teams on one of their many television screens. While the chain is known for fun, you may not know know the interesting origin story behind the popular establishment.
Like Anne Beiler of Auntie Anne's, Dave and Buster were two actual people who met in Little Rock, Arkansas in 1978. According to The Daily Meal, Dave Corriveau was the owner of a gaming joint called Slick Willy's World of Entertainment, while James "Buster" Corley had a restaurant just a few doors down. The men noticed their customers bouncing back and forth between the two and decided to combine their respective institutions into one and, thus, the concept for Dave & Buster's was born. 
However, rather than staying in Little Rock, the duo opted to take their business venture to Dallas, Texas in 1982 — but surely they made it a priority to open a Dave & Buster's location in the place of its conception, right? Not exactly. Per Mental Floss, it would be 34 years before the cahin returned to The Wonder State. Here's why the wait was so long.
A change in legislation led to the first Dave & Buster's opening in Arkansas
Thirty-four years after Dave Corriveau and James "Buster" Corley left Arkansas to open up the first Dave & Buster's in Dallas, Texas, the chain finally returned home. According to Vending Times, a 30,000 square foot location of the popular restaurant and gaming venue opened its doors in Little Rock on June 13, 2016, marking the chain's first-ever Arkansas establishment. The long wait didn't stem from any ill feelings toward the state, but rather, a piece of legislation that put parameters on the value of prizes that could be awarded within its border. 
As noted by Mental Floss, Arkansas had previously had a law in place that banned amusement game winnings from being worth more than $5. This didn't exactly work for Dave & Buster's, whose prize room boasts some incredible rewards that have included iPads and gaming systems in the past (via Wired). Fortunately, a bill was eventually approved that raised the maximum dollar amount by a hundredfold to a whopping $500 — a change meaning they could finally set up shop in Arkansas without having to amend its top-tier rewards. The chain now has a second location in Rogers, Arkansas, that opened up in 2018, and, fingers crossed, a few more on the way (via Talk Business).