These Plant-Based Chicken Nuggets At Costco Have Shoppers Divided
If you love plant-based chicken nuggets, you have a wide variety of choices available at your fingertips. Out of all the available nuggets, you can't go wrong picking up a bag or box of MorningStar Farms Chik'n Nuggets, Nuggs, or Gardein Crispy Golden Chick'n Nuggets to indulge in some meat-free vegan chik'n morsels (via Live Kindly). While these selections rank as the best of the best, Costco wants to give you a new product worth talking about in the form of their new Raised and Rooted plant-based chicken nuggets.
Instagrammer @costco_doesitagain spotted the frozen entree on their latest Costco run and posted a picture of the find, alongside the caption: "Plant based nuggets! On sale $6.69!" Any deal this good guarantees to get people talking, and this news proved no exception. The post has so far raked in over 2,000 likes and a wide variety of comments. Some shoppers can't get enough of the new product, chiming in with replies like "These are DELICIOUS!!!! I'm obsessed," and "I WANT THESE!!!" While the mere sight of these vegan nuggets has some fans drooling, others haven't quite warmed up to the new goods.
A Costco vegan nugget with mixed reviews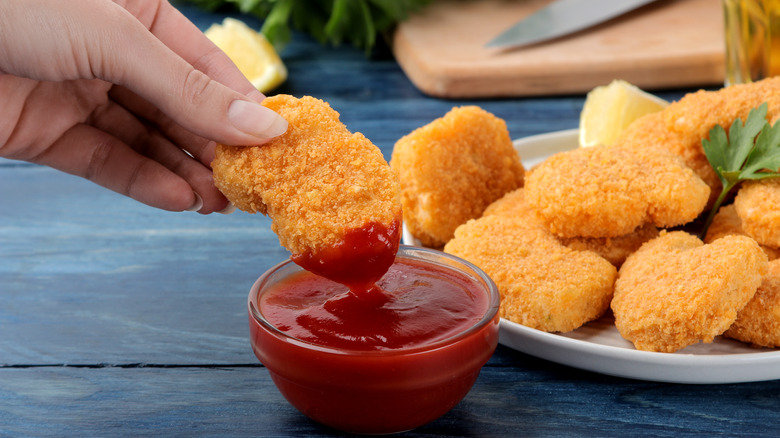 Shutterstock
Not everyone has fallen in love with this new Costco find. Some were simply turned off by the looks of the food, replying to the Instagram post with "Um no," and "Blasphemy." Some commenters pointed out that Raised and Rooted is owned by Tyson, a brand best known for chicken (via Food Navigator-USA.com). While many commenters have gone back and forth declaring their love or hatred of the new chicken nuggets, the most prevalent comments just wonder where to find them. While the original post has no information regarding location, you can hold out hope that these nuggets have already hit your area, and definitely warrant a special grocery run.
If you want to weigh in on the debate, keep an eye out when you make your next Costco trip. If you get lucky, you might just find this new product in a freezer section near you. Make sure to try out these plant-based nuggets to see how they stack up against some of the biggest frontrunners.