The Real Reason Your Sauce Never Turns Out Right, According To A Chef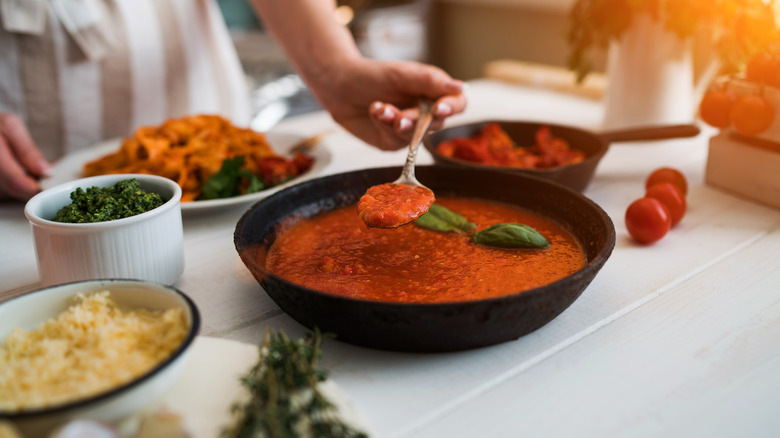 Shutterstock
Making the perfect sauce at home takes a lot of practice. According to Reluctant Gourmet, trying to replicate a restaurant's sauce can prove difficult for any home cook, especially if they lack key ingredients or proper gear. Some particular sauces take hours of cook time to draw out flavor, and requires even more time developing sauce bases, like broths, to build upon (via Reluctant Gourmet).
While whipping up the ultimate sauce might sometimes feel impossible, don't give up. Chef Erik Pettersen, executive chef and owner of Evo Italian in Tequesta, Florida, spoke with Mashed about the best way to navigate the process. The expert cook has won an episode of the Food Network's "Guy's Grocery Games" and currently hosts a recurring weekly cooking segment on CBS12 in West Palm Beach called "What's Cooking With Chef Erik?"
Pettersen said that before you even start your sauce, keep consistency in mind. "You don't want a sauce to be too thick and meaty (if it's a meat sauce like bolognese), but you also don't want it to be too liquidy or soupy," he explained. "No one wants to drink sauce with a side of pasta! Sauce is meant to complement a pasta, meat, poultry, or seafood dish. It should be absorbed into the pasta or meat to add flavor, but not be overpowering."
Developing the best flavors in a sauce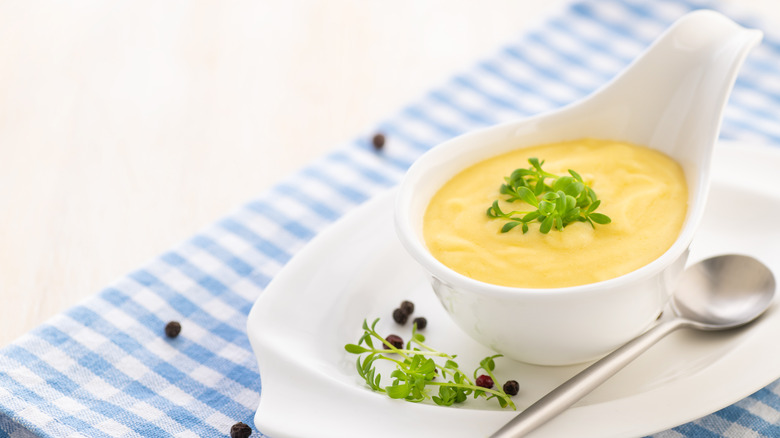 Shutterstock
Once you get your consistency down, you can start thinking about flavor. "To make a sauce flavorful, you use multiple ingredients, such as tomatoes, wine, lemon, salt, basil, etc.," Pettersen said. "But, careful not to sprinkle or pour too much in. Be conservative. Follow the recipe. It is best to err on the side of caution and under-season your sauce. You can always add more as you go along after taste testing it and determining you need some more oomph. You cannot take a dash of this and a dash of that out once you've put it in your pot. And, no one wants salty-tasting sauce! You don't want all your hard work and labor to go to waste by ruining a whole pot of homemade sauce."
With the right flavors locked down, start thinking about your cook time. "Cooking length is important, especially when it comes to marinara sauce," Pettersen continued. "Follow a recipe and set a timer so you don't forget about it. You want to cook the tomatoes for as short a time as possible, so they retain texture and flavor. If you let marinara sauce simmer on your stove for 20 or more minutes, it's too long and you may need to pour out that portion and start over. For other types of sauces other than marinara, let it simmer on a low flame, so it cooks slowly and steadily and doesn't burn to the bottom of the pot."
Go easy on the alcohol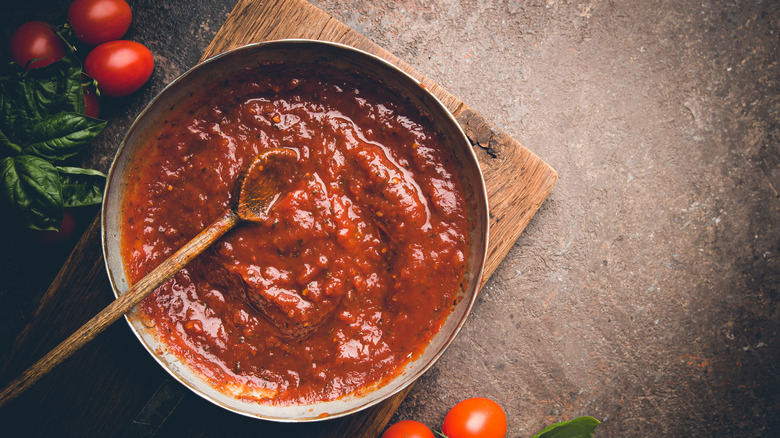 Shutterstock
If the recipe calls for some added spirits or wine, make sure to go easy on how much you include. "When you add wine or vodka to sauce, do not pour in a half bottle!" Pettersen recommended. "Wine is meant to flavor a sauce, not get anyone drunk, not that it would because the alcohol cooks off. This can be accomplished with only a few ounces. Wine and vodka sauces are meant to be enjoyed by diners of all ages, not just people 21+. If you are 21+ and enjoy an alcoholic beverage, have a glass of wine or cocktail on the side to accompany your meal."
So, next time you tackle a sauce, keep Pettersen's advice in mind and you can guarantee to end up with a mouthwatering sauce. With a bit of patience, practice, and perseverance, anyone can take their sauce game to the next level. Whatever you do, just make sure to save room for seconds!