The Reason You Should Skip Out On Cracker Barrel's Fried Homestyle Chicken Salad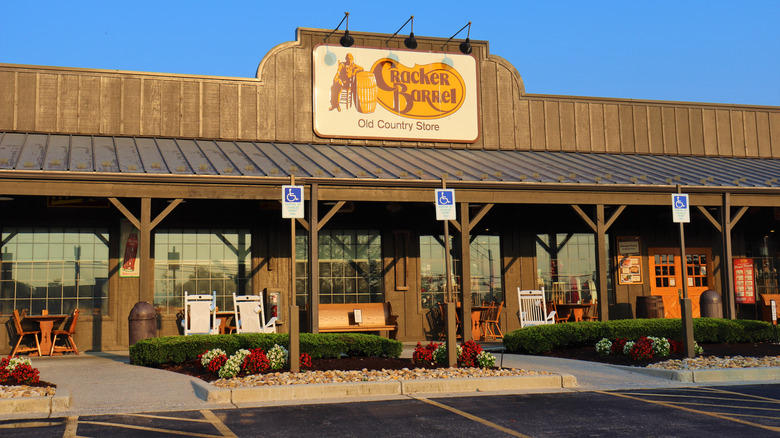 Shutterstock
Cracker Barrel is the ultimate destination for Southern-style comfort food with outlets all across the U.S. Fun tidbit: Cracker Barrel is so popular in the country that it has managed to attract well-known celebrities such as Miley Cyrus, Taylor Swift, and Joe Keery (via Today).
According to Today, one of the most loved dishes at the restaurant is the hashbrown casserole, a dish that's ideal if you're up for a cheat meal. The Good Morning Breakfast is also popular, especially among customers who are health-conscious and like to start their day with wholesome ingredients such as eggs and fruit. 
What are some of the best dishes at the restaurant in terms of health and nutrition? Well, according to Eat This, Not That!, items such as Eggs-In-The-Basket, Apple n' Cinnamon Oatmeal, Grilled Pork Chop, House Salad, and Steamed Broccoli are all good options. You should definitely stay away from the Fried Homestyle Chicken Salad, though. It's far from being healthy and nutritious.
There's nothing healthy about this salad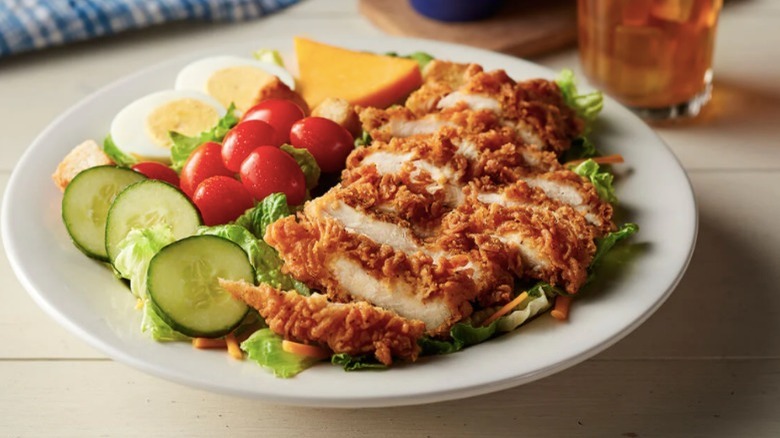 Cracker Barrel
According to Cracker Barrel, the Fried Homestyle Chicken Salad is a dish that has green vegetables, shredded Colby cheese, sourdough croutons, eggs, a Colby cheese wedge, crackers, and, of course, fried chicken (grilled chicken is also available). The dish does sound delicious. But hold on, here's something you should know: The thought of a salad probably makes it seem like it's a healthy pick, right? Well, that's not really the case. You're looking at a lot of calories: anywhere between 550 to 930 calories. 
Per Eat This, Not That!, you should stay away from this dish if you're trying to make healthy choices. According to Cracker Barrel's nutritional guide, the Fried Homestyle Chicken Salad has 54 grams of fat, 18 grams of saturated fat, 52 grams of carbohydrates, and a whopping 2000 milligrams of sodium. Gulp. This covers most of your sodium requirements for a single day, according to the FDA. While dining at Cracker Barrel, you're better off choosing the Meatloaf or Grilled Sirloin Steak.