The New Restaurant Format Burger King UK Is Testing Out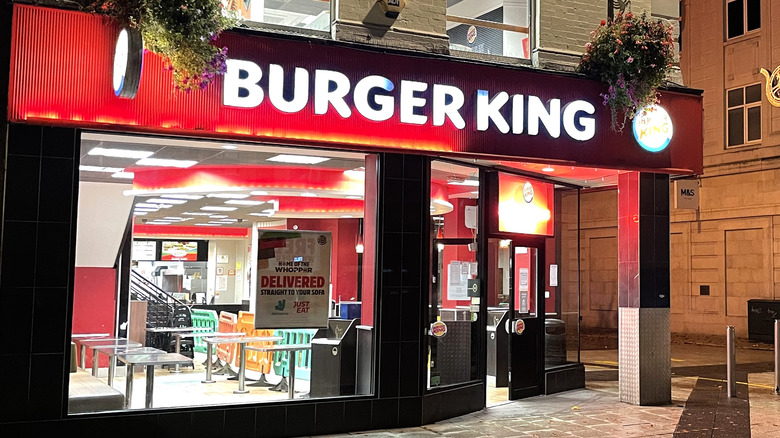 Matthew Horwood/Getty Images
Dark kitchens (otherwise known as ghost kitchens): BK Brazil went down the rabbit hole in 2020 (via CNN Brasil). Now, Burger King U.K. is diving in, too. The name might be Marvel sexy, but the concept is (almost disappointingly) straightforward. Inspired by a 200 percent increase in delivery orders, Burger King's Brazil operations opened their first delivery-only site in Sao Paulo last August. BK Brazil went all-in with its effort, putting out ads that tried to scare the burger-hungry into ordering take-out with supposedly real-live footage of drunk and otherwise unruly Burger King customers in their storefronts (via ZDNet). "The best of Burger King without the worst of Burger King" ad campaign must have been at least moderately successful because Burger King U.K. is ready to initiate a similar experiment. 
Like pants-less zoom meetings inspired by virtual work arrangements, the fast-food chain hopes that their customers' appetite for ordering out will continue even after the COVID-19 epidemic isn't preventing customers from frequenting its locales. "The opening of the first delivery-only Burger King kitchen marks an expansion of this valued service, which we believe will drive growth," Alasdair Murdoch, CEO of Burger King U.K., said in a statement (via Verdict Food Service). The country's first BK ghost kitchen is hoping to ramp up sales in north London, and company execs hope that it might serve up to 400,000 people.
Are BK's dark kitchens coming to the United States?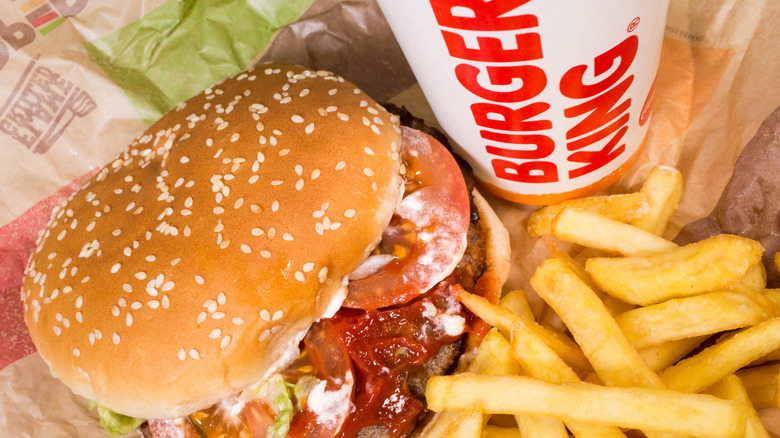 Matt Cardy/Getty Images
Burger King's U.S. operations haven't announced any intentions to follow suit. The idea that BK dark kitchens might be popping up soon in a state near you is nonetheless entirely plausible. Unlike Mickey D's, the restaurant chain closed out 2020 nursing its wounds. According to Restaurant Business Online, BK's same-store sales decreased by 2.9 between October to December. Drive-thru and delivery sales, on the other hand, thrived. By February 2021, digital sales climbed to 8 percent of the chain's national earnings.
And if Burger King ghost kitchens aren't a reality in the United States yet, the chain has nonetheless worked to make digital ordering easier. In December 2020, Forbes trumpeted that BK had partnered with Google to allow customers to order directly from Google Maps when they searched for BK locations nearby. Delivery-only kitchens make a lot of sense for Burger King's (and everyone else's) bottom-line. CNBC recently reported that ghost kitchens may well create a global market worth $1 trillion by 2030 as businesses seek to cut out front-of-the-house and design-related operating expenses.