How Michelle Obama Really Feels About Vanilla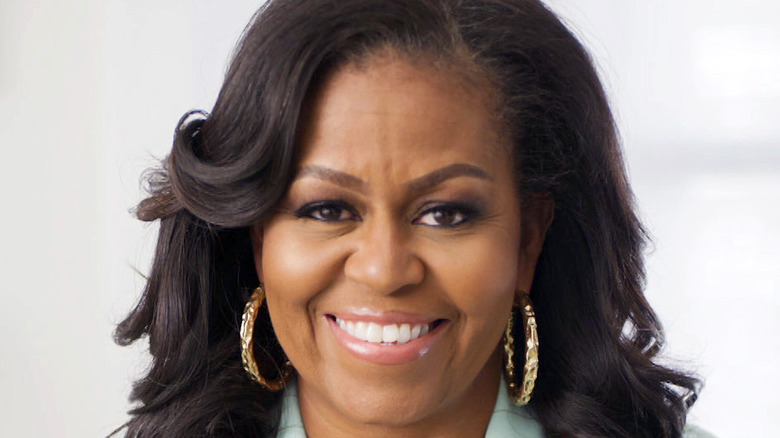 52nd Naacp Image Awards/bet/Getty Images
While Michelle Obama is well known for promoting healthy eating through her organization Let's Move, within her family, she's known for her triple chocolate chip cookies, too. "If we want to splurge, these white and dark chocolate chip cookies, created by the girls' godmother, are the perfect special treat," the former First Lady told TODAY. They also won her the 2012 Family Circle Presidential Cookie Bake-Off, defeating Ann Romney's M&M cookies.
While the triple chocolate chip cookies might not be her original recipe, it makes sense why they're her go-to dessert. The cookies have three types of chocolate — milk chocolate, white chocolate, and mint chocolate — and only a hint of vanilla. If this doesn't tell you everything you need to know about Mrs. Obama's opinion of vanilla, her comment on the Chews or Lose segment of "The Late Show" should certainly clear things up. When host Stephen Colbert asked her to pick between chocolate and vanilla, Obama without hesitation exclaimed, "Chocolate all the way! I don't even understand vanilla."
Michelle Obama doesn't typically bake with vanilla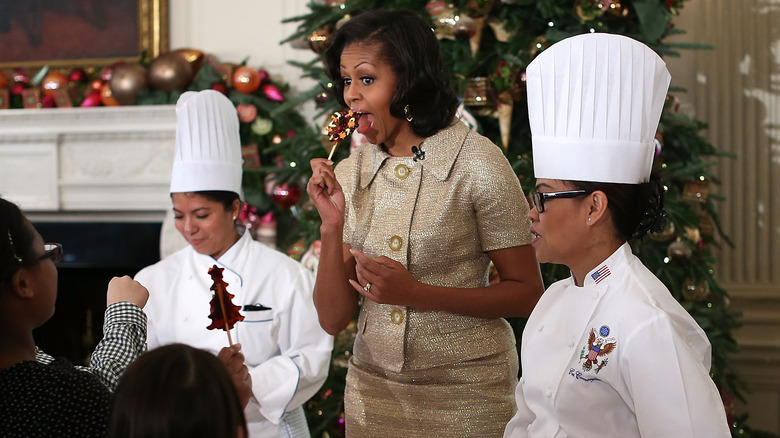 Alex Wong/Getty Images
Though Michelle Obama told Stephen Colbert that she thinks of vanilla as "sort of a disappointing chocolate," that doesn't mean she only likes chocolate-flavored desserts. In fact, she revealed that although she's impartial to chocolate, she definitely has a sweet tooth for all baked goods, telling Colbert she'll take dessert over fruit any day. "You pretend 'I'm so glad we're having berries' when you're really thinking, 'Where's the pie?'" Obama admitted.
When it comes to actually making dessert herself, Obama's recipe for citrus shortbread cookies just goes to show that she doesn't need vanilla to make a delicious dish (via Tasty). While shortbread cookie dough is usually flavored with vanilla extract, Obama uses lemon, orange, and amaretto instead. It might not be traditional, but it's definitely a crowd-pleaser. Clearly, her distaste for vanilla is responsible for her creativity in the kitchen, since she's now the executive producer and host of the children's cooking show "Waffles + Mochi." Considering the show's mission is to explore new ingredients and to try out new recipes, it's safe to say any desserts she cooks up will feature more than just vanilla and chocolate.