Aldi Fans Are Freaking Out About Its New Blue Bell Ice Cream Flavor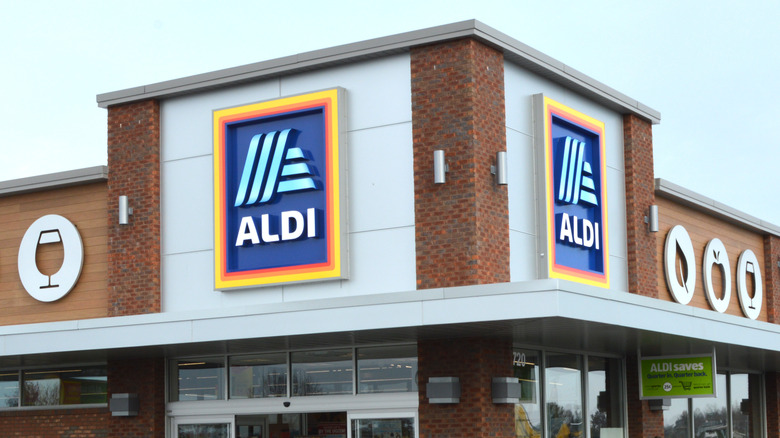 Shutterstock
Dear Aldi shoppers, grab your car keys and shopping bags because there's a new ice cream flavor in town, and we guarantee it's not one you're going to want to miss. Spotted by Aldi fan Instagram account @aldi.mademedoit, Blue Bell's newest and greatest ice cream flavor has officially hit the shelves at the discount supermarket chain. Can you guess the flavor? Drumroll, please... It's chocolate sheet cake!
"Once you go @bluebellicecream you never go back to anything else," @aldi.mademedoit joked on Instagram. A Texas staple, Blue Bell is known for its unique and decadent ice cream flavors like southern blackberry cobbler, peaches and handmade vanilla, cherry vanilla, and moo-llennium crunch, which pairs vanilla ice cream with nuts and chunks of chocolate and caramel (via Blue Bell).
Born and bred in Brenham, TX, Blue Bell has been making taste buds dance for 114 years. Clearly, the frozen dessert company knows what it's doing. As of now, Blue Bell ice cream is only available for in-store purchases in the South as well as in Arizona, Colorado, Missouri, and Indiana, their website notes. However, long-distance cravings can be indulged through their online delivery service.
Blue Bell's new flavor has real pieces of chocolate sheet cake.
According to the product photo shared by Instagram account @aldi.mademedoit, Blue Bell's new chocolate sheet cake flavored ice cream includes milk chocolate ice cream with chocolate sheet cake pieces, chopped pecans, AND a chocolate icing swirl. It's a chocolatey-sugar overload with a hint of nuttiness, from what we can gather.
Customers are going crazy for this ice cream flavor. One Aldi fan commented on the post, "Texas Sheet Cake OMG," with a string of heart-eye emojis. A customer who was able to score a half gallon of the new flavor wrote, "The chocolate sheet cake is my favorite. I may or may not have eaten two pints since Thursday," in which she followed up with, "I didn't even mean to eat the entire pint in one sitting. It is goooooddd!!"
Blue Bell's chocolate sheet cake ice cream is available by the half gallon at Aldi. However, some customers reported in the comments that they were unable to find it at their local store, so be patient and keep your eyes peeled!