Instant Pot Taco Soup Recipe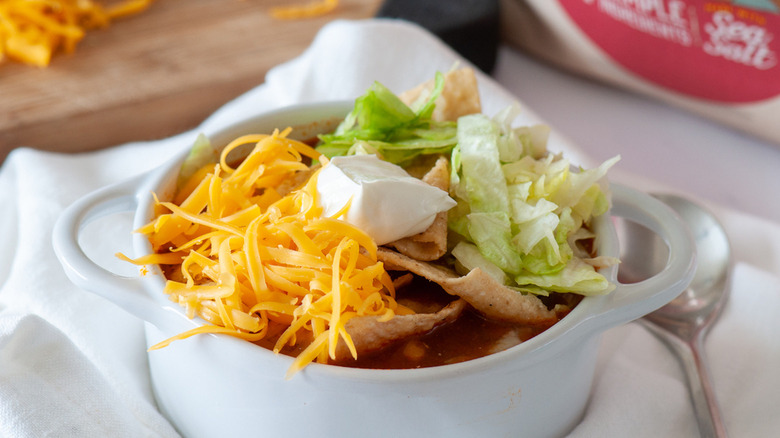 Laura Sampson/Mashed
Mexican cooking is an integral part of American cuisine, with new Mexican food trends emerging Stateside every few years. Most recently, the rise in popularity of birrias, a Mexican meat stew, has made waves thanks to the support of prominent chefs. Birrias became what New Jersey Digest Magazine called "the next big trend" at the end of 2020. But long before birrias took hold, taco soup also made its way into Texas cuisine, per The Spokesman-Review, and it's here to stay.
Instant Pot taco soup, a recipe from passionate cook Laura Sampson of the Little House Big Alaska blog, offers a tasty way to get your fix for Mexican finger foods in a soupy dish that echoes the ever-popular birria. This simple, quick approach has a preparation time, cook time, and release time of 10 minutes each, which means you can be enjoying your appetite for tacos and soup in no longer than half an hour. If you love Mexican food flavors and innovative cuisine, you'll truly love this recipe.
Gather the ingredients for your taco soup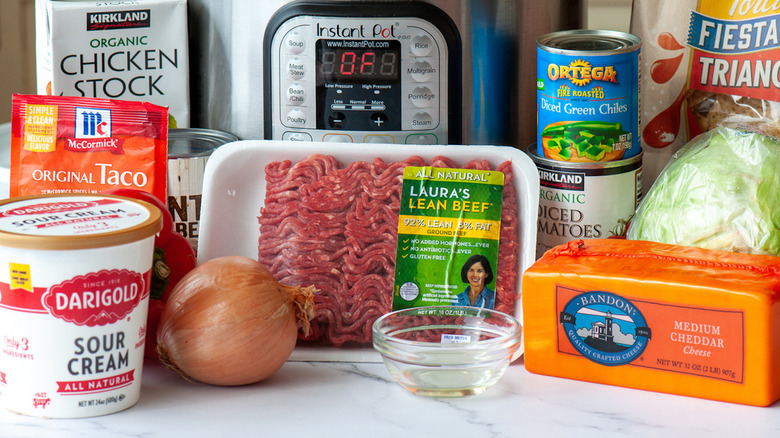 Laura Sampson/Mashed
If you've made tacos before, you'll be familiar with the basic ingredients for this recipe: half a cup of bell peppers, half a cup of white onions (sweet or red also works), one 15.5-ounce can of diced tomatoes (you can double this amount if you're big on tomatoes), one packet of taco seasoning, two 15.5-ounce cans of pinto beans (swap for black or kidney beans if you'd like), one four-ounce can of diced green chilis, and one pound lean ground beef. If you're not a fan of beef, ground turkey, chicken, or finely chopped chicken breast also work, according to recipe creator Laura Sampson.
You'll also need one quart of chicken broth for your soup. For vegans and vegetarians, you can swap a vegetable broth and add some extra beans in the place of meat. "Always taste and adjust spices when you make big changes like this," Sampson said.
As for the toppings, you'll need some corn chips, sour cream, shredded cheese, and shredded lettuce. There are also a few optional toppings that you can add depending on your tastes. Guacamole, avocado slices, and fresh salsa are all great choices, and you can also add some additional white onions or chives on top. 
If your Instant Pot has the space, Sampson said, you can double all of the ingredients for this recipe without adding any extra cooking time.
Sauté your peppers and onions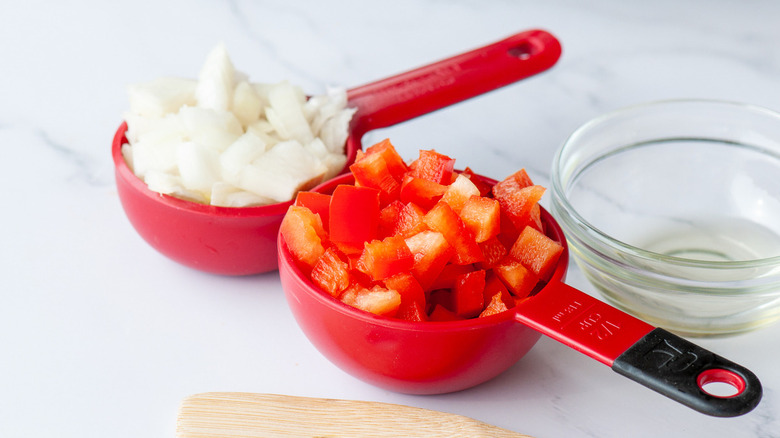 Laura Sampson/Mashed
Start by chopping up half a cup of bell peppers and half a cup of white onions. Sweet or red onions also work, but recipe creator Laura Sampson advised that white is the best choice.
Once your veggies are chopped and ready to go, its time to sauté them. Set your Instant Pot to "Sauté" mode, toss in one tablespoon of oil, and then add your half cup chopped bell pepper and half cup chopped red onion. Let your veggies sauté for about two minutes to give them some crispiness on their exterior.
Mix in your ground beef, taco seasoning, and chicken broth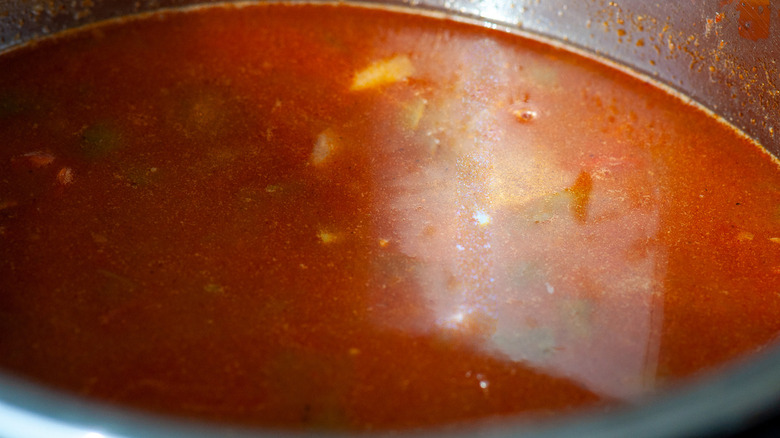 Laura Sampson/Mashed
After sautéing the veggies in oil for a couple of minutes, add one pound lean ground beef or protein of choice and cook until browned. After adding your protein, gently sprinkle the packet of taco seasoning over your mixture and then stir them together well.
Now, get your one quart of chicken broth and measure out one cup. Gently pour the cup into your Instant Pot, taking care to go slowly enough that it doesn't splash. From here, you should see steam start to rise, which is your cue to scrape the browned bits from the bottom of the pot. This is an important step — if your don't remove the brown bits, your ingredients will burn when you pressure cook them.
Mix in the remaining ingredients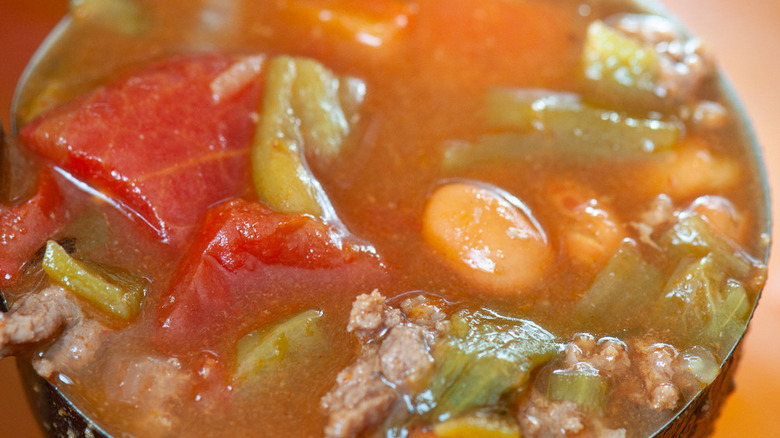 Laura Sampson/Mashed
Your on the last step before you pressure cook all of your ingredients. Add one 15.5-ounce can of diced tomatoes, 2 15.5-ounce cans of pinto beans, and one four-ounce can) of diced green chilis. If you're big on tomatoes, you can add two cans at this step. Be sure to drain your beans and chilis thoroughly before adding them to your Instant Pot. Now, gently pour in the remaining three cups of chicken broth and stir it into your mixture until it's an even consistency.
Pressure cook the soup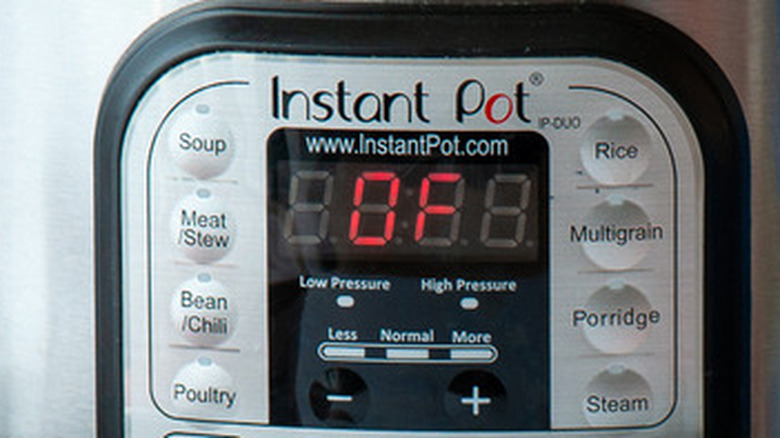 Laura Sampson/Mashed
With all of the ingredients sautéd, turn off your Instant Pot. Now, your need to pressure cook your soup. From here, turn your Instant Pot on again, press the "Manual" button, and set the timer for 10 minutes. Afterward, put the lid on your pot and use the knob to seal it. When the 10 minutes are up, take note of the clock and let your soup sit for another 10 minutes.
Serve your taco soup with the toppings of your choice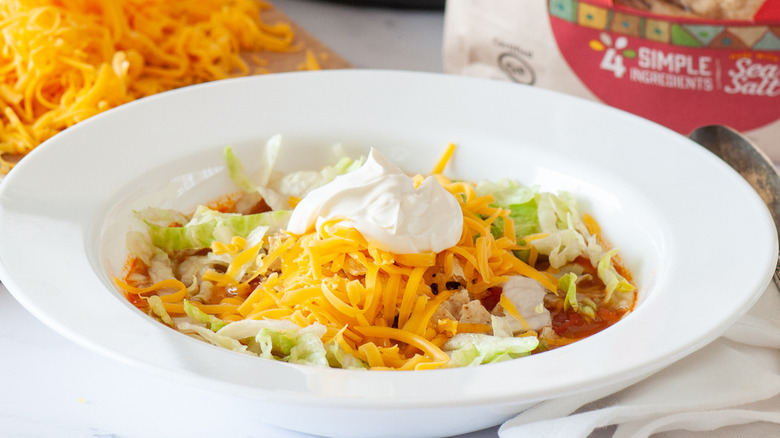 Laura Sampson/Mashed
Once your soup has cooled, carefully release the rest of the pressure and then slowly open the lid before giving your final product a stir. If you think it needs a bit more zest, you can add another teaspoon of salt. Once it's to your taste, divide the soup into as many bowls as needed and serve it with the toppings of your choice.
"If you need to refrigerate leftovers simply store them in an airtight container in the fridge," recipe creator Laura Sampson said.
Instant Pot Taco Soup Recipe
This Instant Pot taco soup recipe combines Mexican flavors inspired by birria with taco seasoning while being easy to modify for vegetarians.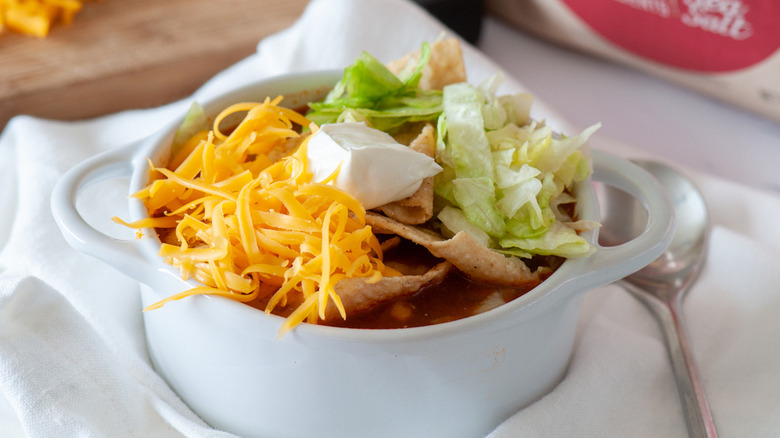 Ingredients
1 tablespoon of vegetable oil
½ cup bell pepper, chopped
½ cup onion, chopped
1 pound lean ground beef
1 packet taco seasoning
1 quart chicken broth
1 15.5-ounce can diced tomatoes
2 15.5-ounce cans pinto beans
1 4-ounce can diced green chilis, drained
1 teaspoon salt
Optional Ingredients
Additional salt to taste
Corn chips for topping
Sour cream for topping
Shredded cheese for topping
Shredded lettuce for topping
Avocado slices for topping
Diced onions for topping
Directions
Chop ½ cup of bell peppers and ½ cup of onions and sauté them with 1 tablespoon of oil in your Instant Pot for 1 to 2 minutes.
Add 1 pound of lean ground beef and sauté it with your veggies until it's browned.
Mix in 1 packet of taco seasoning.
Pour 1 cup of chicken broth into the Instant Pot and let it steam. Be sure to scrape off any browned bits from the bottom.
Drain 2 15.5-ounce cans of pinto beans and 1 4-ounce can of diced green chilis.
Pour your beans and chilis into the pot along with 1 15.5-oz can of diced tomatoes and the remaining 3 cups of chicken broth. Stir well.
Pressure cook your soup. Reset your Instant Pot, turn it on, then set it to "Manual." Set the timer for 10 minutes, put on the lid, seal the knob, and wait.
Let the pot sit for an additional 10 minutes after it's done pressure cooking.
Stir your soup and add 1 tablespoon of salt if needed.
Serve the soup with your choice of toppings.
Nutrition
| | |
| --- | --- |
| Calories per Serving | 468 |
| Total Fat | 21.0 g |
| Saturated Fat | 6.7 g |
| Trans Fat | 0.9 g |
| Cholesterol | 58.5 mg |
| | |
| --- | --- |
| Total Carbohydrates | 42.1 g |
| Dietary Fiber | 10.3 g |
| Total Sugars | 7.3 g |
| Sodium | 1,026.2 mg |
| Protein | 28.5 g |