Parmesan Crusted Fried Mushrooms Recipe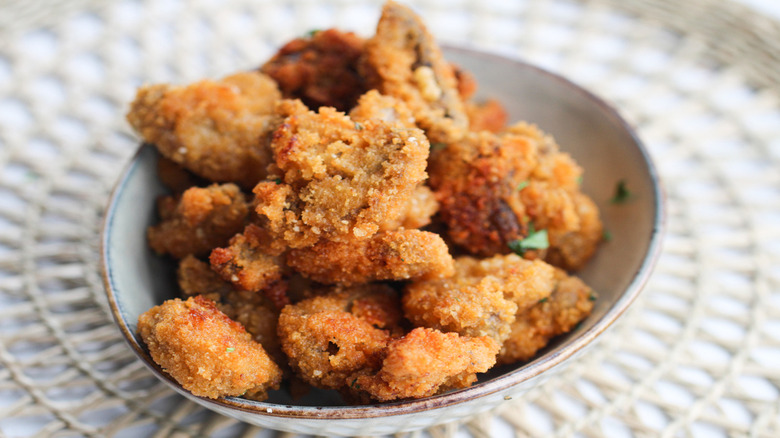 Susan Olayinka/Mashed
Imagine yourself, sizzling snack in hand, cuddling up on the couch to watch your favorite show. Now imagine having said snack ready in less than 20 minutes. Recipe developer and food photographer of The Flexible Fridge, Susan Olayinka, shares her seven-step recipe to make these tasty morsels at home. Who doesn't love mushrooms fried to perfection? 
Mushrooms are a superfood full of surprises and a savory umami flavor. Their antioxidant-rich "meat" happens to be heart-healthy, filled with fiber, and high in protein. Mushrooms also rival bananas when it comes to potassium content, but with fewer carbs. That's a huge win for all of you conscious eaters out there.
Often used by vegans and vegetarians as a meat replacement, mushrooms will make a perfect snack, appetizer, or side for the whole family. Susan Olayinka put a mouthwatering spin on the well-known recipe for us, and we're delighted to help make your fridge more flexible.
Start with a few handy ingredients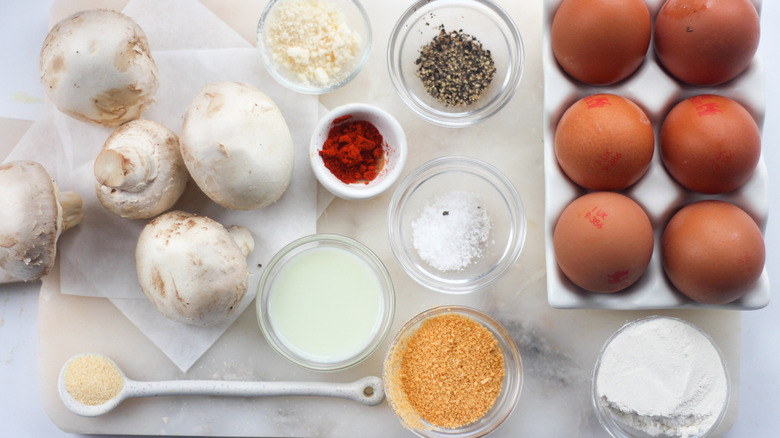 Susan Olayinka/Mashed
Making a trip to the produce section may be in order to grab a fresh bunch of button mushrooms. Next, you'll need around 2 cups worth of sliced mushrooms for this recipe. Olayinka recommends using olive pomace oil, peanut oil, or vegetable oil for frying. The batter requires flour, milk, eggs, black pepper, and paprika, along with garlic powder and a bit of salt. To bread the mushrooms, you'll combine breadcrumbs, parmesan cheese, and salt to taste.
Slice your scrumptious 'shrooms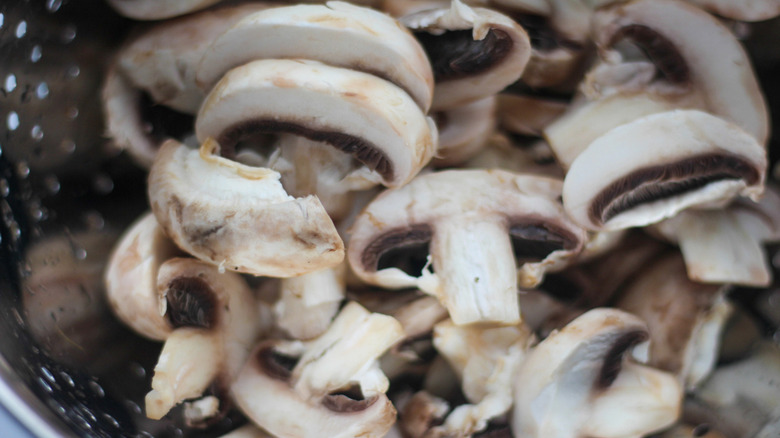 Susan Olayinka/Mashed
Place a frying pan on the stove and turn the heat on medium before adding the oil. The best type of pans for frying are cast-iron, stainless steel, or copper. Pour in two full cups of vegetable oil to fill the pan's bottom and give enough depth to cover the mushrooms.
While the oil is heating up, wash and dry your 'shrooms before chopping them. If you want a lot of crispy bites, cut your mushrooms into thin strips. To have more meat in each slice, go a little thicker as you chop them up.
Whisk up the beautiful batter for these fried mushrooms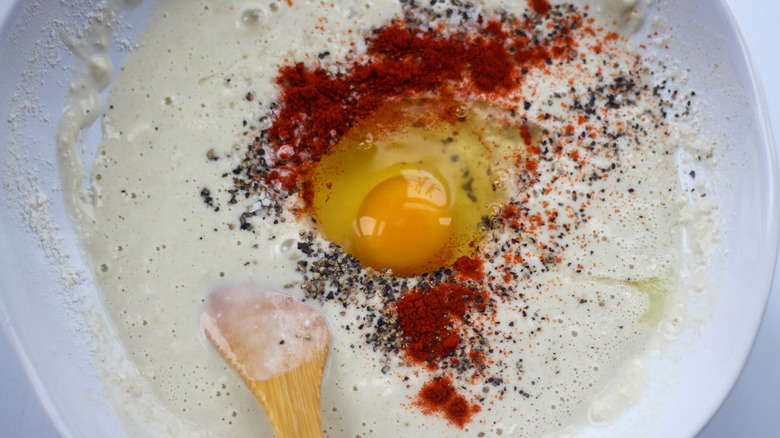 Susan Olayinka/Mashed
Putting together an excellent batter will help to seal in the mushroom-y flavor and acts as a binding agent with the breading. In a mixing bowl, begin by combining 1 cup of milk and 1 egg. Add in 1 full cup of all-purpose flour, 1 teaspoon of black pepper, and 1 teaspoon of salt. Also, include ¼ teaspoon of zesty paprika alongside 1 teaspoon of garlic powder. And there you have it! Whisk this medley together until all ingredients are blended well.
Put together the Parmesan-crusted breading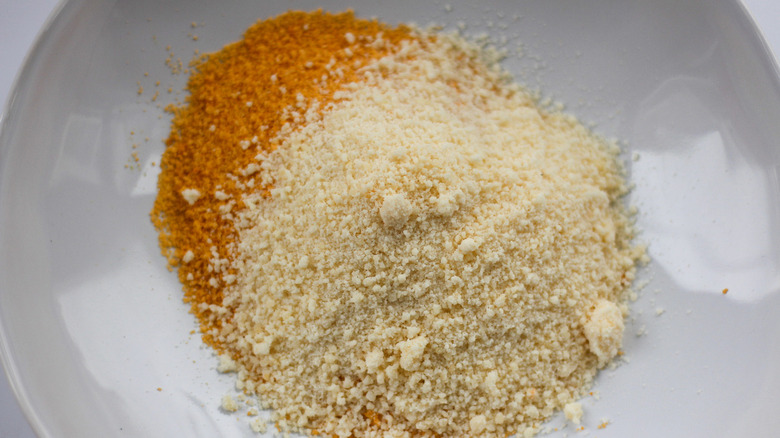 Susan Olayinka/Mashed
The savory spices of the batter and breading accentuate the flavors in each bite. You can be generous with your seasonings here, but we'll give you exact measurements as a guide.
Now you can mix up your breading from 1 cup of golden breadcrumbs, ½ cup of parmesan cheese, and 1 final teaspoon of salt. There's a variety of grocery store breadcrumbs out there to choose from, so go with whichever you enjoy the most to achieve just the right amount of delicious crunch.
Dip your delicious mushrooms in the batter and breading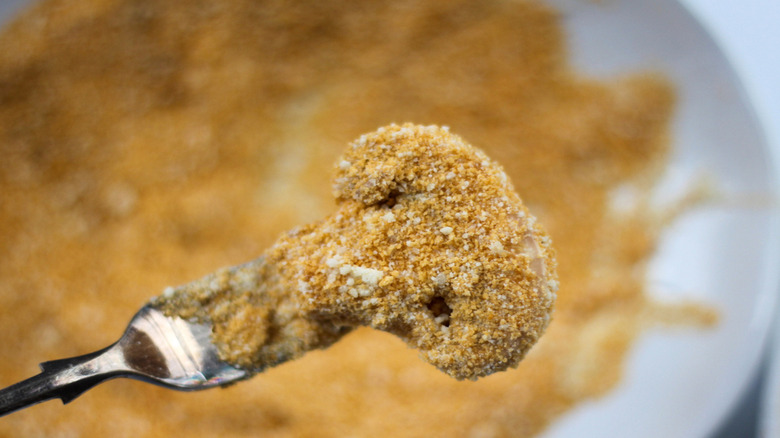 Susan Olayinka/Mashed
Now, this next part might be a bit messy but it's quite simple. Taking a few at a time, drop your mushroom slices into the batter. Turn them about in the batter until they're completely coated. Switching over into the breadcrumb mixture, dip your mushrooms in to be sure both sides are covered.
You may set them aside until you've battered and breaded them all. You can also batter and bread the mushrooms gradually, in bundles. Take a quick pause to ensure your oil is heating up nicely, but not overheating. You're almost ready to drop in your appetizing mushrooms!
Fry the mushrooms until golden brown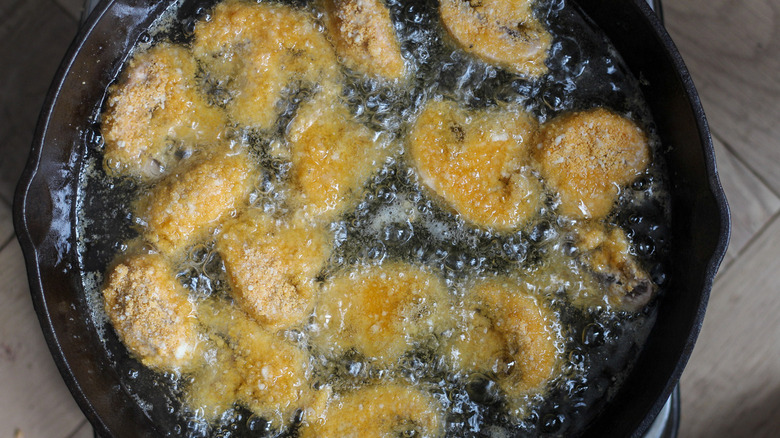 Susan Olayinka/Mashed
An easy way to check the oil's temperature is to drop in a pinch of loose flour. If the oil sizzles, that's the sound that you're good to go. If the flour and oil create no reaction, wait a short while longer to drop your mushrooms in. 
Once the oil is hot, drop your mushrooms right on in. Let them deep fry for five to six minutes, flipping them occasionally. When you see they've turned golden brown all over, they're at peak crispness. Using a metal skimmer or straining utensil, remove your beautiful mushrooms from the oil.
Serve up your savory mushrooms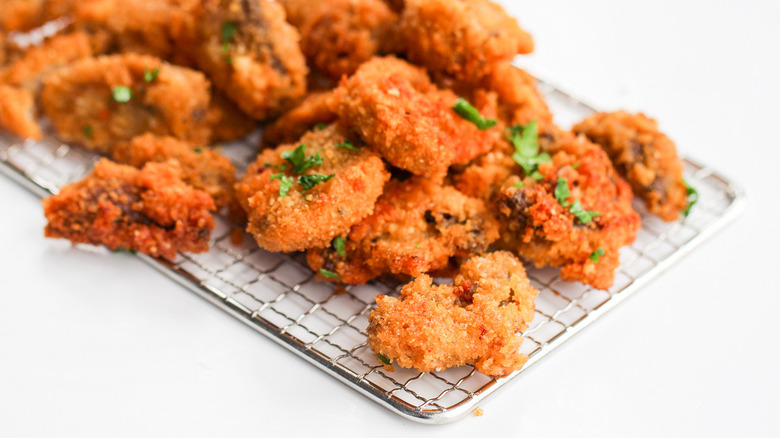 Susan Olayinka/Mashed
Ahh, yes. Breathe in the rich scent of your freshly fried masterpiece. Once you've removed the mushrooms from the oil, rest them in a strainer to let the oil drip off. Lightly dust chopped parsley as a garnish and serve immediately.
These Parmesan-crusted mushrooms are perfect as a starter before dinner. Olayinka proposes, "These are wonderful served as an entree to a meal — before a tomato pasta meal, or an Alfredo pasta meal would be delicious." We know you'll appreciate the simplicity of this recipe and enjoy making this for your friends and family. Until next time!
Parmesan Crusted Fried Mushrooms Recipe
It's time to elevate your appetizer game with this easy recipe for fried mushrooms. Besides bursting with flavor, they're packed with protein. It's a win-win!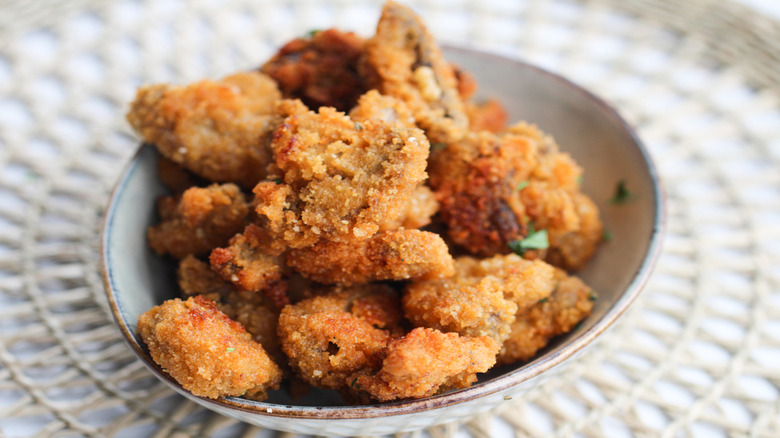 Ingredients
2 cups of sliced mushrooms (300g)
1 cup all-purpose flour
1 cup milk
1 egg
1 teaspoon black pepper
¼ teaspoon paprika
1 teaspoon garlic powder
2 teaspoon salt, divided
1 cup golden breadcrumbs
½ cup Parmesan cheese
2 cups vegetable oil
Optional Ingredients
chopped parsley for garnish
Directions
Heat 2 cups of vegetable oil in a pot on medium heat.
In a mixing bowl place flour, milk, eggs, black pepper, paprika, garlic powder, and salt. Mix together with a whisk until well incorporated.
In a separate mixing bowl, mix together salt, breadcrumbs, and Parmesan cheese.
Coat each sliced mushroom into the batter and then dip into the breadcrumb mixture and set aside.
Once all mushrooms are battered and breaded, deep fry for 5-6 minutes in batches until golden brown.
Sprinkle with an optional chopped parsley garnish, then serve immediately.
Nutrition
| | |
| --- | --- |
| Calories per Serving | 810 |
| Total Fat | 50.6 g |
| Saturated Fat | 9.0 g |
| Trans Fat | 0.3 g |
| Cholesterol | 78.3 mg |
| | |
| --- | --- |
| Total Carbohydrates | 65.5 g |
| Dietary Fiber | 3.6 g |
| Total Sugars | 7.7 g |
| Sodium | 664.0 mg |
| Protein | 24.1 g |