Slow Cooker Fried Apples Recipe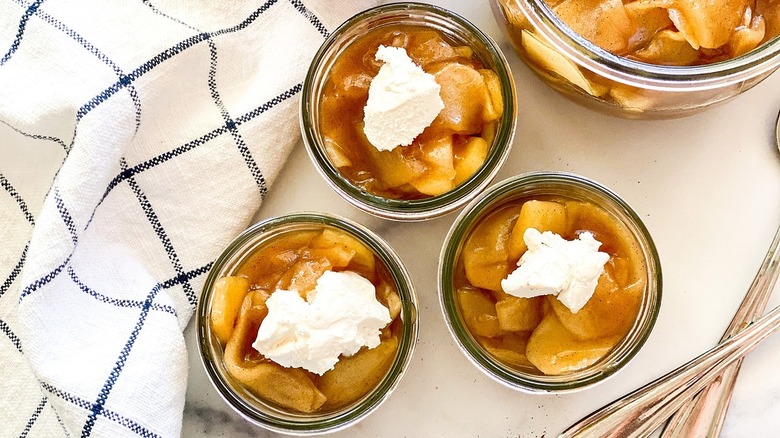 Miriam Hahn/Mashed
Apples are one of the best fruits, and there are many reasons for this high honor. First and foremost, apples have an amazing flavor on their own, with just the right amount of sweetness, crispness, and tartness. Of course, there are also several varieties of apples, depending on your flavor preference — if you like a light and sweet flavor, many of the red varieties will suit your needs. Are you more of a sour person? Then Granny Smith apples have you covered.
While apples are great on their own, they're also wonderfully versatile and are great to cook with. In fact, when apples are cooked, their crispy texture becomes soft, warm, but still incredibly flavorful. If you're looking for a great way to cook your apples, look no further than this slow cooker fried apples recipe. 
Certified wellness coach and recipe developer Miriam Hahn of YouCare-SelfCare has created a simple, easy, and delicious way to cook your apples and transform them into a warm and indulgent dessert. As Hahn notes, this is a great easy dessert because you can leave it in the slow cooker on its "warm" setting, even after you're done cooking them — and your house will smell amazing in the process. So, grab your apples and your slow cooker and give this recipe a try — you won't be disappointed!
Gather your ingredients to make slow cooker fried apples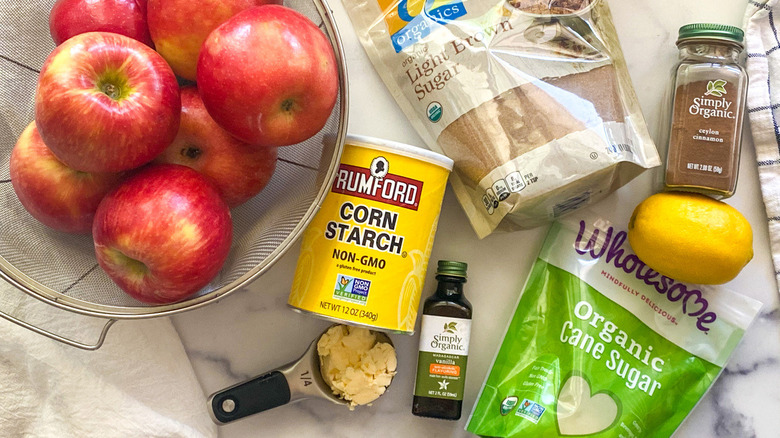 Miriam Hahn/Mashed
To begin making slow cooker fried apples, gather up the ingredients. You'll need Honeycrisp apples, corn starch, brown sugar, cane sugar, cinnamon, vanilla extract, butter, and fresh lemon juice. Of course, you'll also need a slow cooker for this recipe, and you can optionally add vanilla ice cream, crushed nuts, or whipped cream to the apples after they're cooked. Recipe developer Miriam Hahn also notes that while she prefers to use Honeycrisp apples, you can use any type of apple that you'd like.
Start by preparing your apples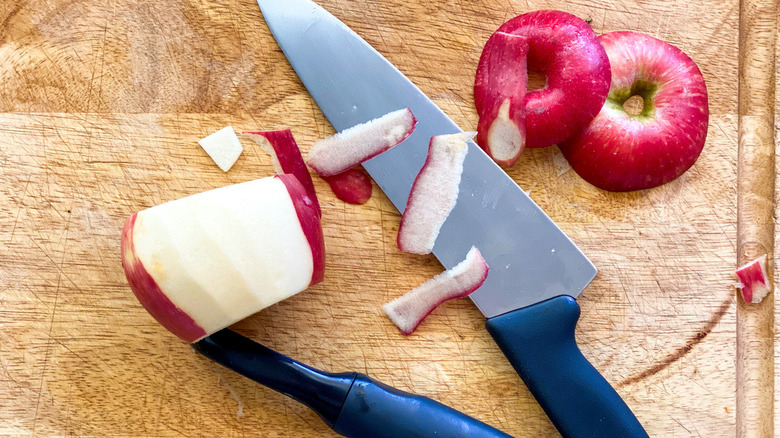 Miriam Hahn/Mashed
Once you have your ingredients sorted, you can begin by preparing your apples. Carefully using a sharp knife, cut the top and bottom off of each apple and then peel the skin off using either a peeler or the knife. Then, slice your apples into one-eighth inch slices, or as thin or thick as you'd like. Keep in mind that the thickness of the slices will affect the cook time, with thinner slices needing less time in the slow cooker.
Put all of your ingredients into the slow cooker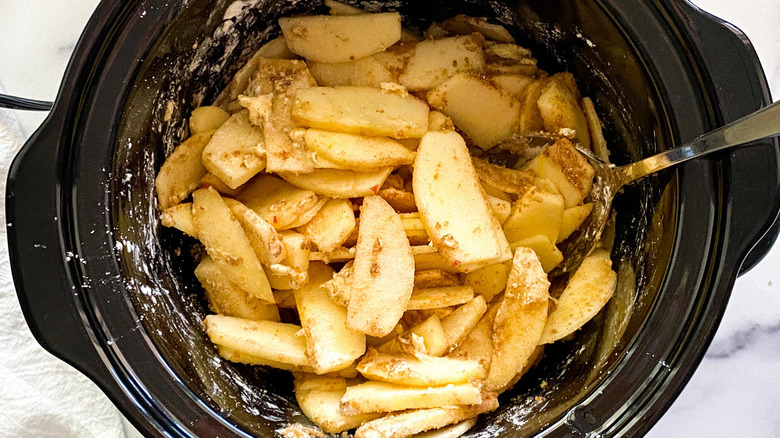 Miriam Hahn/Mashed
Now that you've sliced your apples to a desired size, you can go ahead and put them in the slow cooker. You'll also add in all of the other ingredients (except optional toppings) and mix well. After this step, your apples will be cooking for a couple of hours, so you want to be sure that each apple is evenly coated with the butter, sugar, and other ingredients so they come out evenly.
Turn on the slow cooker and allow your apples to cook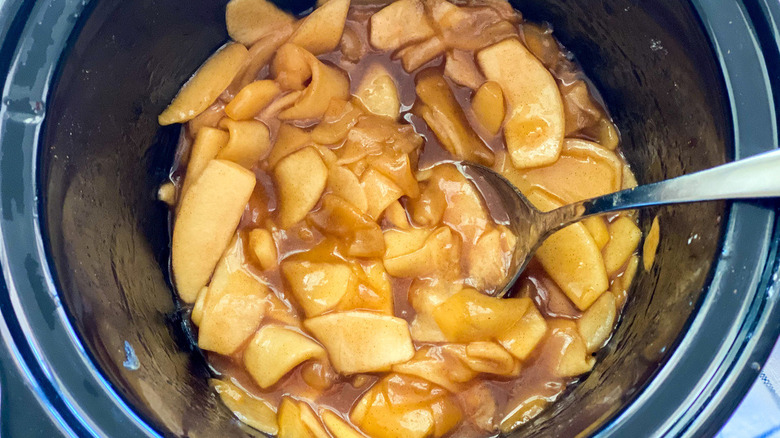 Miriam Hahn/Mashed
Once all of your ingredients are in the slow cooker, you can cook them on high setting. They should take around two hours and 15 minutes to cook, so set a timer and check on them after it goes off. Your apples slices should no longer be hard and crisp but instead be soft, warm, and browned. Remember, if you cut your slices a little bit thicker, they'll need a little more time to cook.
Serve your slow cooker fried apples and enjoy!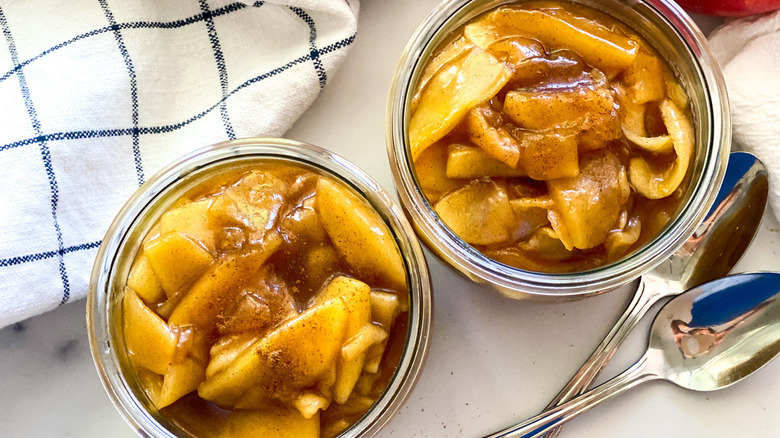 Miriam Hahn/Mashed
Once your apples are done cooking, you can remove them from the slow cooker, serve, and enjoy! Before you serve, add any toppings that you'd like, though keep in mind that these apples are decadent enough on their own. Hahn says that these pair wonderfully with a cup of coffee, and if you have leftovers, you can easily store them in an airtight container in the fridge for up to a week. If you're looking for a recipe that allows the slow cooker to do all the work, give this fried apple recipe a try for an easy but delicious take on apples.
Slow Cooker Fried Apples Recipe
These fried apples with cinnamon and vanilla are a healthy and delicious dessert that's easily made in a slow cooker.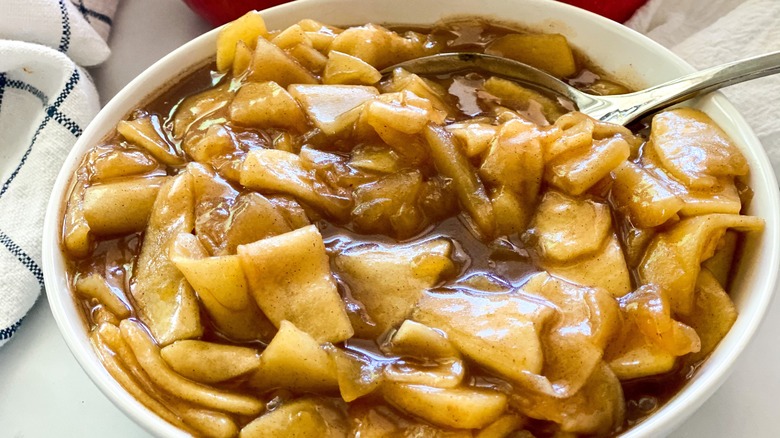 Ingredients
6 Honeycrisp apples
¼ cup brown sugar
¼ cup cane sugar
2 tablespoons corn starch
1 teaspoon cinnamon
1 teaspoon vanilla extract
¼ cup unsalted butter
½ lemon
Directions
Holding each apple on its side, slice off the top and bottom.
Peel the apple and slice into ⅛" slices.
Squeeze out juice from lemon and set aside.
Add the apples and the rest of the ingredients, including lemon juice, to the slow cooker. Mix well.
Turn the slow cooker on high setting and cook for 2 hours and 15 minutes. (or more if your apples are cut thicker).
Serve or store in an air-tight container in the fridge for up to a week.
Nutrition
| | |
| --- | --- |
| Calories per Serving | 232 |
| Total Fat | 8.0 g |
| Saturated Fat | 4.9 g |
| Trans Fat | 0.3 g |
| Cholesterol | 20.3 mg |
| | |
| --- | --- |
| Total Carbohydrates | 42.7 g |
| Dietary Fiber | 4.8 g |
| Total Sugars | 33.3 g |
| Sodium | 5.1 mg |
| Protein | 0.6 g |