Rachael Ray's Middle Eastern Twist On Conventional Hot Dog Toppings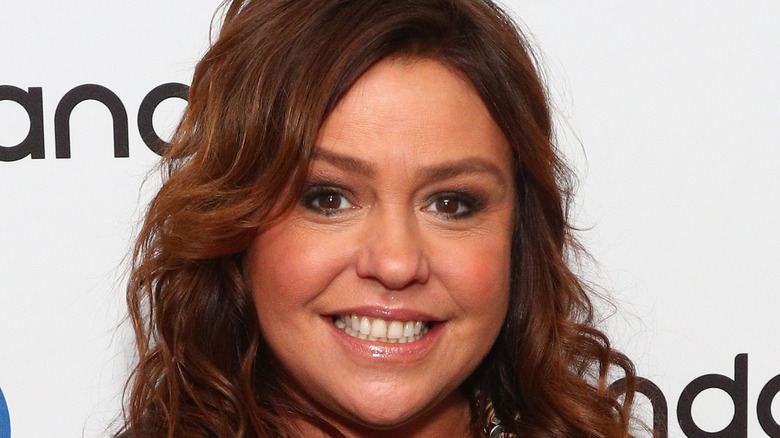 Astrid Stawiarz/Getty Images
Rachael Ray is royalty in the celebrity chef world. Ray rose to fame from a cooking demonstrator at a New York-area Macy's to that of author, television personality, and publisher of her own magazine, according to Food Network.
Ray is best known for her recipes that make it easy for busy individuals to create a delicious meal simply. The celebrity chef frequently uses a family favorite, the hot dog, in her recipes. In fact, she once dedicated an entire episode of her show to the All-American treat. Titled, "Hot-Dog-a-Rama," the chef shared easy recipes to create classics like the NYC dog, the kosher dog, and the Coney dog at home.
She also shared tips on how to recreate the famous Sabrett's onion sauce — a topping found at the hot dog street carts found all over New York City. Ray, a native New Yorker, also took fans on a journey to Brooklyn's famed Coney Island with a recipe for a meaty Coney sauce that, she notes on her "Rachael Ray Show" site, was actually created in Detroit. But these aren't the only hot dog ideas she's laid out for fans.
Rachael Ray has a few unique twists on traditional hot dog toppings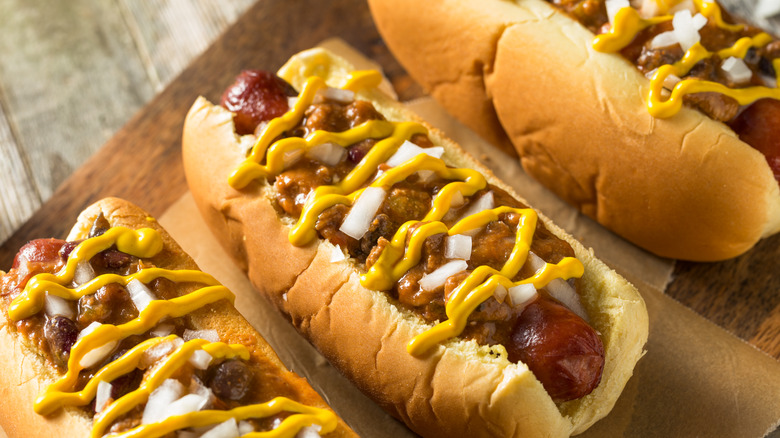 Shutterstock
Rachael Ray's recipe for Mediterranean hot dogs is a great example of how she thinks outside the flavor box. She elevates this summer barbecue and picnic favorite by spicing it up with flavor profiles not usually associated with this all-American snack.
On the "Rachael Ray Show" website, Ray tops her hot dogs with a zesty, Mediterranean twist on the classic Chicago dog. A Chicago dog, according to Bon Appétit, is a hot dog topped with mustard, chopped onions, green relish, tomato slices, a pickle, sport peppers, and celery salt, and it's a favorite of residents of the Windy City. The Chicago dog was said to have been invented in the late 1920s at a Chicago restaurant named Fluky's. To this day, the majority of Chicago dogs are made using a specific brand of wiener.
Ray's play on the classic dog incorporates many of the Chicago dog elements and upgrades them by creating a sauce that incorporates the spice of harissa and the nuttiness of tahini. This paired with her tomato relish — which consists of Persian cucumbers, mint, and parsley, among other things — makes for a unique take on regular hot dog toppings.