Costco Shoppers Are Loving This Junior's Key Lime Cheesecake
When you want to make the perfect Key lime pie, you can't settle for any old variety of citrus. According to Tasting Table, Key limes differentiate themselves from the standard Persian limes you commonly see at the supermarket thanks to their distinctive aroma and juice that tastes more floral and sour than your run-of-the-mill lime. You can use this unique fruit to whip up cupcakes, trifles, and even fondue, but few recipes touch the iconic status of Key lime pie (via Taste of Home). The earliest accounts of this treat hitting tables pops up in the 1800s, with some claiming either a Florida house cook or sponge fisherman devised the original recipe. 
Fast forward to the present and few could argue that this dessert hasn't established itself as one of the most iconic pies around. Thanks to Costco, you can now take this legacy home without even having to hunt down a few Key limes. Instagrammer @costcobuys discovered that the big box store now carries Junior's Key lime pies, and swiped one up for themself. They posted a picture of their new dessert, alongside the caption, "I spotted @juniorscheesecake Key Lime Cheesecake for $16.99 and I'm excited to try!! It looks like it'll be a tasty summer dessert!" With a value this sweet, a ton of followers have taken notice
A mouthwatering Costco pie perfect for the summer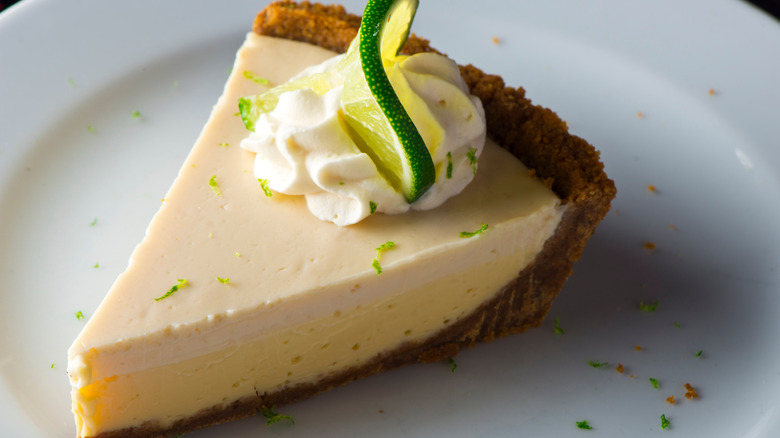 Shutterstock
Fans can't get enough of this new Costco dessert. The post has raked in almost 3,000 likes and a wealth of glowing comments, ranging from "Key lime? We need to try it!" to "Ooooh lawwwwwdie." Many of the commenters wonder when they can expect to see this treat in their local Costco dessert sections. If you get lucky, you might have a chance of scoring this pie in the near future, while many sweet-toothed shoppers need to hold out a bit longer until this confection hits their area.
Make sure you keep an eye out for this decadent pie the next time you make your grocery run. With a price tag of only $16.99, you can't go wrong taking this dessert home. Next time a craving hits, keep Costco in mind to pick up the classic taste of Key limes without making an expedition down to Florida. With flavors this bold, your taste buds will thank you.