Everything You Need To Know About Fathead Pizza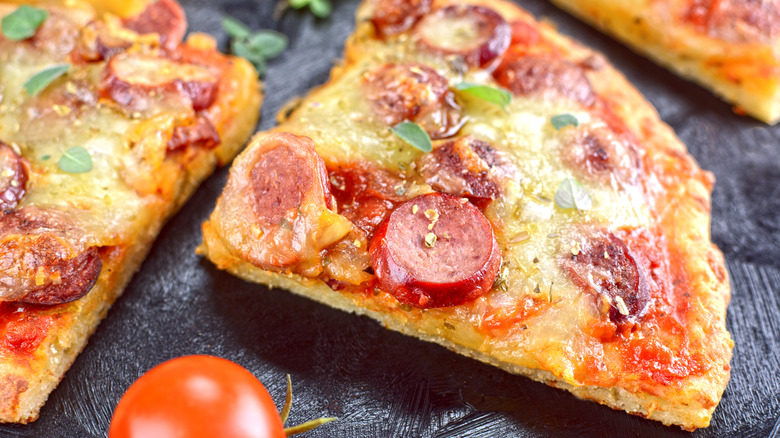 Shutterstock
Picture this: You're scarfing down a few slices of delicious pizza ... and the crust is made of cheese. No, you're not imagining it. It really does exist, and it's called Fathead pizza.
Fathead pizza is basically a classic ketogenic dish that is low in carbs and high in fat. Per The Kitchn, it's also rich in protein. Even better — this recipe is easy to make at home and is definitely within reach. According to Wholesome Yum, the dough for this keto-friendly, gluten-free pizza is typically made with mozzarella, cream cheese, an egg, and a low-carb flour like almond flour or coconut flour. You can also easily customize this pizza and play around with toppings until you find something you like (via All Recipes).
Sure, it's a bit unconventional, but it's also supposed to be incredibly tasty and is a great option for pizza lovers choosing a low-carb lifestyle (via That Low Carb Life). 
Fathead pizza is popular in the keto world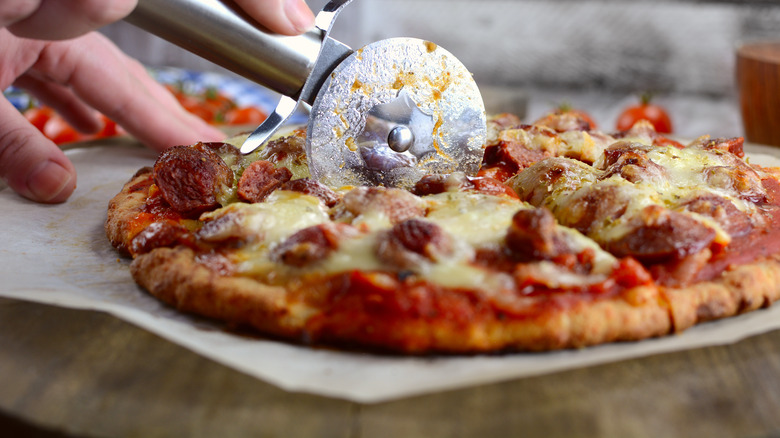 Shutterstock
Not surprisingly, Fathead pizza is hugely popular with people following a ketogenic diet. Many Reddit users are Fathead fans and appreciate that they're able to enjoy the feast without worrying about consuming too many carbs. One Redditor wrote, "Fathead pizza is probably my favorite keto dinner item." 
Another raved, "If you haven't tried this yet, you need to. It's so dang easy to make and every bit as good as regular pizza."
One fan noted that there are a few tweaks that make Fathead pizzas taste better. They explained, "I just made two of these [pizzas.] Makes keto enjoyable. I use coconut flour but you have to use seasoning to mask the coconut flavor. I use Italian seasoning and real minced garlic."
As always, remember to be mindful of your portion sizes and share your pizza with others to make sure that you're keeping your calories in check.