Roasted Breaded Cauliflower Recipe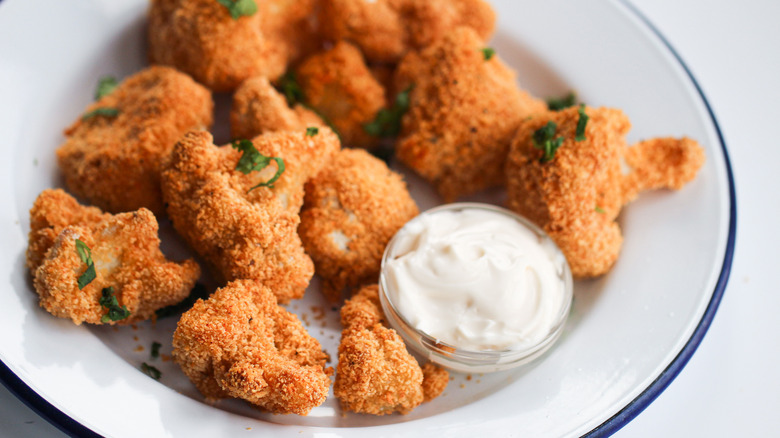 Susan Olayinka/Mashed
Everybody loves breaded finger foods — especially when they double as healthy appetizers. Recipe developer Susan Olayinka of The Flexible Fridge loves experimenting with new recipes — especially those that are quick to make and delicious to eat. These roasted breaded cauliflower bites certainly fit the description. We love the tender texture of cauliflower when it's been cooked, specifically when it's coated in crunchy breadcrumbs for an extra tasty bite. You could branch out and try this with other favorite vegetables, but biting through a crispy exterior to reach the smooth consistency of cooked cauliflower is absolutely heavenly.
Since the breaded cauliflower is roasted, you can feel much better about it if you happen to accidentally devour the whole plate. Dipped in ranch dressing with some parsley to add a pop of color makes it so scrumptious, you'll probably want to start making this recipe on a regular basis. It works well as an appetizer, especially paired with a cold beverage to wash the crumbs down. (You can even serve them in a sandwich for lunch or dinner!) Save these for yourself, or serve them to impress your guests — they'll surely ask you for the recipe.
Gather the ingredients to prepare this delicious roasted breaded cauliflower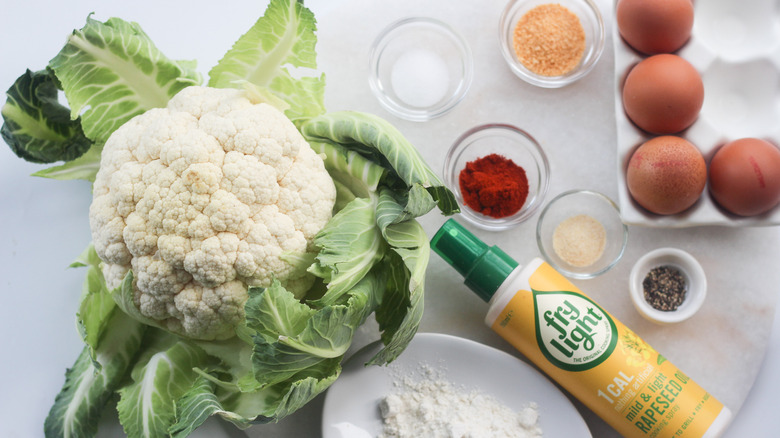 Susan Olayinka/Mashed
Set out the ingredients required to prepare this tasty breaded cauliflower. For starters, you'll need a head of cauliflower without the leaves. Olayinka loves using cauliflower for this recipe, because it "has a great texture [and is very neutral when cooked]." She recommends it for people who don't eat many vegetables, which is a good tip for picky eaters. She says this recipe could also work well with mushrooms if they're a favorite. 
Next, you'll need eggs to act as a binder for the breadcrumbs. According to Olayinka, "Golden breadcrumbs work the best." She points out that their color makes them look fried, and they have an ideal consistency. 
This recipe calls for black pepper, garlic powder, paprika, and salt for seasoning as well. If you want to try out different versions of this dish, Susan suggests "Mexican-type herbs" such as paprika, cumin, onion, red pepper flakes, and garlic powder, or dried herbs such as chives, basil, and Italian seasoning. A bit of all-purpose flour is also used to help create a crispy coating. Finally, to help the breaded cauliflower cook and become crispy, use some rapeseed or vegetable oil in a spray form or brushed on. 
A sprinkle of chopped parsley and ranch dip make a great match for the crunchy goodness. Alternatively, feel free to choose whichever dip suits your fancy. 
Place salted water to boil on the stove, and chop the cauliflower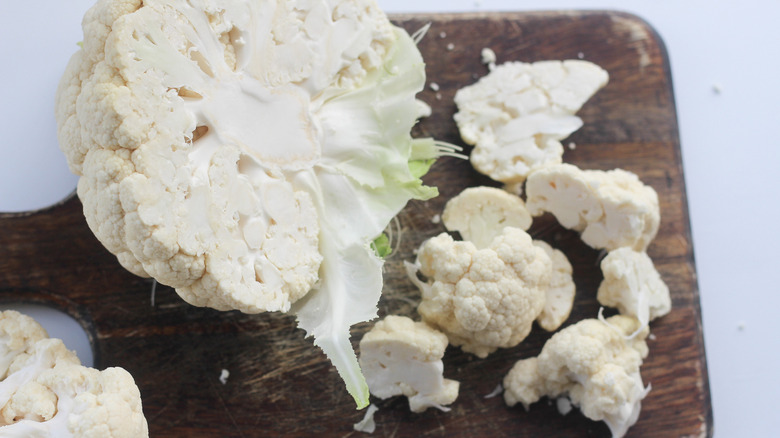 Susan Olayinka/Mashed
Preheat the oven to 380 F so it's at the right temperature by the time you are ready to bake the cauliflower. Prepare a baking tray with parchment paper for easy cleanup. 
To start, you will fill a medium pot with 3 cups of water, and place it on the stovetop on high heat. Season the water with some salt to prevent the cauliflower from tasting bland. As the water heats up, set out a cutting board and remove the leaves from the exterior of the cauliflower. Chop it into small florets, keeping them bite-sized and fairly consistent. This will help each piece brown at a similar rate, and prevent any from burning too quickly. It also assures everyone will get a piece similar in size.
Add cauliflower to the boiling water, and cook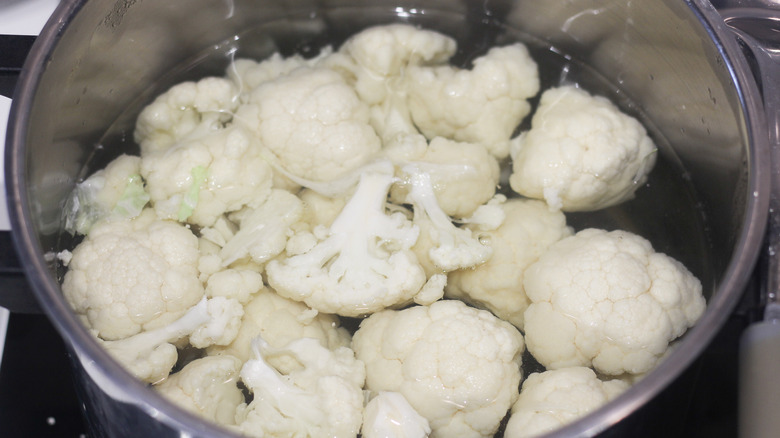 Susan Olayinka/Mashed
Once you've chopped up all the cauliflower and the water has come to a boil, add your white vegetable to the pot. Be careful as you toss in the cauliflower to avoid any splash from the boiling water. Cook the cauliflower in the boiling water for five minutes. It will soften during this time, but it should still be somewhat firm in order to make it easier to dip in the various coatings. The cauliflower will continue to cook to the ultimate consistency as it is roasted in the oven.
After the five minutes have passed, remove the pot from the stovetop, and immediately drain the water. Set the cauliflower to the side so it can cool off in a bowl.
Assemble three bowls for the flour, eggs, and breadcrumb mixture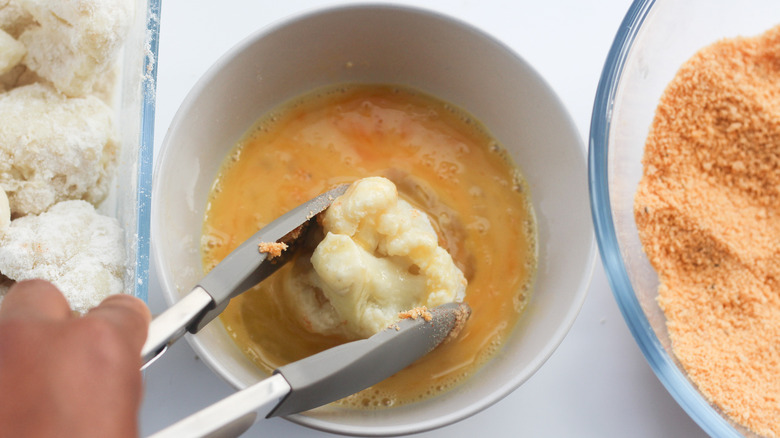 Susan Olayinka/Mashed
This is a good time to set up three separate bowls on your workspace. One will be for the flour, the next for the eggs (two eggs which should be cracked and whisked thoroughly), and the final one for a breadcrumb mixture (aka the breadcrumbs, ½ teaspoons salt, black pepper, garlic powder, and paprika). Be sure to set up all three now, as you will be coating the cauliflower in an assembly line fashion in the next step.
Coat the cauliflower in the flour, eggs, and breadcrumbs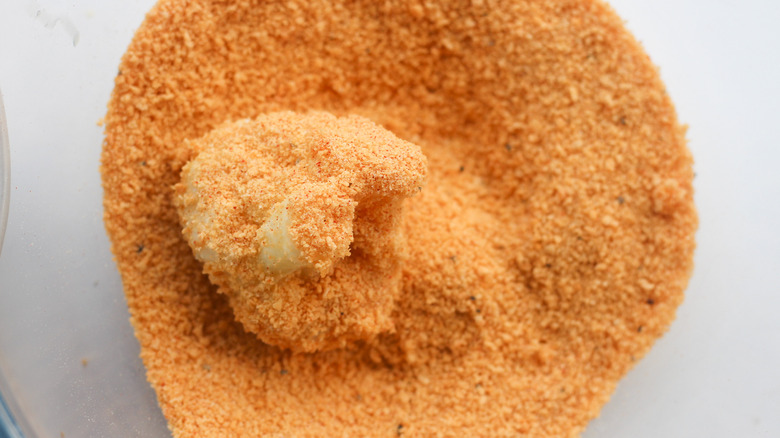 Susan Olayinka/Mashed
First, you are going to coat the cauliflower with flour, being careful to avoid getting water into the mixture. You can dip each piece individually, or do a few at a time, but make sure that the cauliflower is properly covered with flour. This will help create a shell for the crispy exterior that everyone will enjoy.
Next, you will dip each piece into the egg mixture bowl. The whisked eggs will create a sticky texture on the exterior that will help the breadcrumbs to properly bind.
Then, roll each piece of cauliflower one by one into the breadcrumb mixture to evenly coat. The reason for evenness is you want the exterior to be crispy all around. If it clumps in any spot, the breadcrumbs won't be able to brown and become crispy, and you'll be left with a dry coating. You can give each piece a little shake to make sure there is no excess of the breadcrumb mixture in any one spot.
Place the coated cauliflower carefully onto a tray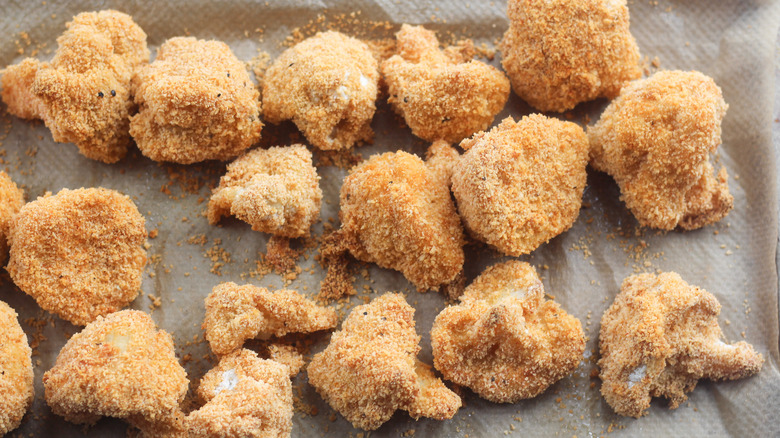 Susan Olayinka/Mashed
One by one as you cover the cauliflower with the breadcrumb mixture, place each piece on your lined baking tray. Be careful not to crowd them too much so that they don't steam, but a bit of proximity won't hurt. Spray the cauliflower with rapeseed oil spray or another vegetable spray to ensure proper browning and a delightful golden color. If you don't have an oil spray, a light drizzle of oil works, or you can use a silicone basting brush to add the oil. 
Bake for 35 minutes, then transfer the cauliflower to a serving dish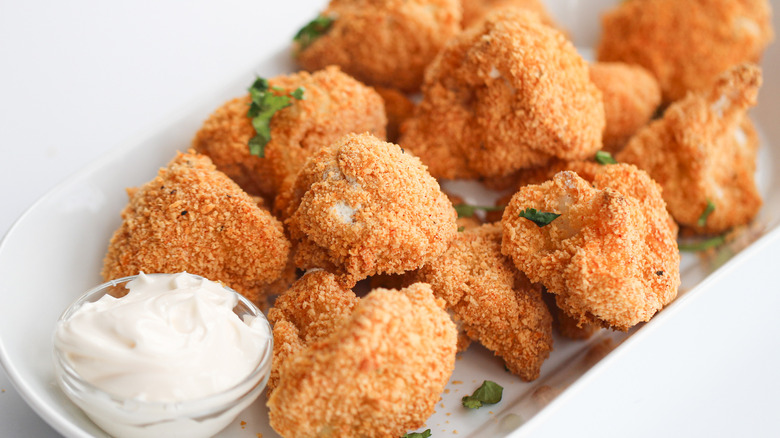 Susan Olayinka/Mashed
Bake the cauliflower at 380 F for 35 minutes. You can give them a quick check as the time approaches an end to see how they are doing. They should be a nice golden brown color by the time they are ready. Once they are finished baking, remove the tray from the oven, and transfer the cauliflower to a serving dish. 
The creamy crispy contrast works really well with the tang from ranch dressing, and a sprinkling of freshly chopped parsley gives them a bright pop for garnish. Feel free to experiment with other dips, as we know this recipe will work with something spicy, too, or anything that you happen to love. 
These cauliflower bites are best eaten hot out of the oven, so if you happen to have any leftovers, allow them to completely cool before placing them in a sealed container. Reheat them on a baking tray in the oven at 350 F for about 10 minutes. Or better yet, invite some friends over, and finish them all at once. If you want to enjoy them the next day on a sandwich, be sure to pick out your favorite bread, a yummy dressing of your choice, lettuce, and tomato. The possibilities of serving this dish are honestly endless.
Roasted Breaded Cauliflower Recipe
Save these roasted breaded cauliflower bites for yourself, or serve them to impress your guests — they'll surely ask you for the recipe.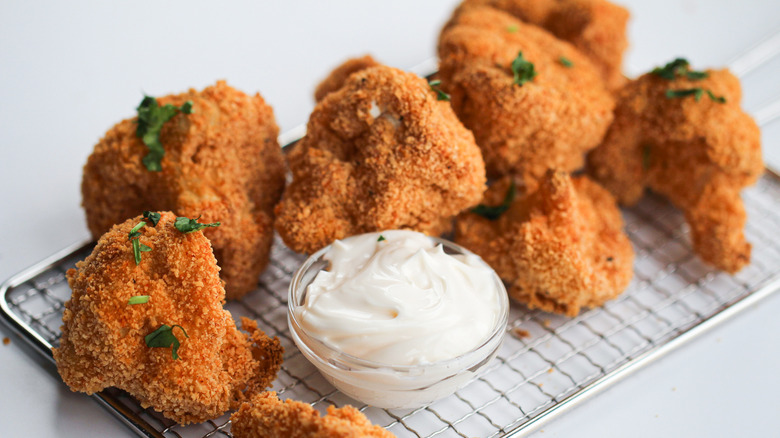 Ingredients
3 ½ teaspoons of salt, divided
1 cauliflower
3 tablespoons all-purpose flour
2 eggs
1 cup breadcrumbs
¼ teaspoon black pepper
¼ teaspoon garlic powder
½ paprika
10 sprays of rapeseed oil
Optional Ingredients
1 tablespoon fresh parsley, chopped
1 tablespoon ranch dip
Directions
Preheat the oven to 380 F. Line a baking tray with parchment paper.
Fill a medium-sized pot with 3 cups of water, and place it on the stovetop at high heat. Add 3 teaspoons of salt to the water.
Chop the cauliflower into bite-sized pieces.
Place the cauliflower into the boiling water for 5 minutes. Then, drain the water immediately, and place the cauliflower into a mixing bowl.
Set out three mixing bowls for the coating ingredients. In the first bowl, place the all-purpose flour. Crack the eggs into the next mixing bowl, and whisk them together. In the last mixing bowl, place the breadcrumbs, the remaining salt, black pepper, garlic powder, and paprika.
Dip each cauliflower into the all-purpose flour, then the egg mixture, and finally into the breadcrumb mixture.
Place each coated cauliflower carefully on a lined baking tray.
Spray each cauliflower with rapeseed oil, making sure that the entire surface is evenly sprayed.
Bake at 380 F for 35 minutes.
Remove the tray from the oven, and transfer the cauliflower to a serving dish. Top the cauliflower with 1 tablespoon of chopped fresh parsley and ranch dip, if desired.
Nutrition
| | |
| --- | --- |
| Calories per Serving | 295 |
| Total Fat | 9.0 g |
| Saturated Fat | 1.9 g |
| Trans Fat | 0.0 g |
| Cholesterol | 106.6 mg |
| | |
| --- | --- |
| Total Carbohydrates | 42.2 g |
| Dietary Fiber | 5.8 g |
| Total Sugars | 6.1 g |
| Sodium | 634.2 mg |
| Protein | 13.0 g |