The Truth About Kevin Argueta From Hell's Kitchen: Young Guns Season 1
Anyone who loves head-to-head cooking competitions can't afford to miss the latest season of Gordon Ramsay's acclaimed "Hell's Kitchen." In the latest iteration titled "Hell's Kitchen: Young Guns," 16 rising chefs from around the nation come together to form two teams to duke it out in Las Vegas (via Fox). These young chefs have yet to make their name on the world's culinary stage and only one has the chance to win big. Kevin Argueta rises out of these formidable opponents to pose a serious threat to anyone who might face him.
According to Golden Derby, 21 year-old Argueta hails from Los Angeles and has a few tricks up his sleeve. The young chef cut his teeth working as a line cook before getting selected to appear on the new season of "Hell's Kitchen" (via Mixed Article). The public knows very little about this contestant, but if his Instagram paints an accurate picture, Argueta's knowledge of seafood could push him over the edge.
An adept cook perfect for Hell's Kitchen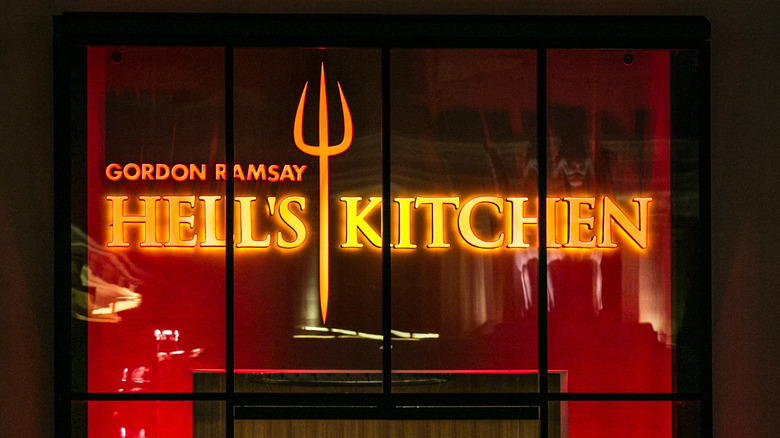 George Rose/Getty Images
Argueta's Instagram account shows off the chef's fishing abilities, highlighting lobsters, scorpionfish, and more that the cook has caught. Alongside these fresh finds, the account also shows off some of Argueta's culinary creations, ranging from grilled steaks and kebabs, all the way to delicately plated twists on standards. These upscale creations include standouts like red fish and grits and salmon poke with apples and lime foam. With refinement like this and direct experience sourcing his own seafood, everyone should keep an eye on this rising chef and his role in Ramsay's kitchen. 
Anyone who typically follows "Hell's Kitchen" needs to make sure to tune in during the season premiere on May 31 at 8 p.m. (EST), per Fox. With standout contestants like Argueta, this year has the potential to come up as one of the best seasons yet and guarantees to keep you on the edge of your seat. Make sure to follow the exploits of this young chef closely, as he guarantees to impress judges, diners, and audiences alike with his skills over the course of the program.