The Truth About The $50,000 Chicken Nugget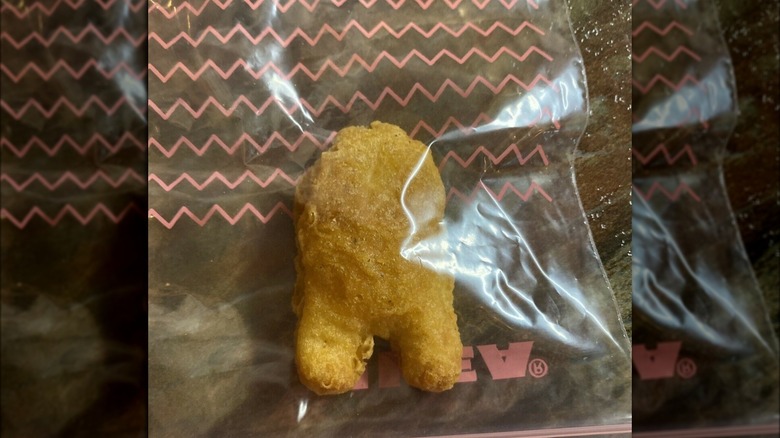 eBay
McDonald's has a plan when it comes to shaping their nuggets. The meal comes in four pre-designed shapes — bone, ball, bell and boot. The restaurant intentionally designs their nuggets in these shapes to bring some fun into the meal experience and provide for optimal dipping shapes. While the good majority of McNuggets feature these iconic shapes, occasionally a factory error creates an original shape. 
One of these misshapen nuggets has created a huge stir online, thanks to the fact that it looks just like an avatar from the video game "Among Us." The single nugget emerged from a BTS meal and has since popped up on eBay. Mega fans have taken notice and a bidding war has erupted over the single nugget. The "Among Us" shaped single nugget sells in a clear plastic baggie and at the time of writing, has attracted 156 bids and now sits at an auction price of $50,900. You can't enjoy a McNugget without some sauce, and luckily, the single item ships with a handful of McDonald's Szechuan Sauce.
The rarest of all nuggets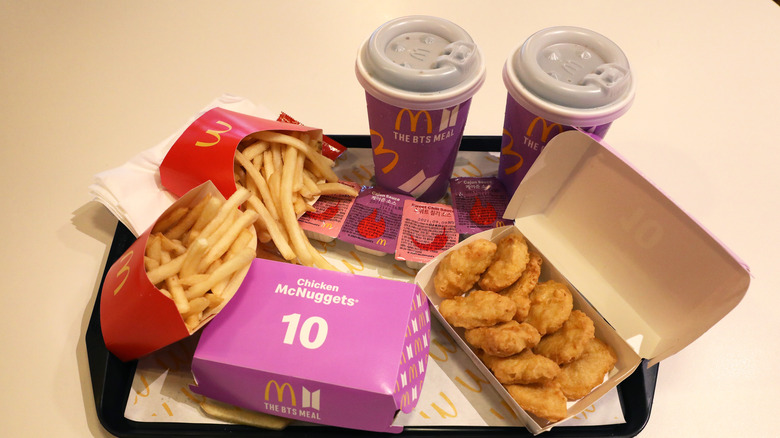 Chung Sung-jun/Getty Images
If you would love to get your hands on this one-of-a-kind nugget, but don't want to pay more than $50,000, a second "Among Us" avatar-shaped nugget has emerged to compete with the original. While this particular item currently sits on eBay at $25,100 at the time of writing, it doesn't come with any Szechuan Sauce, so if you do decide to throw your hat into the bidding war, make sure to choose your preferred nugget wisely.
If you count yourself as the biggest "Among Us" fan or just want to own a very unique nugget, make sure to take a look at this rare nugget shape that has made serious waves over on the bidding website. The auction on the original item still has over a day to go, and with its price constantly rising, expect to see this nugget continue to accrue some serious value.