How People Really Feel About Chick-Fil-A's Rainy Day Drive-Thru Outfits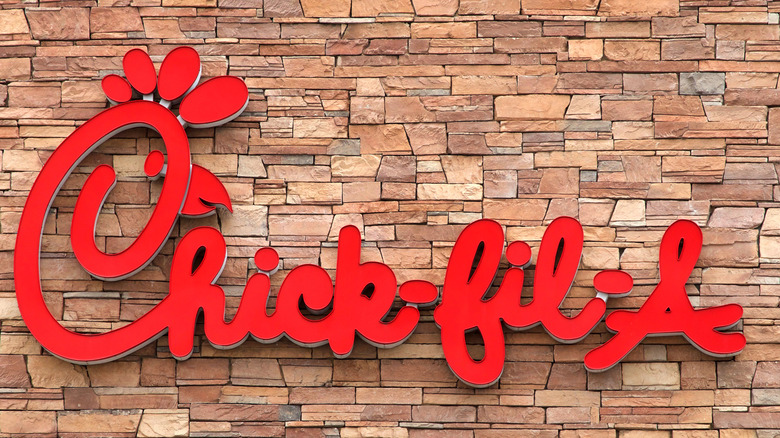 Shutterstock
If you're a Chick-fil-A drive-thru regular, you may have noticed that in the rain, the fast-food chain's employees model very peculiar get-ups. They're called Weather Pods and believe it or not Rick Pescovitz, the man who designed them, shaped them after being inspired by Porta Pottys (via Business Insider). The screened-in, wearable tent-like structures are rain and wind resistant, making them ideal for bringing food — say chicken sandwiches — to hungry customers in cars even when it's coming down in torrents. Or are they? 
The ones that we've seen pictured on Chick-fil-A employees look a whole lot like Pscovitz's "WalkinPod Pro" model. To sport the fashion statement, like Chick-fil-A's takeout crew does, you'd need to dish out at least $129.00 of your hard-earned bucks. But if that price seems steep to you, know that the product comes complete with backpack and waist straps and a form-fitting bottom to keep out the rain. It's also UPF 50+, so if you ever see Chick-fil-A workers sporting them in the sun, you can be comforted with the knowledge that they won't suffer sunburns while taking your lunch order. High-tech? Sure. But how do Chick-fil-A's staff really feel about the rainy day drive-thru outfits?
Chick-fil-A's Weather Pods: the best or the worst thing since sliced bread?
Perhaps no chain in the history of the universe is as intensely dedicated to drive-thru perfection as Chick-fil-A is. But as seriously as the chain takes drive-thru innovation at a corporate level (and it does, Chick-fil-A even admitted to running full-scale drive-thru mock-ups at its corporate headquarters) ... theory doesn't always translate into practice. Some on Reddit, both customers and employees, were quick to point out the downfalls of weather pods. "We called those avocado suits or minion suits," wrote one Chick-fil-A employee in response to a photo posted on Reddit. " They were the worst! Especially when we were told to keep the bins of food in the suit with us so it wouldn't get wet." Another potential customer wrote, "I don't what some dude breathing over my food in a confined place." Hard to argue with that logic.
For what it's worth, not all reviews are bad. Chick-fil-A employees' reactions to a second Reddit photo attest to that. The Weather Pods do their job blocking wind and rain and keeping electronic ordering equipment safe from outdoor elements. The Minion look — and a Chick-fil-A employee's uncomfortable proximity to your grilled nuggets — is just an unfortunate side effect.